Gloriana 'Brides Live Wedding' Song Will Be Fans' Choice; Eric Gunderson Shares Baby Photo + More: Country Music News Roundup
Jason Merritt, Getty Images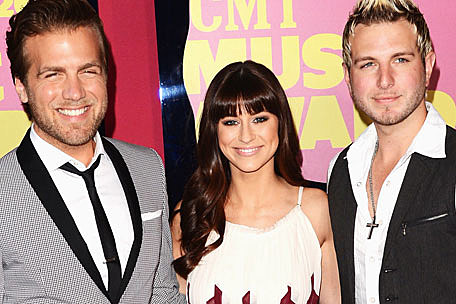 Jason Merritt, Getty Images
The Boot rounds up today's country music news from around the web.
Gloriana will be a part of Brides' first-ever "Brides Live Wedding" event, where everything -- from the winning couple to the color scheme to the first-dance song, performed by Gloriana -- is being determined by Facebook "likes." Hundreds of couples entered, with Briana Hainley and Jason Schnitzer of Anaheim, Calif., chosen as the winners. Fans can watch it all come together and will get the chance to see Gloriana perform at the St. Regis Monarch Beach in Dana Point, Calif., by tuning in to the live-streamed wedding on April 7 at 4:00 PM PT. For one day only, fans can vote for the song Gloriana will perform for Briana and Jason's first dance as husband and wife, with a choice between four of the group's songs: "(Kissed You) Good Night," "Wild at Heart," "Wanna Take You Home" and "Turn My World Around." Find more information here.
Love and Theft's Eric Gunderson gave fans their first peek -- and first chance to ooh and ahh -- at baby boy Camden via Twitter late Tuesday night (March 19). The proud pop posted a close-up photo of the sleeping infant who made his surprise arrival on Sunday, March 10. Camden William, who was due in May, hasn't been able to leave the hospital just yet, but is reportedly doing well, as are both his parents. He's the first child for Eric and Emily, who were married in April 2010. Eric is expected to join his bandmate, Stephen Barker Liles, in May, when the duo hits the road with Tim McGraw on his Two Lanes of Freedom tour.
Chuck Wicksannounced this week that his new EP, Salt Life, will be available on iTunes beginning April 9. Two days later, the singer will celebrate the release in Nashville at a party thrown by radio station The Big 98 at Dave & Buster's at Opry Mills shopping center, Thursday, April 11 at 7:30 PM. The party is free and open to all ages. Salt Life contains five tracks, all co-written by the singer-songwriter: "Fix Me," Whole Damn Thing," "Saturday Afternoon," "Always" and "Salt Life." The EP will be available for pre-order here.
Krystal Keith's full-length debut album Whiskey & Lace is still a few months away, but her record label plans to release a self-titled EP in the meantime. The four-song EP will be released April 16 on Show Dog-Universal, which also happens to be the label co-owned by Krystal's dad, superstar Toby Keith. Already garnering buzz from the project is "Daddy Dance With Me," written (with Mica Roberts and Sonya Rutledge) by Krystal for her own wedding. "I wanted a song that honored my dad and was something special on my wedding day," she explains. "So I wrote and recorded it behind his back. The idea was to have a song that no bride and father had ever danced to before; it was my gift to him." Toby's reaction, according to his daughter? "He actually talked all the way through the dance. I think he was kind of in shock that I pulled one over on him. When I started telling him the lyrics, he said, 'I've never heard a wedding song from the daughter's perspective.'" A video for the tune will also be released April 16.
Jake Owen gave some lucky (and speedy!) fans the thrill of a lifetime when the singer invited them to hang out in his studio. Jake issued the invite via Twitter Tuesday (March 19), tweeting: "Gonna do something cool today.. Who's in Nashville and wants to hang with me in studio? First 5 to reply ill meet you at secret location... " He later posted a photo of the group doing their best to look like real rock stars in the studio. One of the lucky fans later tweeted: "So blessed to have this opportunity today,thank you so much @jakeowen, had a blast! And sorry for breaking your car," which certainly sounds like rock-star behavior.
They're "Dancing With the Stars" and then sitting down to chat with the late-night hosts: First up, Kellie Pickler makes her first-ever appearance on the "Late, Late Show" with host Craig Ferguson tonight (Wednesday, March 20) at 12:35 AM ET on CBS. Then coming up Friday (March 22), at 11:35 PM ET on NBC, Kellie's "Dancing" rival, Wynonna will visit the "Tonight Show With Jay Leno." "Dancing With the Stars" airs Mondays at 8:00 PM ET and Tuesday at 9:00 PM ET on ABC.
Gary Allan celebrated his first No. 1 song as a writer for "Every Storm (Runs out of Rain)" at a party in Nashville this week and explains that it's taken almost no time for the lyrics to show up tattooed on fans. "Usually it takes a couple of months and you start seeing the tattoos with like 'No Regrets' or just whatever lyrics you wrote, and I saw 'Every Storm Runs Out of Rain' inked on people ... some good ones, some bad ones." Co-writer Hillary Lindsey noted that not all the tattoos are small, either, and that one person had the title tattooed in big letters all the way down the side of their body. Another way Gary says he learns how the song is connecting with people is from the stories they tell him on the road every day. "Somebody always corners me and tells me how I've inspired them or gotten them through something. I usually laugh and say, 'Well if you like my stuff that much that means you've been through a lot of stuff, so, sorry about that.'" [The Country Vibe]
Lauren Alaina was the victim of a crime Sunday (March 17), when the Kia Sorento belonging to her parents was broken into while she and a friend took a bike ride at the Chickamauga Battlefield at Fort Oglethorpe in her home state of Georgia. Clothes and other personal items were taken from the vehicle. Anyone with information related to the theft is encouraged to contact the Chickamauga and Chattanooga National Military Park at 423-752-5381 or 706-866-6627. [The Chattanoogan]
Watch Wynonna Talk About 'Dancing With the Stars'