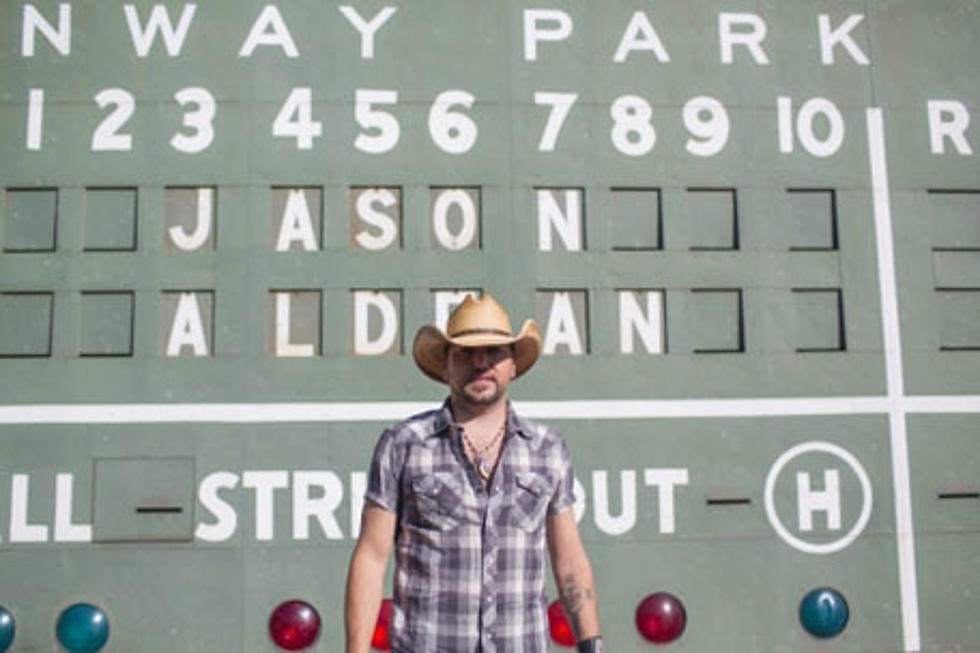 Jason Aldean Night Train Tour 2013: Singer Announces First Stadium Headlining Shows
The GreenRoom PR
Jason Aldean went on a whirlwind tour of the U.S. Thursday (Oct. 18) to announce three 2013 stadium tour dates. The "Take a Little Ride" singer made his way from Boston, where he shared that he'd be the first country headliner ever to play Fenway Park, to Chicago, where he'll play Wrigley Field, on to Athens, Ga., to announce the first-ever concert at the University of Georgia's Stanford Stadium. While this is unequivocally one of the most exciting days of his career, a part of the Georgia native was still nervous about the magnitude of the news.
"You talk about it for months and it's like, 'Well, we're working on this. It might happen. Oh, we hit a snag,'" Jason told reporters at the UGA announcement. "When you finally get that green light, in my mind, I'm still waiting for something bad to happen when they're like, 'Oh, nevermind.' Now that we've let the cat out of the bag, I think we're in a safe zone now. [laughs]"
Posing as a pep-rally for the University of Georgia's football team, Jason surprised students with the news that he'll be bringing his Night Train tour to Sanford Stadium on April 13. This date in particular was probably the toughest to secure, even when listed alongside two of the most historic baseball stadiums in the country.
"I didn't want to pick a handful of stadiums just to say we were going to play stadiums, I wanted to play place that were special to me, and places that I really dug," he explained. "Iconic ballparks like Fenway and Wrigley, I'd much rather play somewhere like that than somewhere that's only been around for a year. I thought that was really cool. Being from Georgia and being a big [University of] Georgia fan, this was number one on my list, but they've never had a show here, so it was one of those things, 'That would really be cool, but they've never done it before and I don't know if they'll let us do it.' It started from there, and big props to Live Nation and my management team for really getting the ball rolling and getting the University of Georgia on board with it. This is probably the most excited I've ever been about any of my shows."
While his entire Night Train tour will not take place in stadiums, Jason will have to adjust his show for these three shows, each of which comes with a different set of star-studded guests.
"Over the years we've been able to transform our shows into whatever we were playing, whether it be a club, theaters, amphitheaters, festivals," Jason notes. "We've been able to adjust accordingly to whatever. This is going to be a big jump for us, as far as production, staging. I'm excited about it. It gives me a challenge. One thing I never want to do is get comfortable on stage with our show. This gives me a reason to have to think about things a little bit and find different ways to entertain or reach the people who are going to be all around us."
The "Take a Little Ride" singer is taking inspiration for these events from the best stadium show he ever saw.
"I went to see the George Strait tour when he had Kenny Chesney, Tim McGraw and Faith Hill, all of those people opening for him," he recalls. "I went to see him at Turner Field and it was the first stadium show I'd ever been to, and I remember looking around going, 'This is probably the coolest thing I've ever seen.' Playing a baseball stadium, and the place was sold out and people were everywhere. That was the first one and probably the coolest one I've ever been to."
Each date will be slightly different. The first is Sandford Stadium on April 13 with Luke Bryan, Jake Owen and Thomas Rhett. Jake and Rhett will appear at the following two shows, while Miranda Lambert replaces Luke for the July 13 date at Fenway, and Kelly Clarkson takes the same slot for the July 20 show at Wrigley.
"I've known about these shows for a while, so it's been hard for me to keep quiet," Jason admits. "I find myself every now and then telling a friend, 'Hey, you can't tell nobody, but guess what?' But I haven't been able to tell anybody else, so the fact that it's finally out there and people being aware of what we're doing -- and with the record coming out this week -- we wanted to come out and make a statement on the touring side too. 'Hey, My Kinda Party is getting ready to wrap, but this is what we have coming next year for Night Train.' It was perfect timing. It's not something I want to get up and do tomorrow -- I'd like to take a couple of days off -- but it was fun."
Speaking of the exhausting day, Jason crisscrossed time zones and went from the top of the country to the bottom in a matter of hours in order to pull off this day of surprises.
"I don't know who was in charge of the schedule today, but I feel bad for whomever it was," he says. "It was along day. I got up at 9:00 AM, drove over to Fenway, announced that show there at 10:00 AM, drove to the airport, got on a plane, went to Chicago, drove an hour to Wrigley Field, announced that show, drove an hour back to the airport, got on a plane and flew here, and 20 minutes after I got here, we were on stage. The fact that we weren't late for anything today was amazing. There was a lot of stuff that went into today. It was an exhausting day, but it was one of the coolest things I've done in my career."
The biggest payoff came that evening, though, on the UGA campus, when a fan requested a song from Night Train. "The Only Way I Know," which features Luke Bryan and Eric Church, wasn't included in the evening's setlist, which featured "Dirt Road Anthem," "My Kinda Party" and the latest project's title track.
"I love the fact that people already know the songs!" exclaimed Jason. "Unfortunately, they requested a song that I haven't played live yet, so I had to defer that one a little bit. That's the thing, we've got three more shows this year, then we're going to take a little time off. By the time we roll out next year on the big tour, we're going to have a lot of these new songs in the show. I'm as excited to play them as they are to hear them."
When the Night Train pulls out of the station in 2013, there is one tune from the new album you can expect to hear live. "'1994' will go in the show," he promises. "I heard today that Joe Diffie had heard the song and loved it. I was sweating that a little bit, I didn't know if he was going to be pissed at me or not. The fact that he digs the song makes me feel a lot better."
Tickets go on sale for Fenway on Oct. 26 at 10:00 AM ET. Sanford tickets are up for grabs Nov. 2 at 10:00 AM ET, followed by the Wrigley on-sale date of Nov. 3 at 10:00 AM. Get more info here.


See Jason Announce the Sanford Stadium Tour Stop


See a Report on Jason's New Album, 'Night Train'
#fivemin-widget-blogsmith-image-907{display:none;} .cke_show_borders #fivemin-widget-blogsmith-image-907, #postcontentcontainer #fivemin-widget-blogsmith-image-907{width:475px;height:357px;display:block;}

try{document.getElementById("fivemin-widget-blogsmith-image-907").style.display="none";}catch(e){}