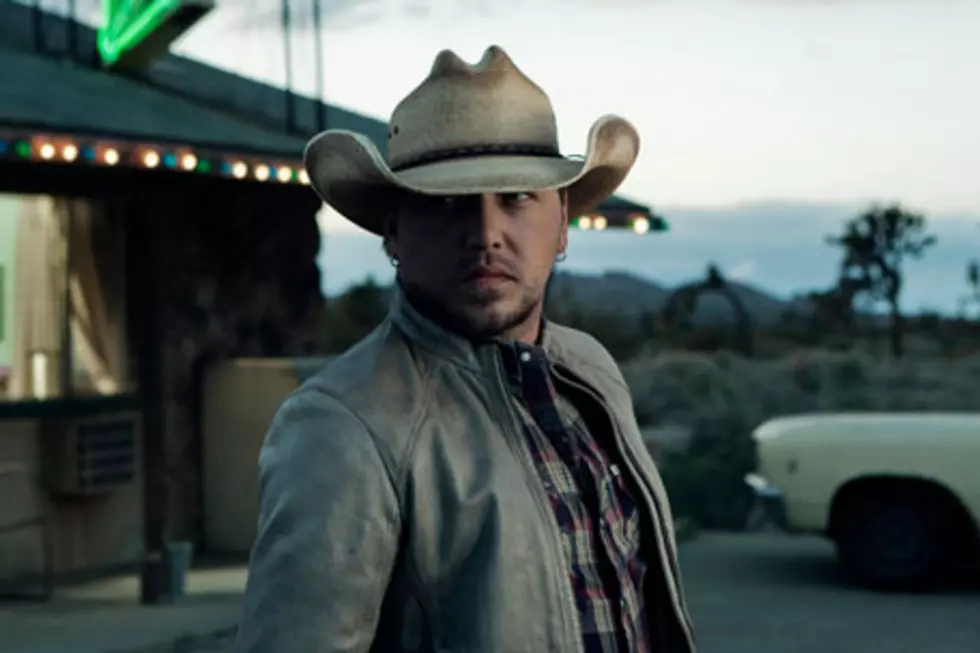 Jason Aldean, 'Night Train': Take a Ride Inside Hot New Album
James Minchin III
Jason Aldean's long-awaited album, Night Train, rolls into stores today (Oct. 16). In an industry where 10 or 11 songs is standard, the new CD boasts 15 tracks, and the country superstar says there actually could have been even more.
"We cut 19 songs," Jason told The Boot and other reporters at a press event for the new CD. "This is the first album that I've ever over-cut. I've recorded five albums, and every one of them has been on an album or on iTunes or whatever, except for four, and that was on this record. We cut the record, we felt like we had what was the complete album and then, all of a sudden, we started getting other songs that we felt were better than some of the things we had cut, which were '1994,' 'Talk,' 'Stare at the Sun' and 'When She Says Baby.' Those four came in really late in the process. To have those four songs sitting there, it was like, 'Man, we've got to go back in and cut, because all it's going to do is make the record better." So really, that was it. We just felt like these were a little stronger, and things that we actually needed more for the album."
One of the last-minute cuts, "1994," pays homage to one of Jason's musical heroes, Joe Diffie. "I think for anybody that's been around country music for any length of time, especially in the '90s, everybody knows Joe Diffie's probably one of the best vocalists that we've ever had in country music. This song was really odd and different. It's unlike things that I typically record, which is one of the reasons I was drawn to it ... because it was different. Being a teenager of the '90s, I grew up playing bars back then and playing a lot of Joe's songs -- 'Honky Tonk Attitude,' 'John Deere Green,' 'Third Rock From the Sun' -- I came up in the clubs playing all that stuff. The fact that it name-checks Joe is kind of random. You're used to people name-checking Johnny Cash, Tim McGraw, [Kenny] Chesney, George Strait, Hank [Williams], Jr., but Joe Diffie seemed kind of random to me, which is what I loved about the song. I thought it added something to the record that we really didn't have, and for people that have heard the record, it's been a big hit so far. I can't wait to see what happens to that song."
Another favorite of Jason's is the darker sounding "Black Tears," about an exotic dancer, which he acknowledges is not a traditional country song. "I'm drawn to songs that are a little different. There's always that thing that we're known for, that kind of aggressive-style country, small-town thing that's always going to be on our records, or has been, at least up to this point. I'm also drawn to those songs that take you in a different direction, too. There's not many country artists that tackle the subject matter of a stripper, to put it bluntly, which is one of the things I loved about it. I also think this song is one of the most well-written songs on the record."
While some may be turned off by the song's message, Jason is optimistic the tune will appeal to a broad audience. "Hopefully, people that are kind of conservative when it comes to music and country music, will look past the subject matter and look at the song and listen to the lyrics of what the song's saying. I think if people do that, what the song's subject matter is shouldn't really matter. We're five records in and I feel like this is one of the coolest tracks we've ever cut. I liked it because it was different and it was something that people, especially in country music, tend to shy away from. Because the 30-year-old soccer mom cringes when she hears that kind of stuff. It's a great song and that's why I wanted to cut it."
One of the more notable songs on the album is "The Only Way I Know," which includes guest vocals by Jason's good pals Eric Church and Luke Bryan. But with three superstar schedules, including Luke joining Jason on his current My Kinda Party tour, the recording process took plenty of planning.
"I cut my part of the song first, and then [producer Michael] Knox and I sat down and said, 'I think this would be a good part for Luke and then we could bring Eric in on this. You somewhat have it mapped out how you want it to go. We brought Luke in, he did his thing. I was there when he did his part."
Unfortunately, Jason's busy touring schedule kept him away when it was time for Eric to record his part, but the singer couldn't be happier with the end result. "I was out of town, so Knox did Eric by himself. Then you just get in there and piece it together. You figure out what sounds best where, who sang this line better. Make it where it doesn't sound like you're trying to give three guys a part when it sounds jumbled up. You want every part of it to kind of breathe a little bit. The listeners, you want their ears to have time to adjust and go, 'OK, that's Luke ... that's Eric ... that's Jason.' A lot of times you'll try things that don't work, and then you'll go back and try something else, until you finally dial it in. We had somewhat of an idea of how we wanted it to be before we ever got in there."
The song wasn't originally written as a collaboration, but Jason says it only made sense to include his friends on the catchy track. "I'm just trying to cash in off their success to be honest with you. [laughs] Luke and I have talked a lot about working together in the past, and I don't think it's any big secret that he and I are really close. Eric was out on tour with me last year, and obviously those two guys are just having monster years this year. Originally, I thought it would be a cool song for me and Luke to do together, and the more I listened to it, the more I thought we could bring someone else on it. Eric just kind of fit the bill. There's really nobody else out there that I really felt like would do justice to the song. I think to have the three of us on the song together was a really cool event and could be kind of a stand-out for the album. We'll see what the reaction is once it gets out there. I felt like it was something that you don't get on the album every day, which is three guys that are on the top of their game right now."
The CD's title comes from a song on the album, but the singer says it has a personal meaning for him as well. "I think that title is probably more for me than anybody else. To me, it sums up how far things have come over the last few years. I can remember when we first went out on tour with Rascal Flatts, we pulled up in our little trailer, and we all had one amp and guitars and a couple mics and that was it. Now, it's exciting. We've got so much stuff that I don't even know what all we've got anymore. It's come a long way in a relatively short period of time. That's where the title came from."
One theme that runs throughout the eclectic mix of tunes is a feeling of nostalgia, which the 35-year-old says was a fortuitous coincidence. "I don't think it's something I deliberately look at. I think it's me just kind of being the age that I am. I think a lot of people my age, when you get around friends or whatever, I can't think of one time that I'm hanging out with my friends and we don't start about high school and being teenagers, and stuff you did back in those days. Not that I'm old. I think when you're mid-thirties, 40, I think that's kind of just what you do. So, of course I'm going to be drawn to songs like that. I think that's why you see some of that nostalgic feel scattered throughout that record."
Jason's debut single from Night Train, "Take a Little Ride," reached the top of the charts in only 10 weeks, which perhaps shocked no one more than the artist himself. "It was a little surprising, this one. I honestly felt the song was going to do really well, or I wouldn't have released it otherwise. But to have it go to No. 1 after 10 weeks was ridiculous. My first song ["Hicktown"] took 40-something weeks to crack the Top 10, and it peaked at No. 9. For me, it happened fast. I kept getting these updates and looking at the charts, and it was like, 'Damn, here we are, six weeks and we're inside the Top 15. When did this happen?' That's the first song that's ever been like that for us, so it was a little surprising."
The three-time 2012 CMA nominee hopes the single's rapid rise is a good indicator of the success the new CD will enjoy. "Obviously, with it being the lead single from a new album, it's what you want. To think that people are that excited about what we're doing, that's pretty cool. Our first No. 1 was 'Why' and we waited two years to have another one. It felt like forever. Now I feel like I'm celebrating one every few months, which I love. I could get used to that, for sure. I think it's still a little shocking sometimes that it's been 10 of them so far.
No word yet which song Jason will perform when he takes the stage for the CMA Awards telecast. His three nods include one for the night's biggest honor, Entertainer of the Year. Tune in to the 46th Annual CMA Awards airing live on ABC from Nashville's Bridgestone Arena, Thursday, Nov. 1 at 8:00 PM ET.
Watch Jason's 'Take a Little Ride' Lyric Video