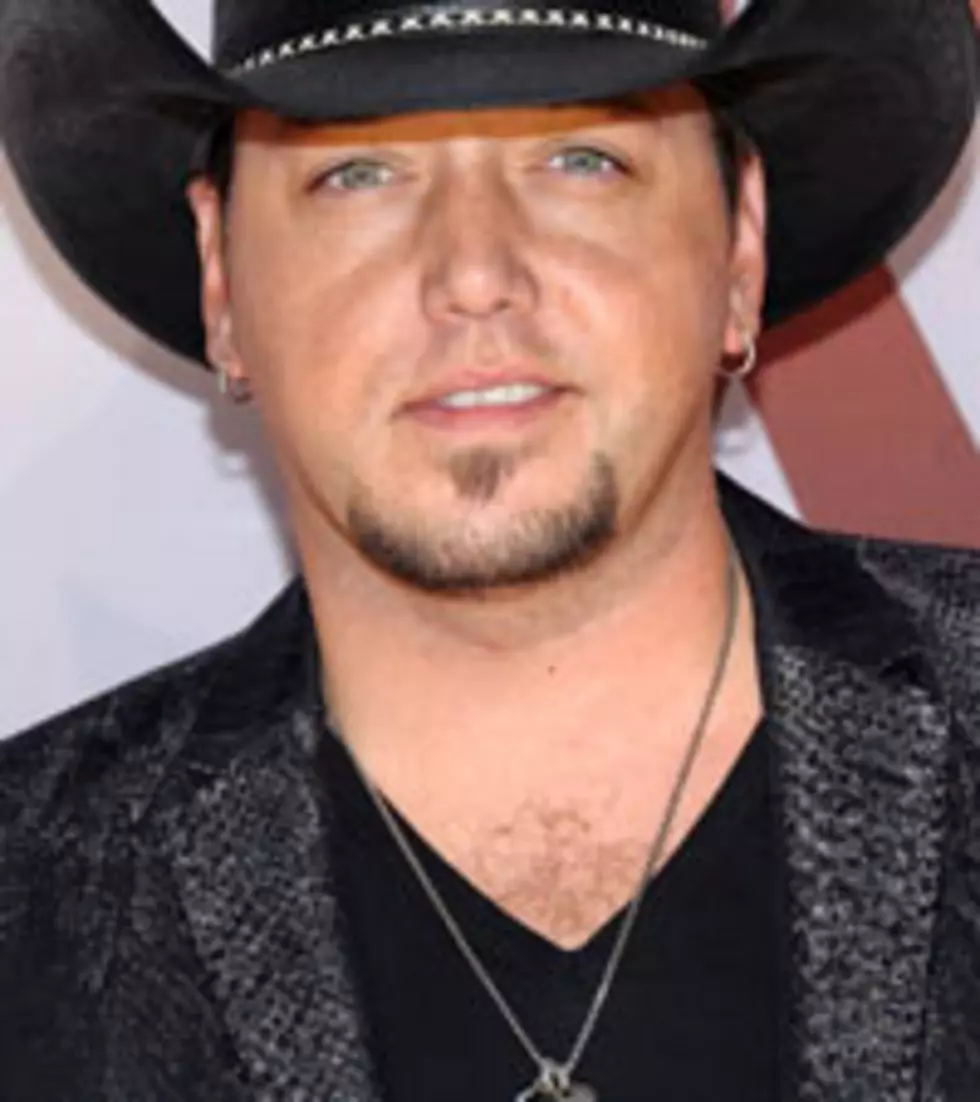 Jason Aldean Hopes to Return from Grammys With a New 'Tag'
Michael Loccisano, Getty Images
Jason Aldean is getting ready for what might be one of the biggest nights of his life, or at least his career. The 'Tattoos on This Town' singer will head to Los Angeles on Sunday (Feb. 12) for the Grammy Awards, where he'll perform his hit 'Don't You Wanna Stay' with Kelly Clarkson. He's also nominated for three trophies and warns that a win may affect how well he travels the next day!
"I've got somewhat of an early flight the next morning, so I may have to keep my celebrating in check until I get back home," he acknowledges (quote via Country Weekly). "That's easier said than done, though. I imagine if we do happen to win one, it will be a very long day the next day for me flying home. [I'll] be finding the little barf bag in the console in front of my seat."
The Georgia native admits he's also eager for the Grammys for reasons that have nothing to do with winning an award. "I'm a Foo Fighters fan and they are performing," notes the 34-year-old. "Seeing artists like that that I haven't seen perform live before to me is part of the coolness of being able to go to some of that stuff. I'm just looking forward to that."
Still, the entertainer says that taking home a coveted trophy would be a career milestone. "For an artist, anybody in the music business, I don't know that it gets any bigger than that for us," Jason acknowledges. "I think every artist wants to have that 'Grammy award winner' tag in front of their name."
Jason, who is in the running for Best Country Album, Best Country Solo Performance and Best Country Duo/Group Performance, already knows what he'll do if he does take home a Grammy.
"[I'd] probably [hang it] around my neck," he jokes. "I just want to do like everybody else does, and put it up to their ear ... I'll probably sleep with it and everything."
Jason will follow up his big night in Los Angeles with shows next week in Wisconsin, Minnesota and Iowa, as part of his My Kinda Party tour, which includes Luke Bryan and Lauren Alaina as opening acts. Keep track of tour schedule here.
The 54th Annual Grammy Awards will air live from Los Angeles' Staples Center, Feb. 12 at 8:00 PM ET on CBS.
Watch Jason Aldean in Grammy Celebration Video


#fivemin-widget-blogsmith-image-375283{display:none;} .cke_show_borders #fivemin-widget-blogsmith-image-375283, #postcontentcontainer #fivemin-widget-blogsmith-image-375283{width:570px;height:411px;display:block;}