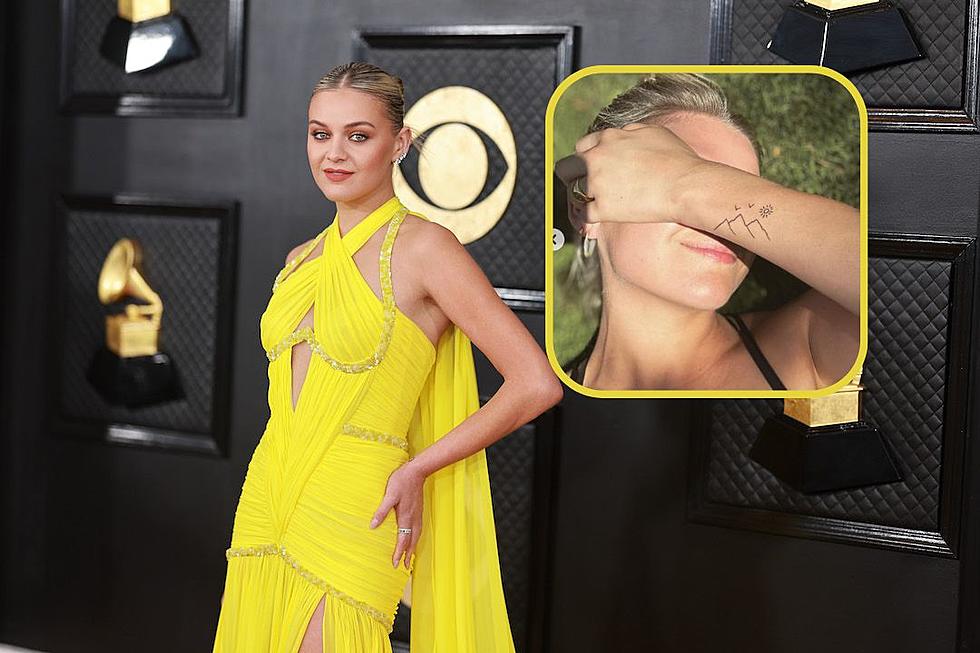 Kelsea Ballerini Rocks Some Fresh Ink at the End of Her Heartfirst Tour [Pictures]
Matt Winkelmeyer, Getty Images/Instagram
Kelsea Ballerini wrapped her headlining Heartfirst Tour in early July, and it seems that she's walking away from the experience with a souvenir.
The singer recently debuted some photos of a new tattoo on her forearm: A delicate line drawing of a mountain range with a couple of birds and a sun in the backdrop.
Fans first noticed the new ink at the very end of Ballerini's tour, and in a social media carousel of photos on Wednesday (July 12), she shared a closeup shot, with a selfie of her arm posed over her face.
Ballerini hasn't commented on when she got the tattoo or what inspired her to do so, though the image of mountains is familiar. On her latest tour, the singer has been performing several of the songs off her early-2023 Rolling Up the Welcome Mat EP, including the song "Mountain With a View," which includes the lyric, "It's 7AM and I'm on a mountain with a view / I'm the only one, alone at a table meant for two."
The song, and the EP, more broadly, was inspired by the singer's mid-2022 divorce from her husband of nearly five years, Morgan Evans. Ballerini has described her Heartfirst Tour as a "healing" experience as she navigated her post-divorce heartbreak, eventually finding love again with her new boyfriend, Chase Stokes.
After playing the final show on the trek, Ballerini reflected on the journey she's been on over the course of the tour, which began shortly after her Subject to Change album came out last September.
"From the first show at Radio City September of last year the day after Subject to Change came out, I remember being backstage wondering how I was going to get through it," she reflects. "Feeling wildly naked in my life, with an empty tank, and everything rapidly shifting around me.
"But I showed up because you did. And then we added a second leg and it didn't feel scary at all," Ballerini continues. "It felt like the way I was coming back to myself and the origin of why little 12-year-old me started making music. Then Rolling Up the Welcome Mat came out, you let it into your lives in a way I never expected, so I started adding those songs to the shows, and we added a third and final leg of the tour."
Ballerini concludes her end-of-tour message by emphasizing her gratitude to all the fans who made the shows special, saying, "Every night I looked forward to the palpable, united healing that happened in the room. I'll never be able to put into words the journey this tour has bookmarked for me personally, but for those that were a part of it ... thank you."
8 Brutally Honest Divorce Lyrics From Kelsea Ballerini's 'Rolling Up the Welcome Mat' EP
Kelsea Balerini opened up her divorce diary in February 2023 with her Rolling Up the Welcome Mat EP, a project that follows the stages of a breakup — from grief and loneliness to anger to acceptance — in chronological order. Here are eight of the most revealing lyrics from the project.