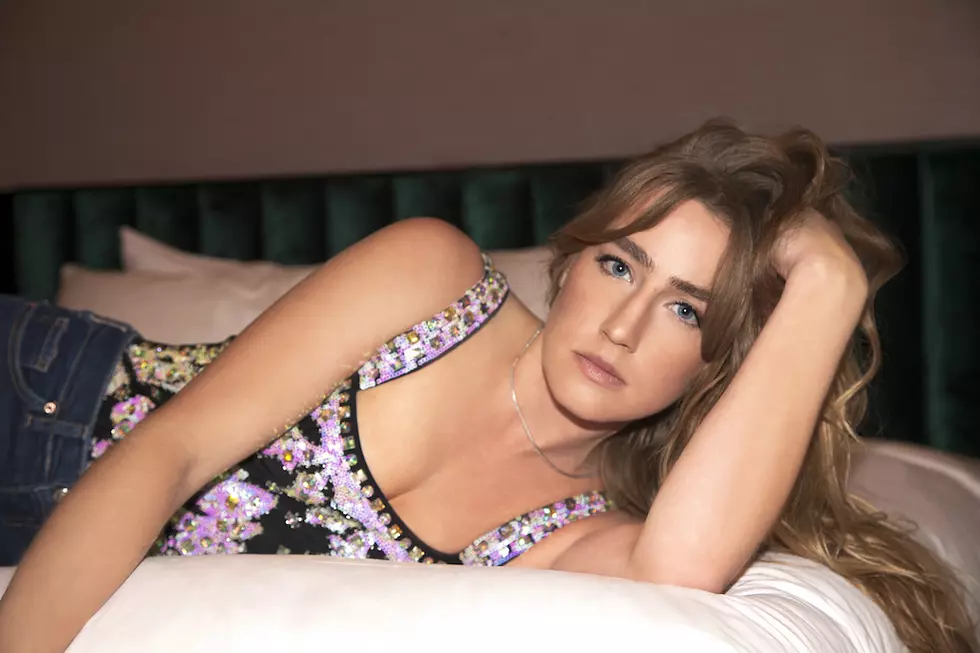 Interview: Songwriter-Turned-Artist Ingrid Andress Is Ready to Own Her Story
Brooke Hardesty, Courtesy of Warner Music Nashville
As a songwriter, Ingrid Andress has written with and for all kinds of artists, including pop superstars such as Alicia Keys and Charli XCX. Still, she's had a strong country connection from the very beginning.
"The first time I cried during a song was [during Brad Paisley and Alison Krauss' duet] "Whiskey Lullaby," when I was eight years old," Andress recalls to The Boot. "I was out for the count. I did not know what was happening! I was like, 'What are these feelings?!'"
To this day, she keeps that love of storytelling: "That has always stuck in my brain since I started music," Andress explains. "I always am drawn to songs that are very storyteller-ish, and, you know, the pop thing comes from me listening to every different type of music, and liking melodies, and anything that makes you want to listen to it again. But as far as lyrics go, my passion is for storytelling and saying something of substance."
Even when she was a full-time songwriter, Andress always knew that there would come a time when she would want to branch out as an artist in her own right. "It was always a matter of when I was ready to do that," she notes. "I wanted more credibility as a songwriter, just because that is so important to me as a musician: really learning what I wanted to say before I tried to say it."
Andress clearly remembers the moment when she realized that it was time to pursue her dreams as an artist; in fact, she says, it was a little bit painful.
"It was when I wrote a song that was very dear to me and it got cut by another artist," she admits. "Because I was like, 'That's my story!' So that was my moment where I was like, 'Okay, I figured it out and I know who I am now. It's time for me to start to tell the story.'"
"As far as lyrics go, my passion is for storytelling and saying something of substance."
With just one official single to her name, "Lady Like," Andress' confidence in the kind of story she has to tell is already a hallmark of her artistic sensibility. "After one listen, you know exactly who I am," she says of that song, which challenges the ideas of exactly what being "ladylike" means, and makes the case that, while her brand of femininity might be unique to her, that doesn't make her any less of a woman.
"My parents never really put a gender thing on us. I would play street hockey and then come home and do science experiments on my Barbie dolls," Andress relates. "No one ever said, 'You're a girl, so you have to do this.' So when I moved to Nashville, it was all of a sudden, like, guy time and girl time. I was like, 'Why can't we all go fishing together?'"
Andress found that the more she spoke specifically to her own experiences, the more universal she realized those experiences were. "What's crazy is, I thought it was very specific to me, but a lot of people come up to me after I sing that song being like, 'I totally relate to that,'" she points out.
The singer says that she will release a new song every couple of months, but hasn't made plans for a formal studio album per se. "There'll probably be five songs out, and then we'll probably group them together in an EP at the top of next year," she explains. "But honestly, I'm just writing songs."
"[I've been writing so many] songs all the times since I started as a songwriter," Andress adds, "so I really wanna be able to just release a song whenever I want to and then maybe group them into something later."
Andress' creative freedom and control of her story is hard-earned, and she's excited to finally wield the artistic self-awareness and storytelling prowess she spent so much time sharpening. As both a musician and a person, Andress has made one thing clear: She creates her own identity, and doesn't allow anyone else to do it for her.
"It's really awesome," she adds with a smirk, "because technically, you can do whatever the f--k you want."
Meet The Boot's 2019 Artists to Watch