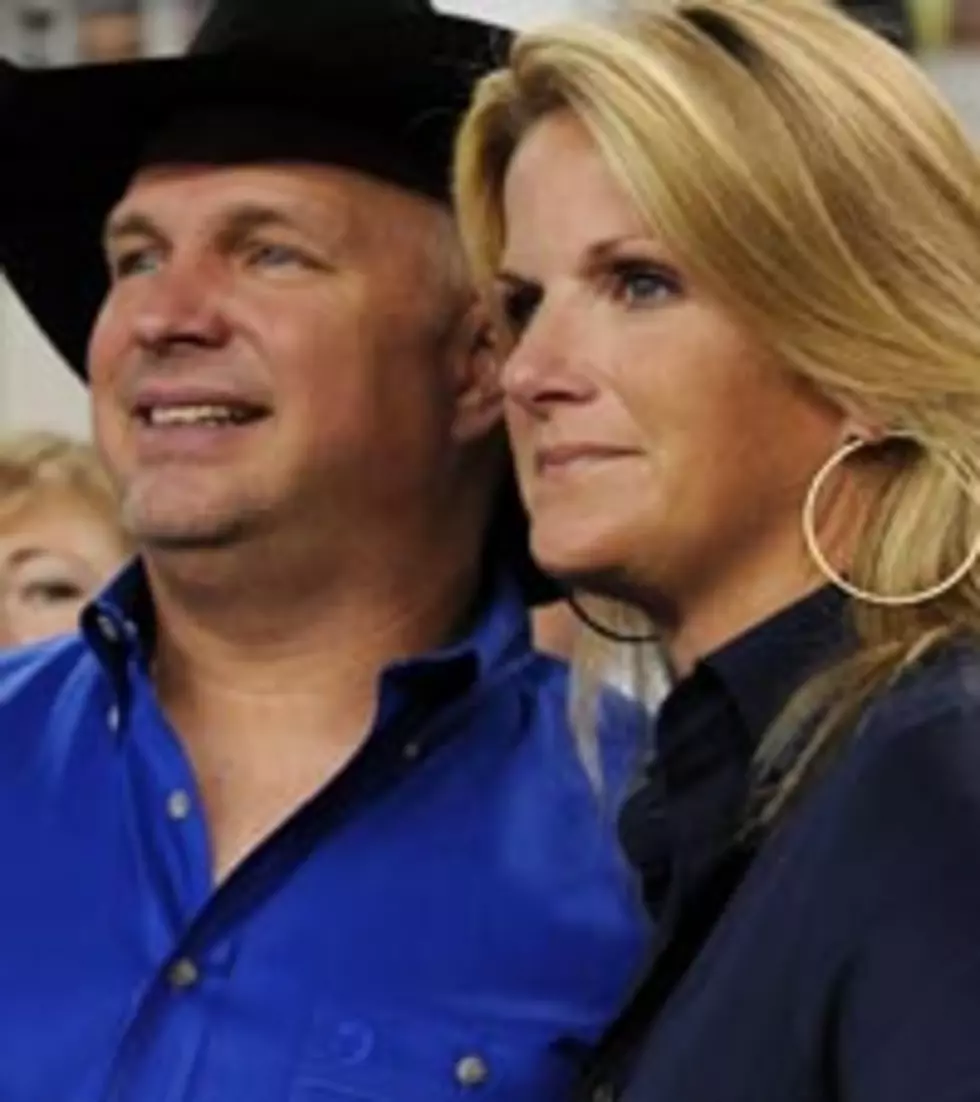 Garth Brooks, Trisha Yearwood Announce Nashville Concert for Flood Relief
Ronald Martinez, Getty Images
Garth Brooks and wife Trisha Yearwood are set to perform a concert at Nashville's Bridgestone Arena on December 17 to benefit flood relief efforts in Middle Tennessee. This will be Garth's first full-length show in Nashville since 1998.
The announcement was made during a press conference Thursday morning at the old Tennessee State Capitol Building, with Tennessee Governor Phil Bredesen and Nashville Mayor Karl Dean in attendance, along with other state legislators.
"We decided to do the show the day we saw the footage of the floods," Garth said. "We're lucky to have a dual residency, so you're talking to a guy that's from here, but saw it from outside. As doubly painful as it was to watch it from outside, now you're doubly proud to get to help.
"This is about two citizens standing up with the rest of the citizens," Garth adds. "We're following in the footsteps. There were a lot of artists that came out and did their thing, and all we're doing is trying to continue their example that they have set as artists and trying to continue the example that the citizens of this state have done."
Garth is once again helping to keep ticket prices low. The tickets will be $25 plus handling, with 100 percent of the ticket sales going to those in need. Ticket information will be released at 12:00 PM (CT) on Wednesday, November 3, for what many hope will be the first of several shows. The superstar indicated that if there is a demand, he will add extra performances, as well as call on his famous friends -- mentioning Steve Wariner as an example -- to serve as surprise guests, although he said he couldn't guarantee any special appearances just yet.
With all of the telethons and charity events that took place right after the flood, Garth and Trisha wanted to do something that would also benefit the victims of the devastating flood in the long run. "The reason for such a big announcement is, yes, we are going to now again ask Tennessee to pull Tennessee out of this, but I'm making the plea this morning [to] all of our families from Ireland, Germany, Australia and all over the world. In Vegas, people keep talking about a bucket list. If this is a bucket list for you, this is the time to do it. Come here, because our job is to show everyone that Nashville is not only up and running, but it's better than it's ever been."
Living in Oklahoma, but still keeping residences in Middle Tennessee, both Garth and Trisha were watching the news with heavy hearts. "I think for me it was really disbelief, having seen places I would have never thought would be under water," Trisha tells The Boot of her first reaction to news of the May flood. "Being in Oklahoma, I saw a lot of it on YouTube because a lot of it wasn't on the news. I had a lot of people sending me film footage -- it just seemed unreal. Can this really be happening? I was one of those Tennesseans who did not realize that this could ever happen. I had no idea. When we saw it, we were both just like, 'We can't believe this.' My immediate reaction was, 'Let's go do something today.' Garth was really smart, smart to be the second wave and see where the money needs to go. I'm proud of everybody who has stepped to donate their talents and their time. It's a good thing."
"The level of devastation was misunderstood by so many because the press was not here as much," Garth acknowledges. "But I'll put this alongside anything that we've seen in our lifetime as far as tragedy. it's been you guys that have pulled you guys out of it."
Along with the funds raised from ticket sales, Garth mentioned that there will be other ways to secure extra relief money including the sale of merchandise, which will include specialty T-shirts. "Everything and your dog," Garth said, following the press conference. "Everything is going to be for sale during this week because this is the people's money."
Garth also tells The Boot that AEG President Tim Leiweke will be matching dollar-for-dollar the amount raised through ticket sales. "Every dollar hopefully turns into two, but that's our goal. Don't hold me to it, but that's what our heart wants to do, so we'll see how close we'll get."
"The impact of May's flooding is still being felt in Tennessee as communities continue to rebuild," said Tennessee Governor Phil Bredesen. "I'm extremely pleased to see that the great outpouring of support for flood victims that was a hallmark of the early response continues, and I appreciate the leadership of all the members of Nashville's music family who, like Garth, have organized events or established funds to help Tennesseans rebuild their lives."
In addition to area businesses, more than 64,000 people were affected by the devastating floods in May. Proceeds from the December 17 concert will go to the Community Foundation of Middle Tennessee.
Garth, who performed several shows in California to benefit the victims of the wildfires a few years ago, remains retired except for his five-year deal with the Wynn Encore in Las Vegas to do occasional performances. This will be his only arena show of the year.