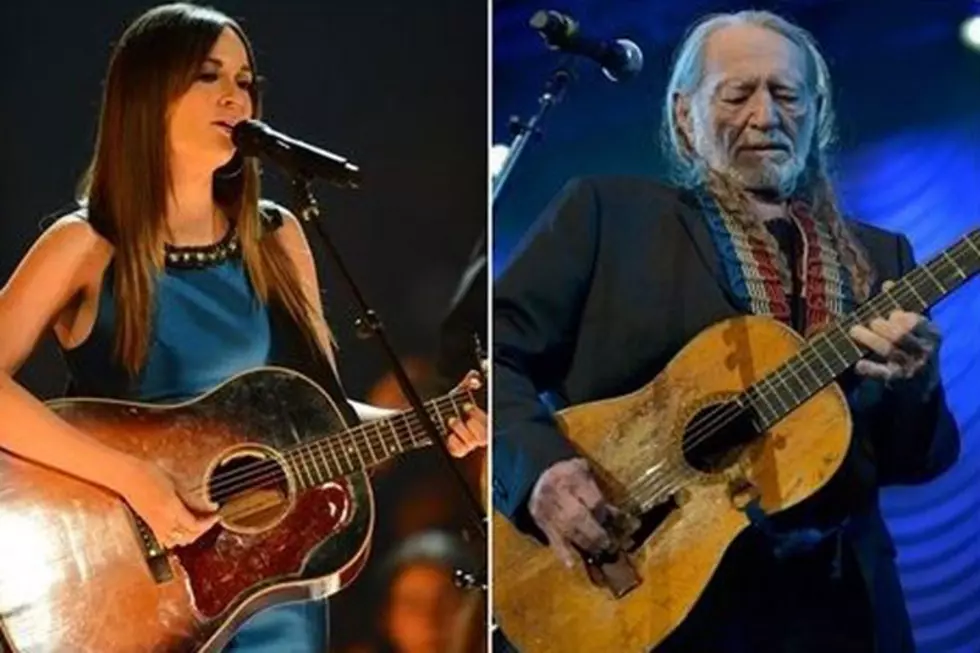 Lineup Announced for Farm Aid 2013
Ethan Miller / Paul Marotta, Getty Images
It'll be something old, something new when it comes to country music at Farm Aid 2013. Organizers announced a star-studded lineup for this year's event on Monday (June 24), including country icon Willie Nelson and hot newcomer Kacey Musgraves.
They will join Jack Johnson, Amos Lee, Toad the Wet Sprocket, Lukas Nelson & P.O.T.R., Bahamas, JD & The Straight Shot, Carlene Carter and Pegi Young & The Survivors at this year's event, which takes place Sept. 21 at Saratoga Performing Arts Center (SPAC) in Saratoga Springs, N.Y.
The all-day music and food event not only raises money for family farmers, it also raises awareness of the importance of locally grown and organic foods as a viable alternative to corporate farming. The festival features Homegrown Concessions, showcasing local, organic, sustainable, humanely-raised family farm ingredients. The Homegrown Village gives concertgoers the opportunity to meet farmers, engage in hands-on food and farm activities, and learn about the ways family farmers are enriching the soil, protecting the water supply and growing the economy.
"The Farm Aid benefit concert takes place each year thanks to the generosity of artists who donate their talent to raise awareness about the crucial need we have for family farmers on the land," Carolyn Mugar, executive director of Farm Aid, says in a press release. "We are thrilled to have an eclectic lineup this year that includes returning artists, as well as artists new to the Farm Aid stage. Together, Farm Aid concertgoers and artists are changing our food system!"
Tickets for Farm Aid 2013 will go on sale this Friday, June 28, at 10 a.m. EDT. Tickets will be available at www.ticketmaster.com, at the SPAC Box Office or by phone at 800-745-3000. Tickets range from $45.00 to $150.00, while a limited number of premium VIP seats range from $300.00 to $1,500.00. Additional ticket information can be found at the event's website.