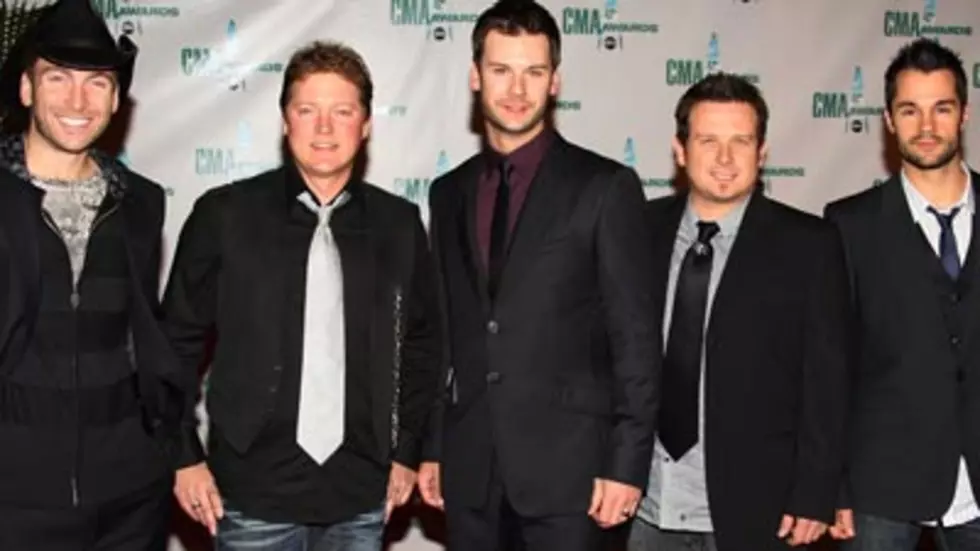 Emerson Drive Start Their Own Record Label
Bryan Bedder, Getty Images
Bryan Bedder, Getty Images
Emerson Drive are the latest group exercising more control over their musical destiny by forming their own label, Amdian Records. "These are scary but exciting times," fiddler David Pichette tells The Boot. "For the first time, our career is solely in our hands. The future is what we make of it."
The band's first single with their new label is 'That Kind of Beautiful,' which hits radio airwaves in the U.S. August 16. The single was released in Canada last month. "We just loved the song. It was completely us so we cut it," David says. "It's actually been cut for about a year now. It was just shelved because we weren't too sure what was going on in the U.S. when it came to labels. Now we're independent, and we've got our own label. We're not kidding ourselves, there's a lot of work to be done. It's not going to be an easy thing to do. There's no way we can compete with the majors, but we're going to do everything we can because we love what we do, and we've got families to raise and kids to put through college. We're going to do everything we can to succeed."
Emerson Drive even took part in the process of creating the video for 'That Kind of Beautiful.' "Personally, I have always been a fan of the film industry," David says. "I think that I do music for a living because I kind got drawn into music by default. I've been playing music my whole life. If it was my choice, I probably would have gone to film school and studied film. But now, technology gives me the opportunity to get that side of myself that I love so much -- the cinematography and the photography side -- and benefit the band with that. We're able to manage our own project and write the treatment, produce, direct and edit."
When it came time for the video storyline, David says Emerson Drive chose a different route. "'That Kind of Beautiful' could fall into the very typical boy-meets-beautiful-girl and all that, which we've done quite a few times. We just felt like we might want to try something new. Our guideline was basically let's find the beauty that we find in women at all stages from early childhood to later on when you're in your 70's or 80's. We have an older couple in there; they are just such a beautiful little couple who have been together forever. They gave us the perfect footage, and their interaction was great."
The video was also a family affair that includes footage of David's 19-month-old daughter, Emma, Emerson Drive lead singer Brad Mates' wife, Jana (while pregnant with their son, Tyler), and drummer Mike Melancon's wife, Heather. "It's very close to heart," David says. "It's family-oriented and we felt like that was the route we wanted to go with this one."
'That Kind of Beautiful' will be included on Emerson Drive's forthcoming album, 'Believe,' which they hope to release by the end of the year or early 2011. The band was able to buy back the rights to the 'Believe' album which was released only in Canada while still on the indie label, Midas/Valory Music Company. Emerson Drive parted ways with the label in 2009. "We are going to package a [new] album for the U.S.," David says. "It's not going to be the same 'Believe' album, but there will be tracks off that album that will be used toward the new record."
In the meantime, the band is currently touring throughout the summer and planning the arrival of the next Emerson Drive baby on the way!