Dolly Parton Straps on Combat Boots for Good Cause
www.bootcampaign.com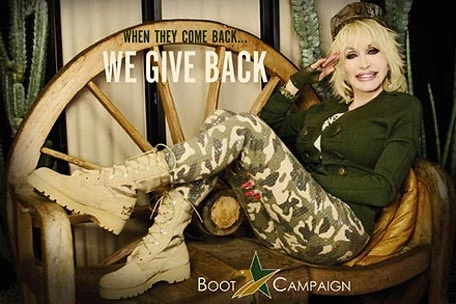 www.bootcampaign.com
Dolly Parton is usually the epitome of flash and class, but the country legend recently slipped off her stilettos and laced up her combat boots to take part in the Boot Campaign.
The Boot Campaign is a grassroots initiative started by five women from Texas known as the Boot Girls. They provide an easy and tangible way for Americans to show support of our troops that's practical and directly benefits our military. Proceeds from boot sales are donated to partner charities, who assist returning veterans dealing with Post Traumatic Stress Disorder and varying degrees of physical injuries.
"So many people, regular folks and celebrities, send out love and sincere thanks to you for keeping us safe and fighting for our freedom," Dolly says. "Let me add to that loving list. Thank you from the bottom of my country heart. I will always love you"
The Boot Girls ask Americans to put their boots on during their day-to-day routine to symbolically walk in the shoes of our military men and women to remember their service and sacrifice.
Dolly joings a growing list of country artists taking part in the Boot Campaign, including Josh Turner, Joe Nichols and Charlie Daniels. Proceeds from the campaign's signature boots go towards military charities supporting the needs of Veterans. Click here for more information about the campaign.