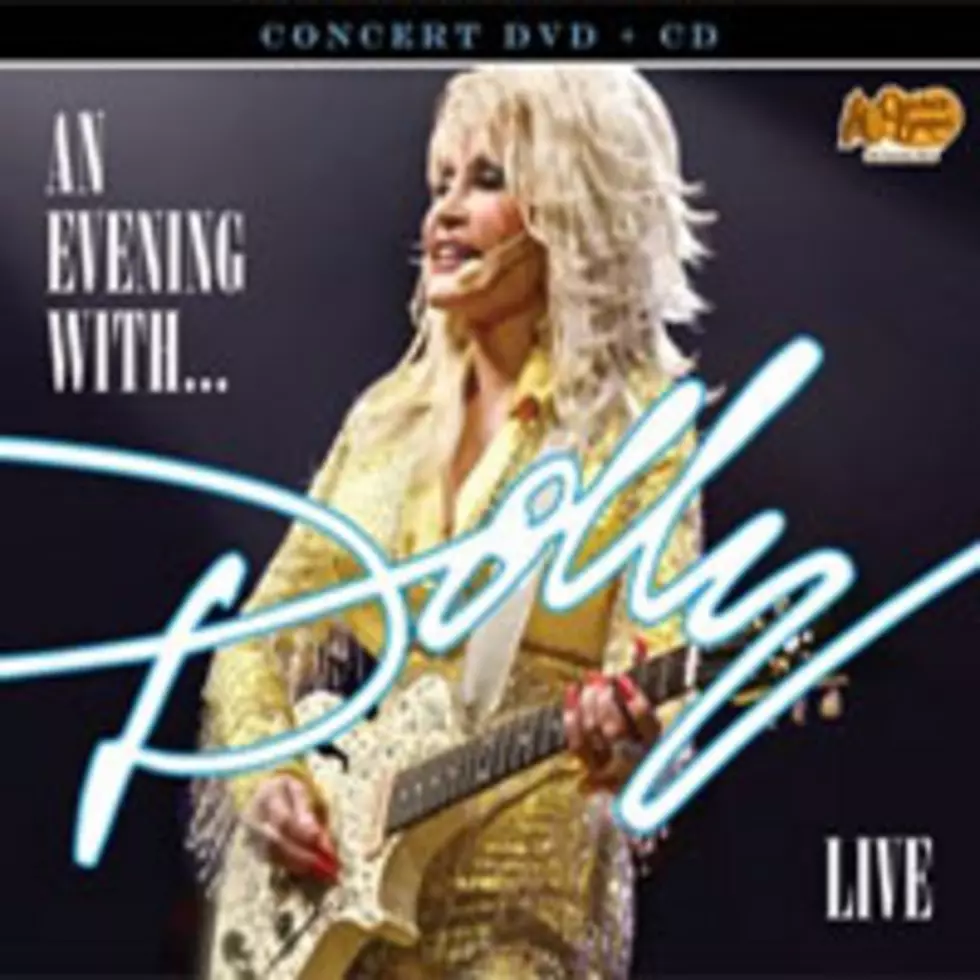 Dolly Parton, 'An Evening With Dolly Live' Comes to Cracker Barrel Stores
Cracker Barrel
She's one of the most dynamic live performers who has ever stepped out on stage, so the chance to spend an evening with Dolly Parton is always a golden opportunity. And with that in mind, Cracker Barrel Old Country Stores are giving you the chance to do just that, without ever leaving home.
On April 2, 'An Evening With... Dolly' a two-disc DVD and CD set, priced at just $11.99, will be available at Cracker Barrel stores and the Cracker Barrel website. The collection captures the global icon onstage at London's O2 Arena performing some of her most best-loved tunes, including 'Coat of Many Colors,' '9 to 5' and 'Jolene.'
In addition to her first platinum (million-selling) single, 1977's 'Here You Come Again,' and the singer's traditional show-closer, 'I Will Always Love You,' the album boasts previously unreleased live tracks 'Shattered Image' and 'My Tennessee Mountain Home.'
On the DVD, Dolly interacts with the audience, sharing stories about growing up in Tennessee. There's also a 'Soundcheck' feature in which fans are offered a peek backstage to see how the show is put together.
Cracker Barrel released Dolly's 'Backwoods Barbie Collector's Edition' CD in 2008.
'An Evening With... Dolly' CD Track Listing:
1. 'Two Doors Down'

2. 'Jolene'

3. 'Coat of Many Colors'

4. 'Only Dreaming'

5. 'Little Sparrow'

6. 'The Grass Is Blue'

7. 'Do I Ever Cross Your Mind'

8. 'Here You Come Again'

9. 'Islands in the Stream'

10. '9 to 5'

11. 'I Will Always Love You'

12. 'Shattered Image'

13. 'My Tennessee Mountain Home'
'An Evening With... Dolly' DVD Track Listing:
1. 'Two Doors Down'

2. 'Jolene'

3. 'Backwoods Barbie'

4. 'Coat of Many Colors'

5. 'Only Dreaming'

6. 'Better Get to Livin''

7. 'Shinola'

8. 'Little Sparrow'

9. 'The Grass Is Blue'

10. 'Do I Ever Cross Your Mind'

11. 'Here You Come Again'

12. 'Islands in the Stream'

13. '9 to 5'

14. 'I Will Always Love You'

15. 'Jesus and Gravity'
Watch Our Exclusive Dolly Parton Video


if(typeof AOLVP_cfg==='undefined')AOLVP_cfg=[];AOLVP_cfg.push({id:'AOLVP_us_1323939028001','codever':0.1,'autoload':false,'autoplay':false,'playerid':'61371447001','videoid':'1323939028001','publisherid':1612833736,'playertype':'pageload','width':476,'height':357,'videotitle':'Test','bgcolor':''});