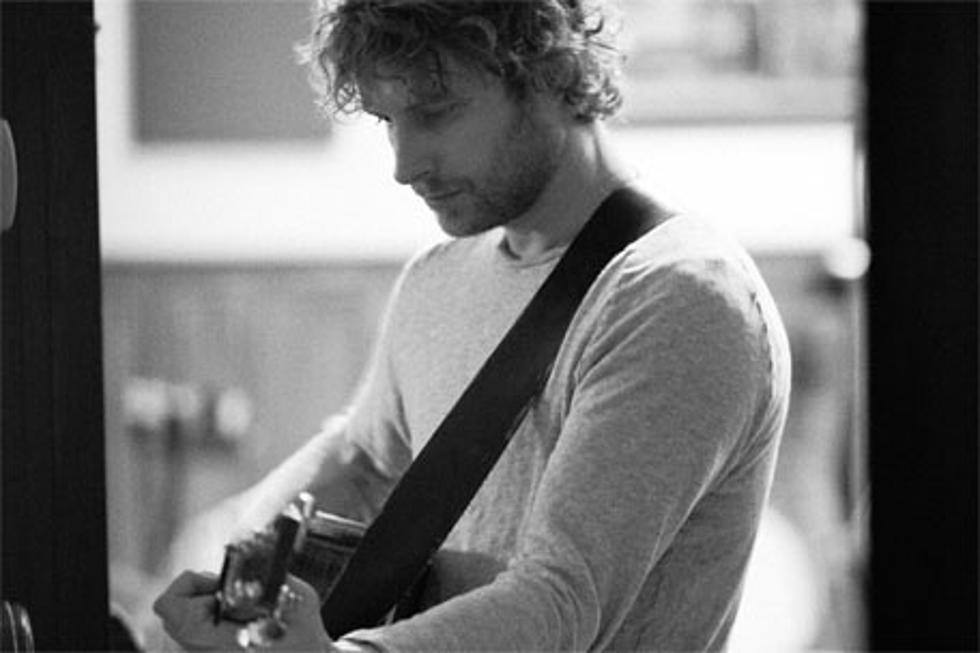 Dierks Bentley Reveals New Album's Very Special Guest
James Minchin III
Dierks Bentley's upcoming album, 'Home,' features a duet with Little Big Town's Karen Fairchild on the sultry 'When You Gonna Come Around,' but hers is not the only female voice heard on the new collection. The disc's beautiful closing track, 'Thinking of You,' an acoustic ballad that the singer-songwriter penned with frequent collaborator Jim Beavers, is poignant enough -- with its "you're always on my mind" message -- but hang around after the song fades out for a version of the sweet tune that'll really put a lump in your throat. While the guitars play behind her, it's Dierks' oldest daughter, 3-year-old Evie, who sings the lyrics in place of her daddy, and you can hear just how much she misses him when he's away.
"I'd been gone for about eight days on the road and had an opportunity to play at the White House," Dierks tells The Boot. "I couldn't pass it up, even though it was on my birthday. I don't really care about my birthday that much but my wife does. She likes celebrating stuff together as a family. But what can you do?"
Dierks says he was honored to play what is now the album's title track, 'Home' "in our nation's home," during a show that included other artists including [Kris] Kristofferson, Alison Krauss and James Taylor. And although he was away from his family on his birthday, another of the performers at the White House concert made his birthday a special one.
"Lauren Alaina was on that night as well. I'd never met her before. She was the sweetest girl. She got me a cake and a card for my birthday, within an hour of finding out that it was my birthday. [Later], I spent my birthday alone in my hotel room and I got an email. My wife and one of my producers had teamed together to get Evie singing this song, 'Thinking of You,' on video and sent it to me as a birthday present."
Dierks reveals that it was "the saddest birthday present of all time. It just killed me. It just hurt. I loved it, as painful as it was. They had a recorded version of it, which I assume they thought I wouldn't go for [as far as actually putting it on the new album] because I've never really sung songs about kids or any of that stuff. But I heard it and the last word she says on there is "home,' which goes back to the first word you read on the album cover."
The father of 3-year-old Evie and 13-month-old Jordan says he has discovered a unique connection between children and the kind of country music he favors.
"The country music that Vern Gosdin sang is real. It's that real heartbreak stuff. But there's another kind of aching heart, which you don't realize until you have kids. Kids break your heart every day because you love them so much. I've had heartaches before, where I've stood in the shower and watched all my hair fall out of my head down the drain. I was losing weight and just dying over a girl. But that didn't come close to measuring the pain of loving a child, in a good way and a bad way. It just felt really right to have that on the record."
Fans will have their chance to hear 'Thinking of You' and the rest of 'Home' when the album is released on Feb. 7. See the track listing here.
Watch Dierks' 'Home' Video
if(typeof AOLVP_cfg==='undefined')AOLVP_cfg=[];AOLVP_cfg.push({id:'AOLVP_1218573812001','codever':0.1,'autoload':false,'autoplay':false,'displaymnads':true,'playerid':'89761511001','videoid':'1218573812001','width':476,'height':357,'playertype':'inline','stillurl':'dynamic','videolink':'#','videotitle':'dynamic','videodesc':''});