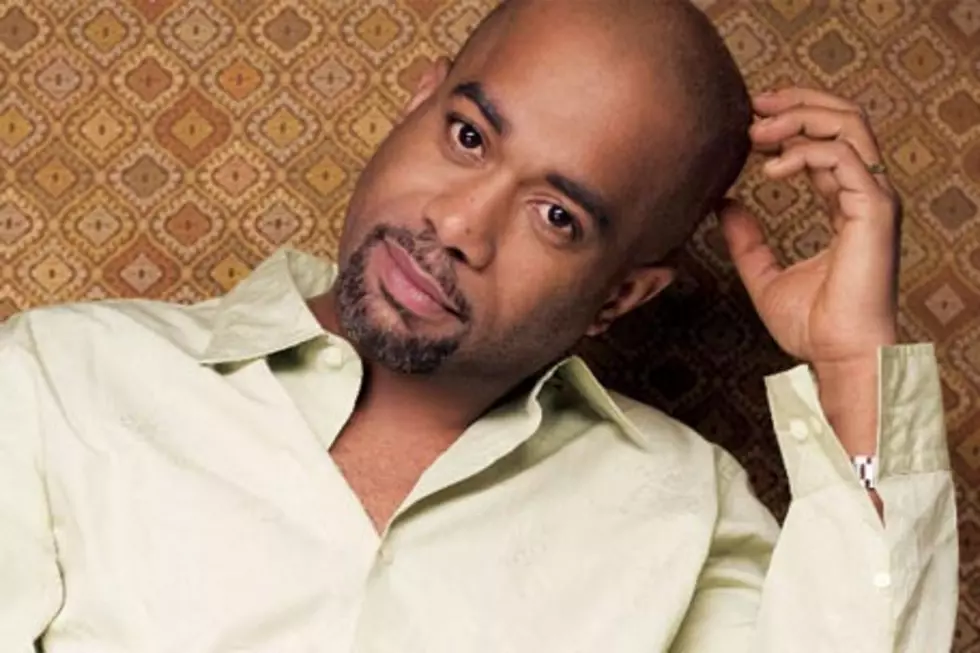 Darius Rucker Pays Homage to Home and Hero on New Album
Capitol Nashville
For Darius Rucker fans who pick up his new album and wonder why he titled it 'Charleston, SC 1966,' the singer/songwriter is anxious to explain why. "The main reason is because of Radney Foster. He came out with 'Del Rio, Texas 1959' back in '92 and that was one of those light switch records for me," Darius says of the record that made him want to be a country singer.
"I wanted to pay homage to my idol, because Radney is my idol. He named his record after the year and the town he was born in, so I thought I'd name this record after the year and the town I was born in," Darius explains. "I've always been a fan of country music, and when Radney came along was when I first started saying 'I want to sing that music some day.' I would always tell the guys in the band, I'm going to make a country record."
When pressed to define just what it was about Radney's artistry that made such an impact, Darius pauses for a moment, contemplating his response. "I don't know what it is. I really wish I knew what it was because then I'd do it too," he says laughing. "It's his voice and his songwriting. I really love his songwriting. It's just something about the guy. I idolize him. He's the man."

Of course, Darius' first taste of success came in the rock world as the frontman for Hootie & the Blowfish, the multi-platinum selling band known for such hits as 'Let Her Cry,' 'Hold My Hand' and 'Only Wanna Be With You.' When Darius released his first country album for Capitol Records Nashville, few could have foreseen he would achieve such immediate success in country music. Rock artists who try to enter the country fold are often met with a chilly reception at radio, and then there's the fact that Charley Pride has been the only truly successful African American country artist.
Yet Darius native felt accepted by fans as soon as he hit the road as a country act. "My first experience was [when] my first record wasn't even out yet and I was playing with Brooks & Dunn in Miami, Oklahoma," the South Carolina native tells The Boot. "It was my very first show, and I don't know what to expect. I go out and play 'Don't Think' and 'Let Her Cry,' and 25,000 people scream and started singing along at a Brooks & Dunn concert ... and I realized wow, this is going to be fun!"
And indeed Darius has continued having fun and racking up an impressive list of hits from his critically-acclaimed, platinum-selling country debut album, 'Learn to Live.' His first single, 'Don't Think I Don't Think About It' hit No. 1 on Billboard's Hot Country Songs chart in May 2008. Subsequent singles, 'It Won't Be Like This for Long' and 'Alright' also topped the chart and the album's fourth single, 'History in the Making,' peaked at No. 3. In 2009, he won the CMA Award for Best New Artist, capping off a year of more success than any country newcomer could dream.
A less seasoned performer might have been paralyzed by the prospect of trying to follow up such a successful album, but Darius enthusiastically threw himself into the process, writing 77 songs for the new album. "With this record I felt pressure the second we said we were going to start recording," he admits. "I thought 'Wow, this was a big success, how are we going to top that?'"
Nevertheless, he optimistically forged ahead. "I took the same approach as I did with the first one: Don't try to force it, just write, write, and write until you have the songs you like, until you are happy," he says with a smile. "I'm not trying to reinvent the wheel or anything. I felt pressure, but it wasn't like I could do anything else than what I already do."
He chose to work again with producer Frank Rogers, who steered 'Learn to Live' and has also has worked with Trace Adkins, Josh Turner and Brad Paisley. "I love Frank's records. That's where it started," Darius says of Frank, who also grew up in South Carolina. "When I met the guy and he asked me what I wanted and I looked in his eyes, I knew he got it. I really just knew that this was my guy. I say all the time, 'I can't see myself doing much in country music without Frank producing it.'"
Darius looks forward to hearing feedback from fans on the new album. He wrote 77 new songs for this project and admits it was hard to narrow them down. "I'm real, real happy with this record," he says. "After the 77, I'm pretty happy with the 13 that we narrowed it down to. We got the right ones."
The first single, 'Come Back Song,' is already a hit ... and there's more where that came from. 'I Don't Care' is a tune he co-wrote with friend Brad Paisley. "It's written from the perspective of two buddies taking time off from working, hanging out in Daytona or Panama City or something like that, having a good time. It's very funny," Darius says.
Thanks to the convenience of modern technology, Darius also co-wrote the poignant song, 'This,' with Frank and former 'American Idol' judge Kara DioGuardi. "Frank and Kara started it and then we actually finished it on the iChat," he says. "I came home yesterday and [my wife] said, 'Do you know what my favorite song on the record is?' and I said, 'What?' and she said, 'This.' I said, 'Me too.' It's a real good song."
Darius is also proud that his album title shines a spotlight on his hometown. "I love being from Charleston," he says. "The thing I love the most is the people. I've always thought it was a nice place. I love the beach. There's not a lot about Charleston that I don't like."
As much as he loves his hometown, he does confess a great affinity for Nashville. "No other kind of music has it's capital," he says of country music. "No other kind of music has that one place that you know it all resonates from. Rock & roll comes from everywhere, but Nashville is the capital of country music. If you want to be a country music star, you move to Nashville. That creates a great community and the country music family."