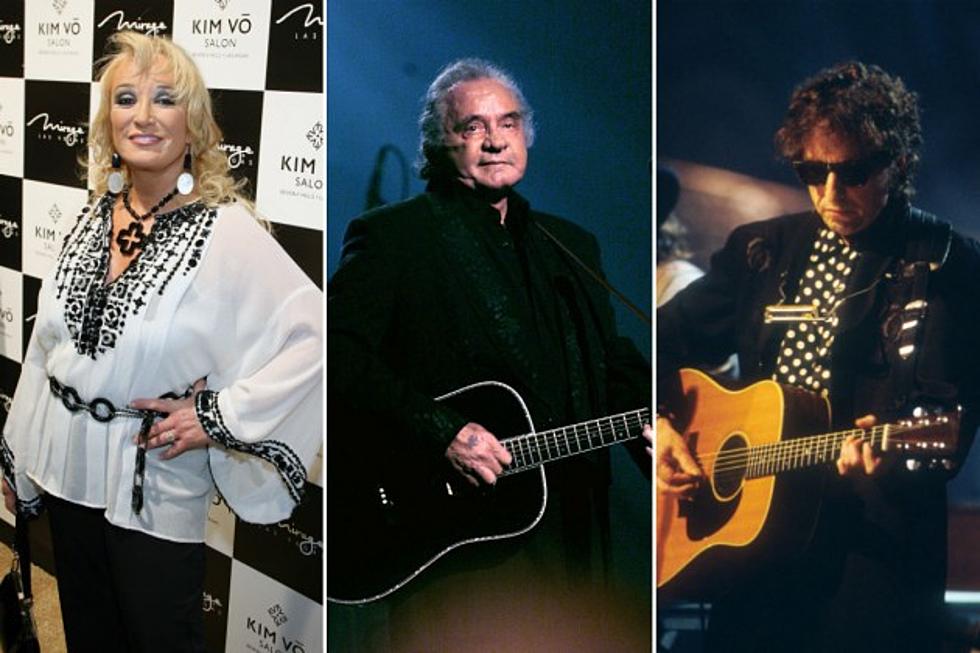 Upcoming Country Music Hall of Fame Exhibits to Honor Tanya Tucker, Johnny Cash and Bob Dylan
Ethan Miller / Scott Gries / Frank Micelotta, Getty Images
Three of country music's biggest artists will be honored with exhibits at the Country Music Hall of Fame and Museum. Tanya Tucker, Johnny Cash and Bob Dylan will be featured in newly announced upcoming exhibits.
Tucker's exhibit, 'Tanya Tucker: Strong Enough to Bend,' will open on Nov. 14 and run through May 2015. The exhibit will include photos, memorabilia and other items from her illustrious career, which began with her debut album, 'Delta Dawn,' when the singer was only 13 years old.
'Strong Enough to Bend,' will cover Tucker's rise to stardom, including landing the cover of Rolling Stone magazine when she was only 16 years old, as well as aspects of her personal life. The songstress famously dated Glen Campbell, 22 years her senior, and spent time at the Betty Ford Clinic in 1989. Tucker has amassed numerous awards, including one CMA Award for Female Vocalist of the Year in 1991.
Cash and Dylan will be part of an exhibit called 'Dylan, Cash and the Nashville Cats.' The exhibit, which will replace the current 'Bakersfield Sound' exhibit when it closes next year, will profile the studio musicians of the late '60s and early '70s.
"Nashville has always been a more nuanced music center than it commonly gets credit for, and the same thing could be said for the Country Music Hall of Fame and Museum. We strive to tell the full story of country music's evolving history using a mix of provocative learning experiences, and this exhibit is a great opportunity to talk about the early confluence of country and rock," Museum Director Kyle Young explains.
"Dylan recorded 'Blonde on Blonde,' 'John Wesley Harding' and 'Nashville Skyline' here. The Byrds made 'Sweetheart of the Rodeo,' Neil Young recorded 'Harvest,' and the Nitty Gritty Dirt Band created 'Will the Circle Be Unbroken.' Albums like these had a profound influence on popular music as well as establishing Nashville as a music hub and cool southern city with a sense of place."
Dylan is credited with helping make Nashville a musical hub of that era, after 'Blonde on Blonde' was recorded in Music City in 1966. Together, Cash and Dylan recorded 'Girl from the North Country' for Dylan's 'Nashville Skyline' record. Cash also hosted 'The Johnny Cash Show' for ABC, which was filmed at the Ryman Auditorium. Dylan was a guest on the first show, along with Joni Mitchell.
The studio musicians of that era, whose talents were rarely highlighted, include David Briggs, Fred Carter, Jr., Charlie Daniels, Ben Keith, Grady Martin, Charlie McCoy, Wayne Moss, Jerry Reed, Pig Robbins, Buddy Spicher and many others.
'Dylan, Cash and the Nashville Cats' will open on March 27, 2015, and is scheduled to stay open through Dec. 31, 2016. More details on the Country Music Hall of Fame and Museum, including ticket prices, can be found here.