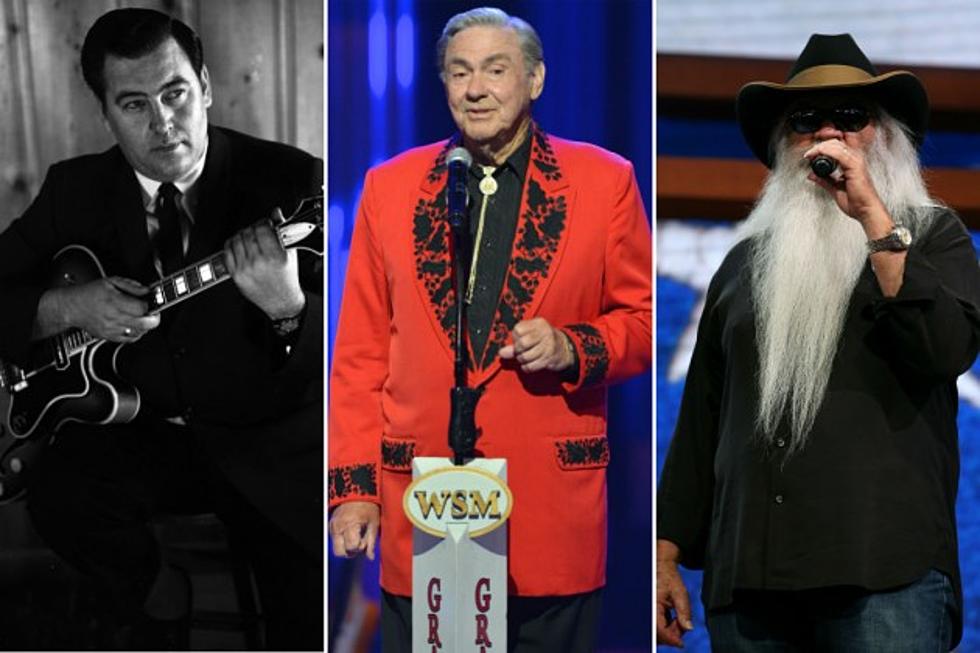 Country Music Hall of Fame Announces 2015 Inductees
Elmer Williams / Jason Davis / Chip Somodevilla, Getty Images
The Country Music Association has announced the three new artists who will be inducted into the Country Music Hall of Fame in 2015: Jim Ed Brown and the Browns, the late Grady Martin and the Oak Ridge Boys.
Country music legend Brown, along with his sisters Bonnie and Maxine Brown, will be inducted in the Veteran's Era category. The Browns officially banded together as a trio in 1955, and they earned hits with songs such as "Here Today and Gone Tomorrow," "I Take the Chance" and "I Heard the Bluebirds Sing." After many network TV appearances and overseas tours, the trio was inducted into the Grand Old Opry in 1963. They disbanded in 1967, and Jim Ed Brown began his solo career.
In addition to a plethora of hits and chart-topping duets with Helen Cornelius, Brown also became a television and radio host. He is currently in remission from lung cancer and recently released a new album, In Style Again.
"I'm as nervous as a mosquito in a nudist colony," Brown says of his induction. "I know what to do, but I don't know where to start."
Martin, who passed away in 2001, will be inducted as a Recording and/or Touring Musician active prior to 1980. At the induction announcement, his son, Josh Martin, called his dad the "one of the greatest guitar players to ever walk the Earth." Martin was a legendary guitarist and member of Nashville's original "A-Team" of studio musicians; he was skilled at many instruments, including the fiddle, electric guitar, acoustic guitar and six-string electric bass, and his prominence in country music lasted from the 1950s through the 1970s. He played with countless stars, including Little Jimmy Dickens, Johnny Horton, Loretta Lynn, Conway Twitty, Willie Nelson and many more.
The Oak Ridge Boys, comprised of Duane Allen, Richard Sterban, Joe Bonsall and William Lee Golden, will be the 2015 inductee in the Modern Era category. Between 1977 and 1987, the quartet nabbed 26 Top 10 hits (including 15 No. 1s), sold millions of records, filled performance venues and notched a few Top 20 pop hits as well. They continue to be a touring and recording force in the industry today. Allen admitted during the announcement that their induction "completes my wish list."
These three artists will be inducted during a special invitation-only Medallion Ceremony at the Country Music Hall of Fame and Museum in the CMA Theater later this year. During the ceremony, friends and colleagues will pay tribute to the three inductees through words and song. Plus, their achievements will be forever immortalized in a bronze plaque, which will be unveiled and on display in the museum's rotunda.
Congratulations to the 2015 Country Music Hall of Fame inductees!