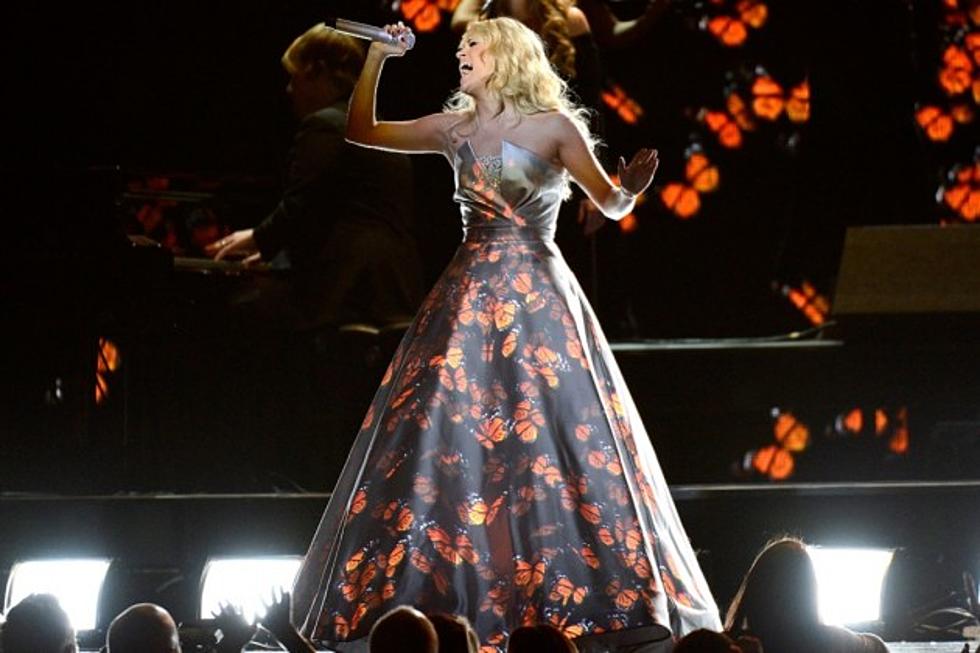 Carrie Underwood Grammys Dress Blows Audience Away
Kevork Djansezian, Getty Images
With a voice like hers, Carrie Underwood doesn't need props or special effects to make a performance special. But at the 2013 Grammy Awards, her dress was as amazing of an instrument as her powerhouse voice.
As the country superstar sang "Blown Away," which won Best Country Song and Best Solo Country Performance at Sunday's show, projected images of butterflies, roses, stars and abstract graphics danced across her powder-blue ball gown. It was the first time in Grammy history that an artist's wardrobe acted as a canvas. (Watch the dress in action below.)
"On my last tour, we did an LED dress, and that's where the idea sparked," Underwood told The Boot and other reporters backstage at the awards. "We wanted it to be artful and dramatic. There's so many big performances at the Grammys, and I just like to stand still and sing sometimes! This seemed to be the best way to do that but be visually attention-capturing."
The whimsical special effects were the perfect compliment to the song about a girl who watches her abusive father die in a storm. Because the lyrics are like nothing she's ever experienced, Underwood says that darker songs like "Blown Away" and her most recent hit, "Two Black Cadillacs," allow her to practice her acting chops on stage.
"That's the great thing about being an entertainer," the Oklahoma native tells The Boot. "You're just a big actor. I'm not the person in person that I am on stage. It just gives you a license to just lie to people I guess. That's a horrible way to put it [laughs]. You can just make up all this stuff. When we start sitting down and writing songs, you just never know what's going to come out."
Underwood was one of six country music acts to perform on the 55th annual Grammy Awards.
"I feel like music out of Nashville is something ... I won't say it's been overlooked, but we've always done so amazing," Underwood said backstage. "People still go out and buy country music records and support us on tour. It really is so successful, and sometimes I do feel in multi-genre settings I wish that there were a few more country people representing. I think [the Grammys] did a great job in representing. I'm so proud to be a part of that."