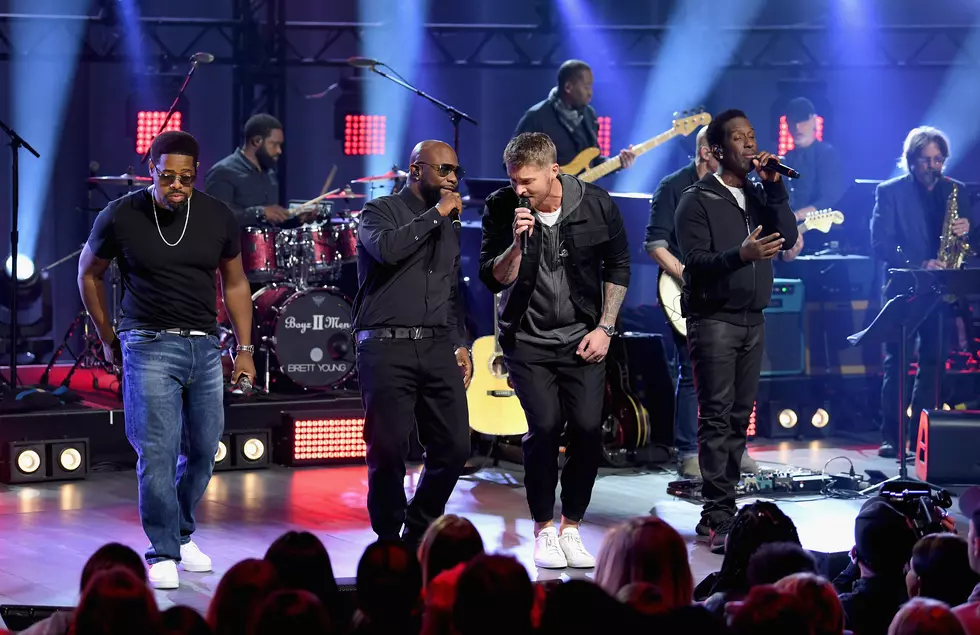 Brett Young, Boyz II Men Bring Soul to CMT 'Crossroads' [PICTURES]
Getty Images for CMT
CMT's newest Crossroads episode features an especially appealing crossover collaboration: country singer Brett Young with four-time Grammy-winning R&B moguls Boyz II Men. Two two acts joined together in Nashville in late February for a riveting performance, featuring renditions of each other's songs, and swapped stories onstage.
Boyz II Men's Wanya Morris, Shawn Stockman and Nathan Morris hopped onstage with Young to an applauding crowd and cameras. They began the set strong with the classic Boyz II Men hit "Motownphilly," Young's soulful voice blending flawlessly into the trio's dynamic, then moved along to hits including Young's "In Case You Didn't Know" and Boyz II Men's "Water Runs Dry," as well as an especially romantic version of Young's newest single, "Here Tonight." Both Young and Boyz II Men are known for sensual-toned songs, making them a perfect match for both a collaboration and a night of '90s slow-jam nostalgia.
One of the highlights of the night was a cover: country group Lonestar's mega-hit "Amazed," which Boyz II Men have previously recorded. Morris says they were originally offered the song before Lonestar, but turned it down -- a move they regretted, as the track was nominated for a Grammy. Several years later, they put their own spin on the country hit in the studio, and on the Crossroads stage, Young hit some impressive high notes during the performance.
After playing Boyz II Men's "End of the Road," which elicited a sing-a-long from the crowd, and Young's "Catch," the two acts began to slow things down. Young revealed to the audience that his first concert ever, back in the '90s, was a Boyz II Men show.
"I loved soul music," he shared, "but they were the first one that did it and made it current." In fact, Young says that R&B is the route which through he became interested in country music, because of their storytelling similarities and emphasis on melodic sensibilities.
Young and Boyz II Men closed their show with Young's hit "Mercy." Their full performance will premiere on CMT on March 27 at 10PM ET, but readers can get a sneak peek by flipping through the photo gallery below.