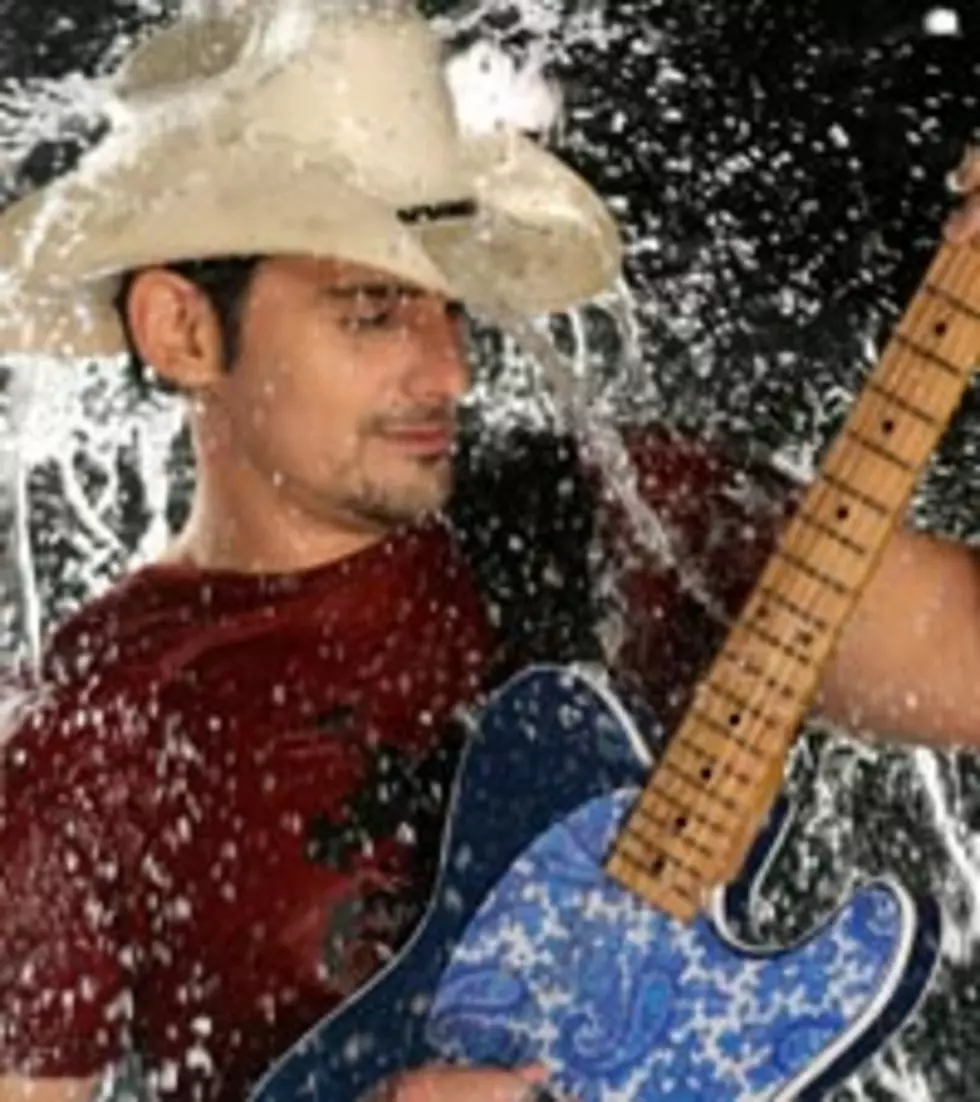 Brad Paisley Gives H2O Tour the 'Frozen' Shoulder
Arista
It might be time to retire the dunk tanks. Brad Paisley's wildly successful H2O World Tour is being renamed the H2O Frozen Over Tour. Brad is continuing his Billboard-nominated trek through the end of February 2011 under its new moniker.
Darius Rucker will remain on the tour, with Jerrod Niemann -- the first artist signed to Brad's own Sea Gayle Records -- joining as an opening act. The tour kicks off, fittingly, in chilly Green Bay, Wis., on January 20, hitting 16 cities before wrapping up February 26 in Nashville. See the full list of 'Frozen' tour dates below.
The H2O Tour began back in May and has stopped in more than 75 cities, entertaining more than 750,000 fans at the activity-filled shows. The concerts are preceded by deejay dunking booths and other activities at the Water World Plaza, where opening acts including Steel Magnolia, Easton Corbin and Josh Thompson have provided a musical soundtrack for the family-friendly fun. Brad also uses his tour to educate fans on clean water initiatives. He has partnered with Hope Through Healing Hands to raise money and awareness for impoverished neighborhoods without clean water to drink.
"It's not all fun and games," Brad told The Boot back at the start of the tour. "There's obviously going to be fun and games with the Chevy simulators and the fishing thing and the dunking booth for deejays and all of that, but then there's a booth that talks about water charities. That was my intent in the beginning, to make this thing more important than just a bunch of people getting drunk on the lawn every night."
H2O Frozen Over Tour dates:
January 20 - Green Bay, Wis.
January 21 - Ft. Wayne, Ind.
January 22 - Evansville, Ind.
January 27 - London, Ontario, Canada
January 28 - Hamilton, Ontario, Canada
January 29 - Montreal, Quebec, Canada
January 30 - Ottawa, Ontario, Canada
February 10 - Atlanta, Ga.
February 11 - Birmingham, Ala.
February 12 - Lafayette, La.
February 17 - Hershey, Penn.
February 18 - Roanoke, Va.
February 19 - Louisville, Ky.
February 24 - Orlando, Fla.
February 25 - Columbus, Ga.
February 26 - Nashville, Tenn.
if(typeof AOLVP_cfg==='undefined')AOLVP_cfg=[];AOLVP_cfg.push({id:'AOLVP_83117280001','codever':0.1,'autoload':false,'autoplay':false,'displaymnads':true,'playerid':'89761511001','videoid':'83117280001','width':476,'height':357,'playertype':'inline','stillurl':'dynamic','videolink':'#','videotitle':'dynamic','videodesc':''});