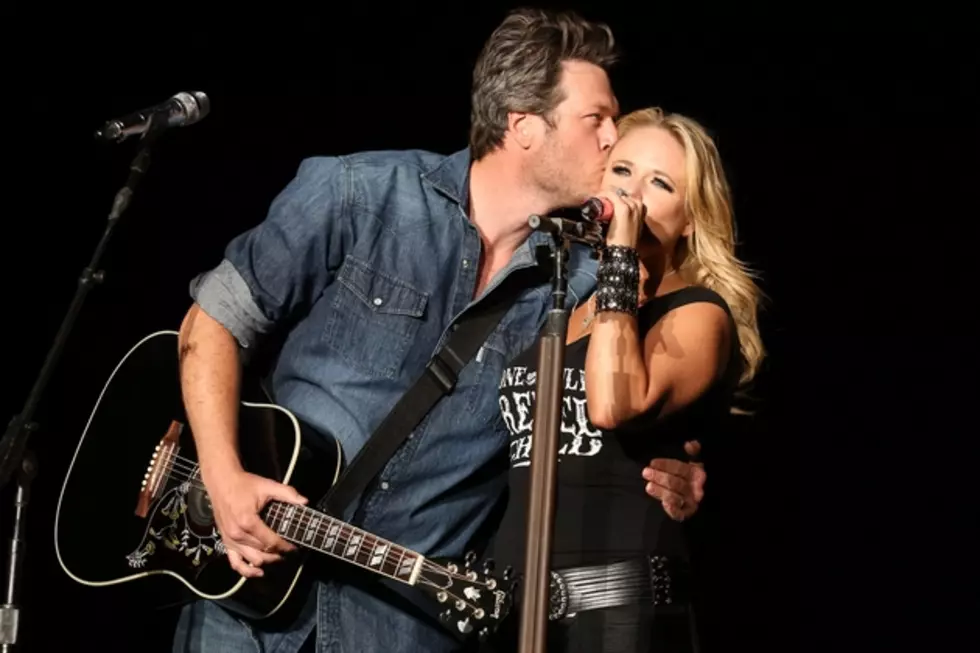 Blake Shelton Admits Falling for Miranda While Still Married
Christopher Polk, Getty Images for Stagecoach
Blake Shelton and Miranda Lambert are enjoying newlywed bliss following their May nuptials. The couple, who met after being asked to perform together for CMT's '100 Greatest Duets Concert' in 2006, dated five years before finally tying the knot. Still, they both acknowledge that in spite of their long trip to the altar, they knew early on they had an extraordinary connection -- even though one of them was unavailable at the time.
"I've never had that kind of experience with anybody," Shelton reveals of his first encounter with his now wife, in an upcoming episode of VH1's 'Behind the Music' (quote via Entertainment Weekly). "I was a married guy, you know? Standing up there and singing with somebody and going, 'Man, this shouldn't be happening.' Looking back on that, I was falling in love with her, right there on stage."
The Oklahoma native married Kaynette Williams in 2003 and filed for divorce in February of 2006. The split was not final by the time he met Lambert, and the two didn't start dating until afterward. But in spite of Shelton's pending marital status when they met, the 'Heart Like Mine' singer says she never questioned they would be together.
"We had instant chemistry, just like messing with each other, and he's real easy to be around," Lambert explains. "It was just like this draw to each other. It was this inevitable chemistry."
Their courtship may have been unconventional from the beginning, but it's a partnership that works for them.
"Miranda and I, our relationship is odd," Blake tells The Boot. "But really, really, really tight. We've gotten to the point where we really lean on each other for a lot of things, and it surprises me with how much we're involved with each other's careers, probably to the point where it makes people that work with us uncomfortable."
The couple are acclimating to married life from the comfort of their separate tour buses. Shelton is serving as the opening act on Brad Paisley's H20 II: Wetter & Wilder Tour, while Lambert is crossing the country for the next few months on her own tour.
The VH1 'Behind the Music: Miranda Lambert' special airs tonight (July 13) at 8:00 PM ET.