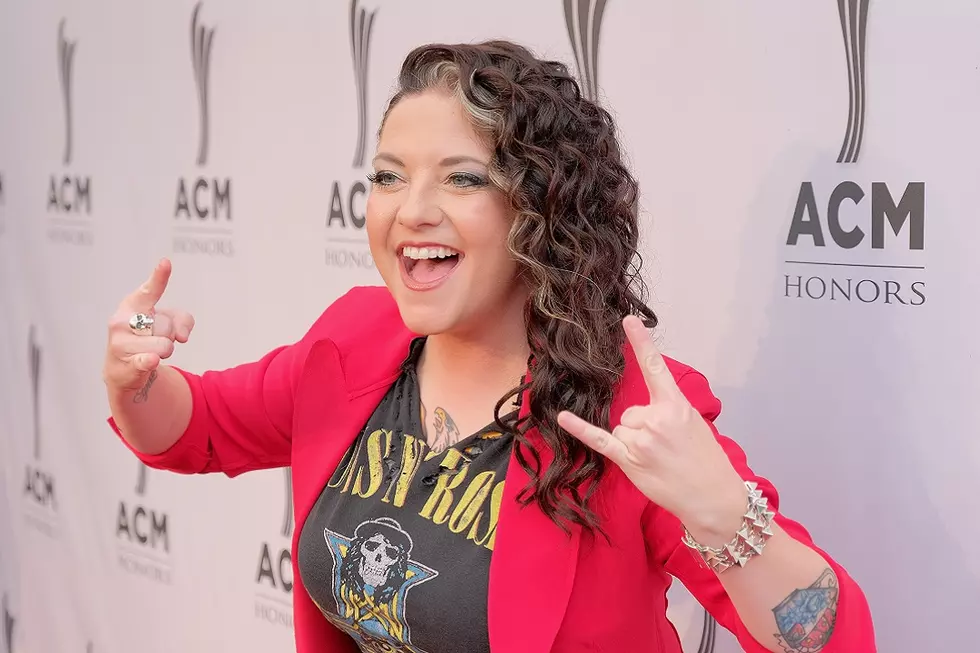 If Ashley McBryde Wins at the 2019 Grammy Awards, She'll Get a Tattoo to Celebrate
Getty Images for ACM
Each of Ashley McBryde's tattoos has a special meaning attached -- and if she wins at the 2019 Grammy Awards, she'll be commemorating the occasion with some new ink.
"If we were to win, then I would have to get a gramophone inside this sleeve," McBryde tells The Boot.
McBryde's major-label debut album, Girl Going Nowhere, is one of five nominees in the Best Country Album category at the 2019 Grammys. It's a nod she wasn't expecting: McBryde -- who says she didn't even realize Grammy Awards nominees were being announced when they were -- had played a show the night before, and she forgot to plug her phone in when she went to bed.
When McBryde woke up the next morning and started charging her dead phone, the ringer started going off. "I can't stand that," she admits, "so I just went over and turned the ringer off and went back to sleep."
McBryde woke up later to 40-plus text messages and thought something bad had happened. She checked one message from a friend, though: a video of the CBS This Morning announcement.
"I just kind of went 'WHAT?!'" McBryde recalls, "and I texted that exact video to the entire band, and I just went back to sleep, because I just, like, couldn't handle it."
"To stand among artists that I really admire and respect is a really cool thing," McBryde says. "That by itself is huge" -- and, even if she doesn't win, she admitted in a tweet on the day of the nominees announcement that "5-year-old me and teenage me are both satisfied as of now."
Having both Girl Going Nowhere and Golden Hour nominated for Best Country Album at the 2019 Grammys is a bit of a full-circle moment: McBryde and Musgraves released their albums on the same day, March 30, which led some to compare the two projects. In the moment, McBryde called out the behavior.
"There's no reason to pit us against each other, because we couldn't be any more different," she says. "We're more likely to probably go get a drink together than to try to compare albums."
The 2019 Grammy Awards will take place at the Staples Center in Los Angeles, Calif., on Feb. 10. The televised ceremony will begin at 8PM ET on CBS; the pre-telecast Premiere Ceremony will be available to stream online earlier in the evening. Further details, including a list of performers, will be announced in the coming weeks.
Meet Country + Americana's 2019 Grammy Awards General Field Nominees