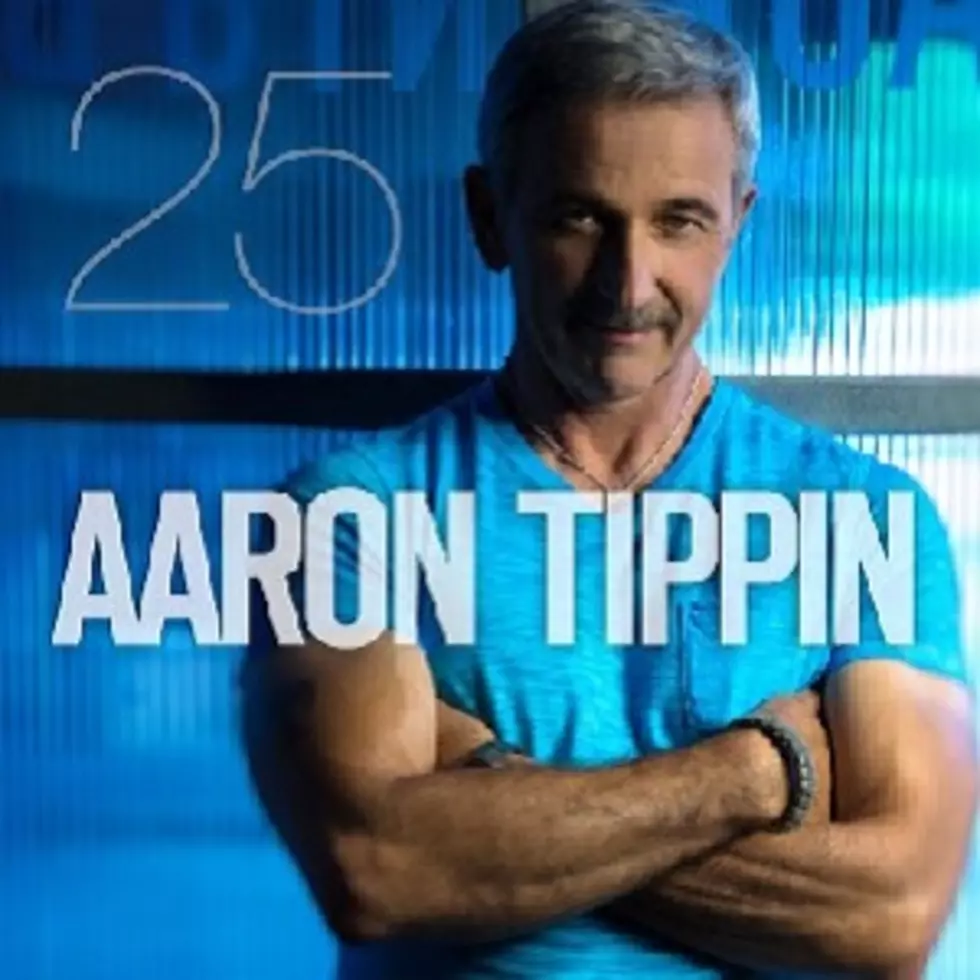 Interview: Aaron Tippin Celebrates 25 Years in Country Music
Courtesy of Absolute Publicity
In 1991, during the Gulf War, Aaron Tippin released his debut single, the patriotic "You've Got to Stand for Something." The tune became an anthem of sorts for soldiers fighting overseas, propelling itself into the Top 10 on Billboard's Hot Country Songs chart and jump-starting Tippin's country music career.
In the two and a half decades since his first single, Tippin has released 11 studio albums and notched nine Top 10 singles, including "Where the Stars and the Stripes and the Eagle Fly," another patriotic tune that was released in the wake of the 9/11 terrorist attacks, and the No. 1 "Kiss This." Tippin's discography also includes one platinum-certified and five gold-certified albums, two more No. 1 singles and four songs with crossover success on the Billboard Hot 100 chart.
On March 2, Tippin celebrated 25 years in country music with his 11th studio album, Aaron Tippin 25. The two-disc release features, appropriately, 25 tracks, including past hits, new songs and even a few covers; his family even sings with him on a gospel tune, "The House of the Lord." It is available for purchase exclusively through Tippin's website.
The Boot spoke with Tippin about his career highlights, his new album and some of the unique ways he's marking his musical silver anniversary.
Looking back on your career, do you recall a specific moment when you knew you'd "made it"?
The truth is, [it was] from the day I got here ... Looking back on 25 years, [I] can't believe I've come that far. By the time I was out here a second year, I was wondering if there was going to be a third year. But, you know, I think it came long before being a singer on a label; it was the songwriting days when I realized. I'd come to Nashville to write songs. It didn't matter anymore if I had a hit song or not; it's what I wanted to do. And as long as I could find a place to take a bath, even if I had to sleep under a bridge, I was gonna go down and write songs on [Music] Row every morning. Things worked out. Everything worked out unbelievably great. I'm the luckiest hillbilly that ever lived.
Do you have a favorite memory or two, big highlights from throughout your career?
I've got a bucket full of them. I look back on the very first thing that happened: I was on the Bob Hope Show. How do you top that? [Also,] Christmas of 1990, the first thing I ever did in country music, playing with Bob Hope in Saudi Arabia to entertain our troops in the Persian Gulf. And from there, golly, just all kinds of things.
You know, my music's been in space. When I was performing with Bob Hope in Saudi Arabia, a Marine captain flying an F/A-18 Hornet, he was a huge Aaron Tippin fan, and after he got out of the military, he went and worked for NASA, and when he [went on mission STS-105 on the Space Shuttle Discovery], he was allowed two pieces of music in space, and he took one of my CDs. So, that's a pretty big deal.
I played at the [National] Mall on the Fourth of July and got to sing "Where the Stars and the Stripes and the Eagle Fly" with the Washington Monument standing behind me ... I've had a lot of gifts.
Speaking of "Where the Stars and the Stripes and the Eagle Fly," let's talk about both your patriotism specifically, and why you think patriotism in general is so important in country music. 
I don't consider myself a patriot. I like to serve our troops, and even if nobody considered me a patriot, I'd still want to serve our troops, show my appreciation. And I think it runs pretty strong in the country world -- you know, Darryl Worley's a good example, [Neal] McCoy's a good example. They're not afraid to hunker down behind a bunker and play some songs for our guys and gals, and my hat's off to every single one of them.
What made you choose a patriotic song like "You've Got to Stand for Something" as your debut single?
Actually, [former Sony Music Nashville Chairman] Joe Galante chose it. As a matter of fact, we'd been running songs down, figuring out if we were going to put them on my album, and I came in one morning ... and I went in to Joe's office to say, "I've got a new song I'm gonna play for you," and when he heard it, he said, "That's gonna be the first single." So, Joe's the one that actually picked it.
Were you looking at any other songs as potential singles at that point?
Well, you know, he'd been doing this a lot of years. I thought, "If he heard what he thought was a first hit, I probably better be smart enough to go along with it." [Laughs] He's heard a lot of hits.
Switching gears to your new album, Aaron Tippin 25, there are a few new songs among its tracks. Where did they come from?
It's a combination of songs that have been around a while -- I reviewed everything that I had cataloged that I'd never cut over the years -- and then, I write all the time, so there's all kinds of new songs, and you never know what's gonna pop up, and there were some right at the last minute. "You Make Me Beautiful," me and David Lee Murphy wrote that song just before we went in to record. So there's a few of 'em like that, and then there's a few that, they've been there a while and I just thought, it's a great song, and it fits this project. It's all about 25 years in the business: a little bit of old, a little bit of new.
Is there one or two of the new songs that you're particularly excited to have on there?
Oh, geeze, that's -- no. I wrote all of 'em, so it'd be pretty tough to pick one baby over the other. And, I kind of let the fans decide what song they really, really are excited about.
There are also a few covers on the record as well. How did you select those?
Well, "The Way You Look Tonight," Frank Sinatra, that's the song that [my wife] Thea and I danced to at our wedding reception. We're big fans of Big Band music, and so I did it to kind of prove that I can do something other than country. There were boys in the studio when we were cutting it calling it "Hank Sinatra."
And your son and your family are on a couple of the covers as well.
Well, you know, [Tom,] the youngest one, man, he's following right in mother's footsteps and loving this music like crazy. Thea's an avid singer, too, and a Belmont [University] vocal major, and she's also a Gonzaga [University] music graduate, so she's really a great singer. Our youngest, it looks like he wants to be in the business, so it was only fitting that we pick out a song and do one together -- my 25th year, and his introduction to music commercially -- and we decided that we'd do an old tune from Al Green, "Let's Stay Together," and boy, he really rattles it. Sounds good.
Is a career in music something you really encourage for your kids, or are you more reserved about it?
I'm more reserved about it. His mother, you know, she's really gung-ho about it and loves it. Thea's the wheels behind the Aaron Tippin career, you know? She's the one that makes sure all the nuts and bolts are tightened up, and the T's are crossed and the I's are dotted -- that's what she does, and keeps this machine on track. And so, I think, through her passion for it and my being in the business, it's a course that's easily made because he's a good singer, and I think he can do well in the business.
Are there any other big plans you have to celebrate 25 years in the music business?
Not only only do we have the album for 25 years, which is a double disc, but we also have a commemorative bottle of wine -- yeah, sure do. We teamed up with [Stonehaus Winery,] one of the biggest wineries in Tennessee, and we've done an Aaron Tippin blackberry jam, and it is awesome. We had a release party back last month, and it was really great; we had a great time. And what a load of fun. You know, people can check that out on StonehausWinery.com and get a bottle of wine.
That's so cool! How did that partnership come about? And how involved were you in creating the wine?
Well, there's something else that most folks may not know: I'm an amateur wine maker, and I enjoy that. But here lately, with all the other goings-on, cutting the album and all that stuff, I hadn't made wine in a while, and these are actually folks who go to church with us. We've known each other, and Thea and I decided I didn't have time to make the wine myself, so I said, "Hey, why don't we partner with the folks at Stonehaus and see if they can come up with a wine for us for our 25th," and lo and behold, they took me down there and let me choose my own vat, my own barrel, that the wine came out of, so it's really cool. I'm kind of the testing mark for that one, so I'm real proud of that one, and it's great wine.
So when you pick a bottle of wine to relax with and enjoy, what's your favorite?
I'm aiming to try anything, man. I'm all about trying new stuff, and being a wine maker, you always want to. And here in the South, we don't really have great grapes for making wine, so we end up making wine out of fruits -- blackberry being a great example of that; I used to make a pretty mean peach and muscadine, so I do enjoy doing it, and it's fun to try different kinds.
Is making wine something you could see yourself doing after your music career is over?
Absolutely. I think it'd really be a fun adventure. I guess the old saying is, wine's made in a vineyard, not the winery, but, man, there are details that make wine different, and they come from the wine maker, and that's just the fun part of it.
So, other than the wine, do you have anything else in the works to help celebrate?
We will later on. We're going to have a commemorative handgun coming out. It's a Colt 1911 which will be commemorating 25 years of Aaron Tippin. Shoot, you know, we're just starting talking about maybe there might be a book and a documentary coming, too, so there's plenty going on this year.