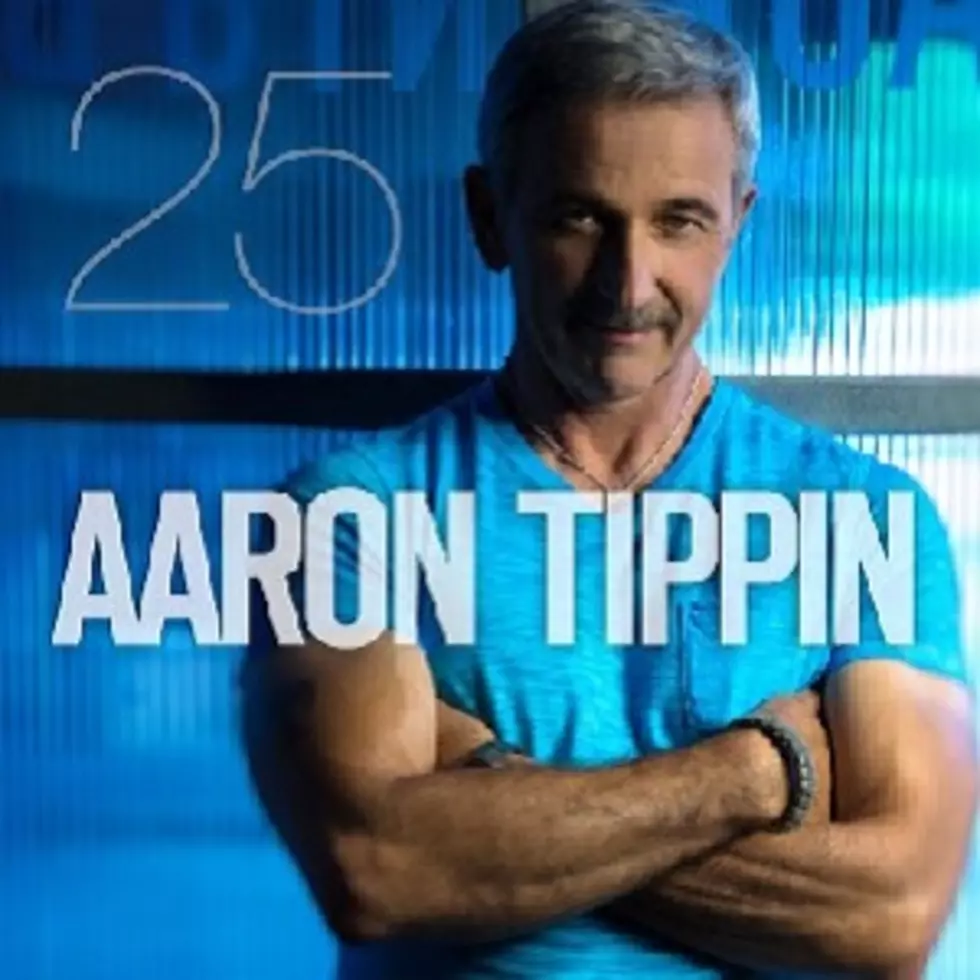 Aaron Tippin to Release Double Album Celebrating 25th Anniversary
Courtesy of Absolute Publicity
It's been 25 years since Aaron Tippin released his debut single, 'You've Got to Stand for Something;' the song was the title track of his freshman album and became a Top 10 hit. Now, to celebrate his quarter century in the music business, Tippin is releasing a brand-new album, 'Aaron Tippin 25,' on his own Nippit Records.
In those 25 years, the singer-songwriter has released 17 albums and had more than 20 Top 40 singles, including the No. 1 hits 'That's as Close as I'll Get to Loving You' and 'Kiss This.' The new two-disc project will include 10 of his biggest hits, including 'You've Got to Stand for Something' and 'Where the Stars and Stripes and the Eagle Fly,' along with 15 new songs.
"I had so much fun writing and recording this stuff," Tippin says. "It's always great to get to sing the old hits which have brought me to where I am now, but it's also energizing to do new songs. I co-wrote with some awesome writers for this project."
Tippin also included some classics that may seem an unlikely choice for a country singer, including Frank Sinatra's 'The Way You Look Tonight' and the Georgia Satellites' 'Keep Your Hands to Yourself.'
"I even recorded five songs that you'd probably never expect to hear me sing," he adds. "My son Tom sings with me on Al Green's 'Let's Stay Together,' and man, I'm proud of that! And I put a gospel tune on there that I wrote over 30 years ago, and I had the whole Tippin family sing on it.  It's called 'The House of the Lord.'"
The 56-year-old, whose last studio album, 'He Believed,' was released in 2008 for Cracker Barrel, says he is amazed at how much time has passed.
"I think about it and go, 'Wow. What am I doing still here?'" he notes. "I am the luckiest hillbilly that ever lived."
'Aaron Tippin 25' will be available for purchase on March 2 exclusively at Tippin's website. See a complete track listing below.
Aaron Tippin, 'Aaron Tippin 25' Track Listing:
1. 'You've Got to Stand for Something'
2. 'There Ain't Nothin' Wrong With the Radio'
3. 'My Blue Angel'
4. 'Working Man's Ph.D.'
5. 'Honky-Tonk Superman'
6. 'I Got It Honest'
7. 'That's as Close as I'll Get to Loving You'
8. 'Big Boy Toys'
9. 'Kiss This'
10. 'Where the Stars and Stripes and the Eagle Fly'
1. 'Real People'
2. 'Working Girl'
3. 'Easier Unsaid Than Undone'
4. 'On This Side of Life'
5. 'That Makes Me Thirsty'
6. 'I'm a Mechanic'
7. 'Without a Kiss'
8. 'You Make Me Beautiful'
9. 'Free to Be Me'
10. 'God's Not Through With Me Yet'
11. 'Keep Your Hands to Yourself'
12. 'Mountain Man'
13. 'The House of the Lord'
14. 'The Way You Look Tonight'
15. 'Let's Stay Together'