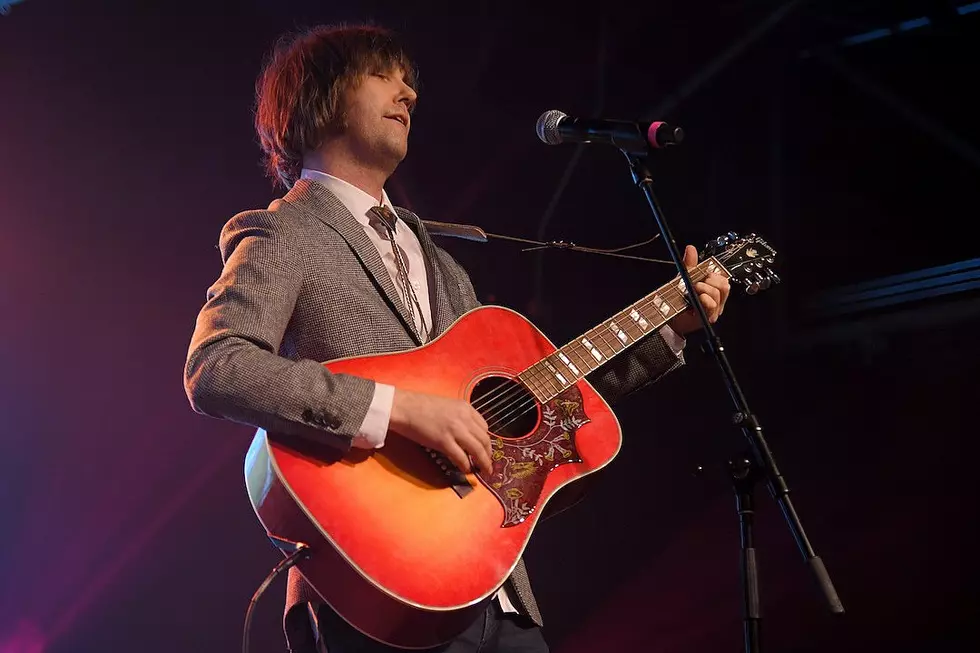 Top 10 Aaron Lee Tasjan Songs
Jason Kempin, Getty Images
Having lived everywhere from Delaware to New York City, Ohio and now Nashville, the eclectic Aaron Lee Tasjan is known for creating music that meanders genres and styles almost as much as he has cities.
His diverse sound ranges from traditional rock and roll to folk and even Bowie-esque 80's glam, alongside lyrics that ruminate on everything from his bisexuality to bar-hopping, country cliches and fighting through life's adversity.
An accomplished singer-songwriter, guitarist and pianist, Tasjan has earned multiple award nominations, including a Grammy Award nomination for co-writing Yola's energizing 2021 track "Diamond Studded Shoes."
With four albums to his name and a lengthy list of collaborations with critically acclaimed artists including Lilly Hiatt, Todd Snider, J.D. McPherson and Ray Wylie Hubbard, Tasjan has cemented his position as an artist all his own, with plenty of room still to grow.
Let's take a look at The Boot's picks for Aaron Lee Tasjan's top 10 songs, so far:
10

"Little Movies"

From: 'Silver Tears' (2016)

Helping introduce Tasjan on the national stage during his 2017 appearance on Conan in 2017, "Little Movies" is a ditty about how each of our lives are filled each day with moments that we're the main characters of, helping to define our lives for decades to come. With dramatic arrangements to match, the song explores how even in the toughest of times, we all have the ability to take back control of our own "little movies" to start building the life we want to live.

9

"Computer of Love"

From: 'Tasjan! Tasjan! Tasjan!' (2021)

Tasjan transports himself back into the 1980s on the nostalgic sounding "Computer of Love," a tune that dives headfirst into the perplexing nature of the internet and social media phenomenon, as well as the toxic behavior and attitudes that often thrive in those spaces. He references everything from beauties from the late 80's staring back at him through his screen to "Fake friends tweeting two cеnts / Just to mess with me" and other dangers on his screen.

8

"Dime"

From: 'Silver Tears' (2016)

Tasjan's wit and humility collide on "Dime," an empowering folk-rock number about finding joy in the good side of life rather than letting a few "dimes" of bad times keep you down. This is best portrayed in the song's chorus, which has Tasjan singing "And everybody knows it / They tell me all the time / I'm worth at least a million / And I barely have a dime." The track is a delightful reminder that no matter how you feel on the inside there will always be people that love and value you as an artist, co-worker, friend, partner, family and person.

7

"E.N.S.A.A.T."

From: 'In the Blazes' (2015)

Despite the drastic transformation Nashville has undergone in the past decade, Tasjan can't help but ruminate on its long past days of prominence as a train town on "E.N.S.A.A.T.," better known as "East Nashville Song About a Train." The song sees Tasjan's wit shine through dark lyrics about the difficulties of making it in East Nashville writing songs about trains — a strategy attempted by countless country music hopefuls in decades past. A place ripe with booze and pills for pain, Tasjan touches on the dichotomy of Music City being both a destination to flourish as a songwriter and a place to slowly fade away into irrelevance, the latter of which he shows no signs of doing anytime soon.

6

"Hard Life"

From: 'Silver Tears' (2016)

Like many of his other songs, Tasjan taps into the tough parts of life in the swampy sidewinder "Hard Life," calling out those who know how difficult it can be to get by but nevertheless insist on stepping on your toes and giving you loose gravel instead of a solid foundation, adding further instability to your life. The track also refers to specific instances of this instability in his own life growing up, singing "There's a redneck bummer in an H2 Hummer / And he sure does hate the queers / I guess some life choices are cries for help / That nobody ever hears." Lyrically, Tasjan shines a light on how some people bottle their emotions up, only to later spread it back out into the world through anger and hate rather than tackling it more constructively.

5

"Success"

From: 'Silver Tears' (2016)

This deep cut from Tasjan embraces the pain and continuous struggle associated with self growth, both in personal and professional aspirations, and how to push through adversity to be a better person each and every day. This message is exemplified in the lyric "Success ain't about being better than everyone else / It's about being better than yourself," easily one of the most profound lyrics for me as a writer, trying to find my way in the world. At the same time, Tasjan's lyrics also help to ground the listener's perspective in empathy with licks like "Took her first-world problems to a third-world person / And asked for a shoulder to cry / She embarrassed herself because a poor person's problem / Is mainly just to try not to die," illustrating that no matter how bad our problems may seem, there's somebody somewhere who has things far worse.

4

"Dangerous Kind"

From: 'In the Blazes' (2015)

Tasjan fully leans into his country rock side on "Dangerous Kind," a foot-stomping and foreboding song about love turned cold. The fiery instrumentals on the tune fan the flame of its feisty lyrics, which find Tasjan singing about a dangerous kind of love that "Breaks the body and destroys the mind." It's that passion that leads him to feeling stuck in a world that feels like a hospital, where everyone is handing out medicinal popsicles rather than telling the truth.

3

"Up All Night"

From: 'Tasjan! Tasjan! Tasjan!' (2021)

On the ELO and Tom Petty-esque confessional "Up All Night" Tasjan ponders the real reasons behind his insomnia-driven worries. The glimmering pop song about facing hard truths sees Tasjan reference everything from his bisexuality ("Broke up with my boyfriend / To go out with my girlfriend") to the effects of alcoholism ("I went to the doctor / She said you might have a problem"), all in a charismatic and upbeat manner that oozes wisdom, confidence and authenticity.

2

"12 Bar Blues"

From: 'Silver Tears' (2016)

Tasjan tells the stories of encounters he's had in smoky haunts from Nashville to New York on "12 Bar Blues." The avant-garde leaning ballad finds Tasjan touching on everything from bars with bad memories ("I dated the waitress at the third bar that I'm thinking of / There's four bars in this town I can't even go into") to watering holes with quirky attributes ("So hang some taxidermy up on the wall, mute the TV / That pool table over there gives out every other game for free") and characters ("One time this guy came in to our bar and sang karaoke-style Hootie and the Blowfish / We had to ask that guy to leave"). Ultimately, he and the song revel in these oddities that make these hole-in-the-wall bars ripe with stories to be told.

1

"The Trouble With Drinkin'"

From: 'In The Blazes' (2015)

Tasjan's light-heartedness and blue-collar mentality shine through on old gem "The Trouble With Drinkin.'" On the hollerin', swallerin' tune, Tasjan concludes that there's no trouble at all to drinking "Unless I'm low on money / Or too high on the weed." He goes on to describe how rather than growing ornery a few drinks in, he only grows happier. That's because it helps him forget his life's troubles, which are "usually too much" and "usually from a can."