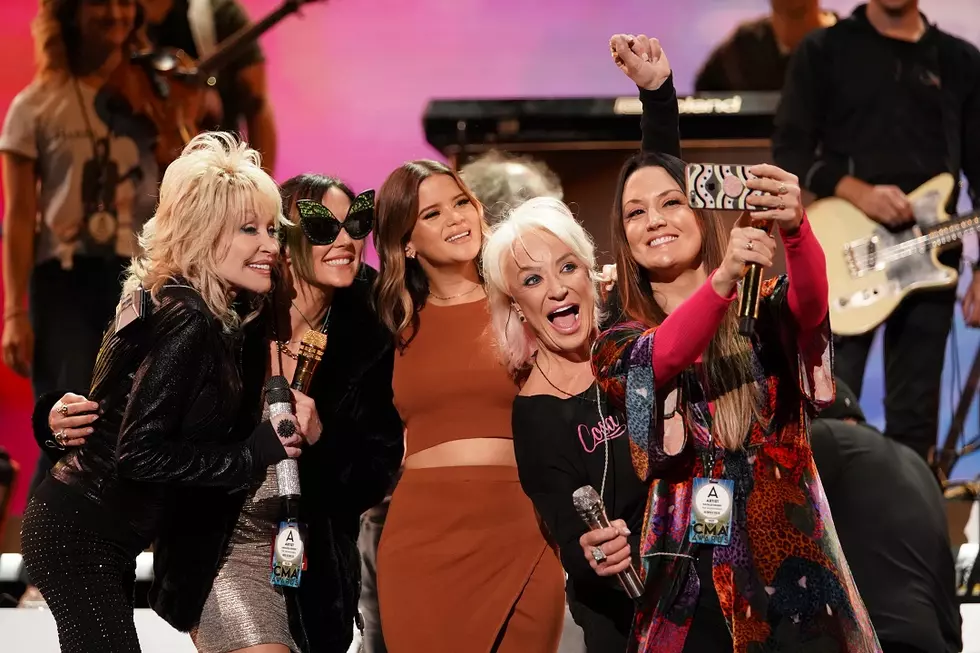 2019 CMA Awards Are 'Gonna Be a Girls' Night,' Say Performers
John Russell, CMA
Several of the 14 women involved in the opening number, and some of the younger stars they look to empower, praised the once-in-a-lifetime performance slated for Wednesday (Nov. 13) in interviews conducted by the Country Music Association during pre-show rehearsals. "[The opening performance is going have the audience] remembering what is amazing about women's roles in country music -- what was amazing, what could be amazing," Underwood, who is hosting the 2019 CMA Awards for a 12th consecutive year, says.
"We just wanted to jam pack the CMA Awards with women … We really just wanted to jam pack it," she adds, "and just do it in the most wonderful, respectful way, just have as many ladies of country music in the show as possible."
Wednesday night will be an all-around huge one for Underwood as she vies to become the first woman to win the CMA's top prize, Entertainer of the Year, since Taylor Swift last won it in 2011. Underwood is the first woman to even be nominated in the category since 2016.
"I think it's always an appropriate time to celebrate women, in general, but especially in country music, and, you know, we go through a lot to get here … so the fact that they're being lifted up is really amazing," says Miranda Lambert, who's been actively championing Underwood as the choice for Entertainer of the Year. Evans, an outspoken proponent for playing more women on mainstream country radio, sees the decades-spanning performance as another chance to expose a broken system.
"It's the talk everywhere," Evans says of the topic of women in country music. "Everyone's talking about it and thinking about it, and I'm hoping that the industry's realizing that it really does have to change. Women need to get back on country radio and be represented more on awards shows like this … There are new female artists that are trying to break through, and it's just really, really hard for them, and it shouldn't be this hard for them. It shouldn't be this one-sided …
"All those iconic females who gave us some of the most amazing songs across genres, you know? It just is baffling to me that we don't have that anymore, and even that we have to make this statement," Evans continues. "I'm so excited about it, and I'm so grateful for it, but I'm like, 'Wow, it's really come to this.'"
Each of Wednesday night's performers were once young children with big dreams and musical heroes of their own: "I was in Reba McEntire's fan club!" recalls Clark. "Some of these songs helped shape who I am as an artist ...
"I think a lot of women, and just little girls at home, who sing country music and have a dream, are gonna see [this performance], and it's gonna be an inspiration to all of them," Clark adds.
2019 CMA Awards: Go Behind the Scenes at Rehearsals
"It's all camaraderie. There's no egos in the room -- not one," reflects Tucker. "So I think that's really a special thing about our music, and the women that do this music …
"We all come together as a group, and as women in our own different kind of lives – everybody has a different road to take – and we come together for this one night and stand up and say, 'Hey, we're women, and we're proud of it,'" she adds. "Because without a woman, hey, there wouldn't be anybody else, would there?"
Even artists who aren't part of the 2019 CMA Awards opening medley are excited about seeing the can't-miss collection of talent coming together for a common cause. "There's a lot of chick power up there," Ashley McBryde says. "You put Reba and Dolly and Carrie on the same stage, I'm surprised the foundations don't crack, just a little bit. There's three different eras represented there, and it's the best we have to offer in country music."
Adds Lindsay Ell, "We are so women-rich [in country music right now]. I'm just so excited to see all of these empowering and badass females on one stage."
Later during the 2019 CMA Awards, viewers can expect solo performances from Parton, McEntire, Underwood, Maren Morris, Kacey Musgraves, Miranda Lambert, Kelsea Ballerini and others. Another medley will feature Ballerini, McBryde, Ell, Carly Peace and others.
"I really think it's gonna be a girls' night," Ballerini says. "I just think it's really special to highlight so many iconic voices and, hopefully, voices that become icons."
Although plenty of changes need to be made to truly level the playing field, the CMA Awards' efforts to offer more women a global platform will hopefully provide younger artists with hope for additional opportunities.
"Women are a huge part of our genre, and I think in years past, especially since I moved to town 10 years ago, we've had a lack of them," Pearce reflects, "and I think this year shows very much that we're in a good place and we're in the right direction, and that there are a lot of amazing women doing amazing things, all the way from Dolly to, now, my generation."
The 2019 CMA Awards will air live from Nashville's Bridgestone Arena on ABC beginning at 8PM ET.
Here's How We Hope the 2019 CMA Awards Will Celebrate Country's Women