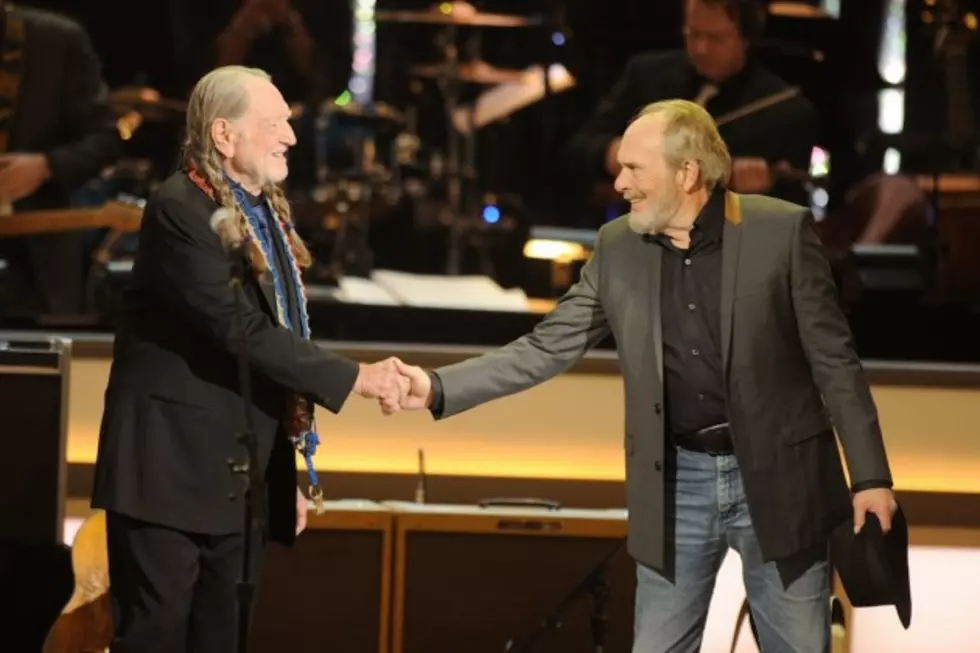 Willie Nelson and Merle Haggard Announce 'Django & Jimmie' Album, Reveal First Single
Ethan Miller, Getty Images
Willie Nelson and Merle Haggard released a collaborative record, Pancho & Lefty, in 1983. Thirty-two years later, the two country superstars are pairing up once again, this time for an album called Django & Jimmie.
Nelson confirmed the album on Friday (March 21), when he appeared on Jimmy Kimmel Live from SXSW, and he even treated audience members to a few lines from the record's first single, "It's All Gone to Pot."
When Kimmel asked Nelson what the song was about, Nelson immediately began singing: "It's all going to pot / Whether we like it or not / As far as I can tell / The world's gone to hell / And we're sure gonna miss it a lot / All of the whiskey in Lynchburg, Tenn. / Just couldn't hit the spot / I've got $100 bill / You can keep them pills, friend / 'Cause it's all going to pot."
He revealed that the single will be available on April 20.
Haggard also recently offered a few more details about the record.
"It's really good; I think it's the best one we've done," he says. "I think the title of the album is probably going to be Django & Jimmie, about Django Reinhardt and Jimmie Rodgers. We didn't really do any swing, per se, we just did straight-ahead songs that we felt good about."
Nelson and Haggard have released a few albums together previously: the No. 1 Pancho & Lefty, which included the No. 1 title track written by Townes Van Zandt; 1987's Seashores of Old Mexico; and a 2007 record with Ray Price, Last of the Breed.
The Django & Jimmie album name is quite nostalgic: Reinhardt is Nelson's favorite guitar player, and his trusty guitar Trigger has a Django-like tone, so that covers the Django part of the title. As for Jimmie, in 1969, Haggard released a Rodgers tribute album, Same Train, A Different Time. Whether that's where the inspiration stops, or if Haggard and Nelson are incorporating more Reinhardt and Rodgers references into the record, remains to be seen.
A release date for Django & Jimmie has not yet been announced.
Country Stars Who Have Served in the Military