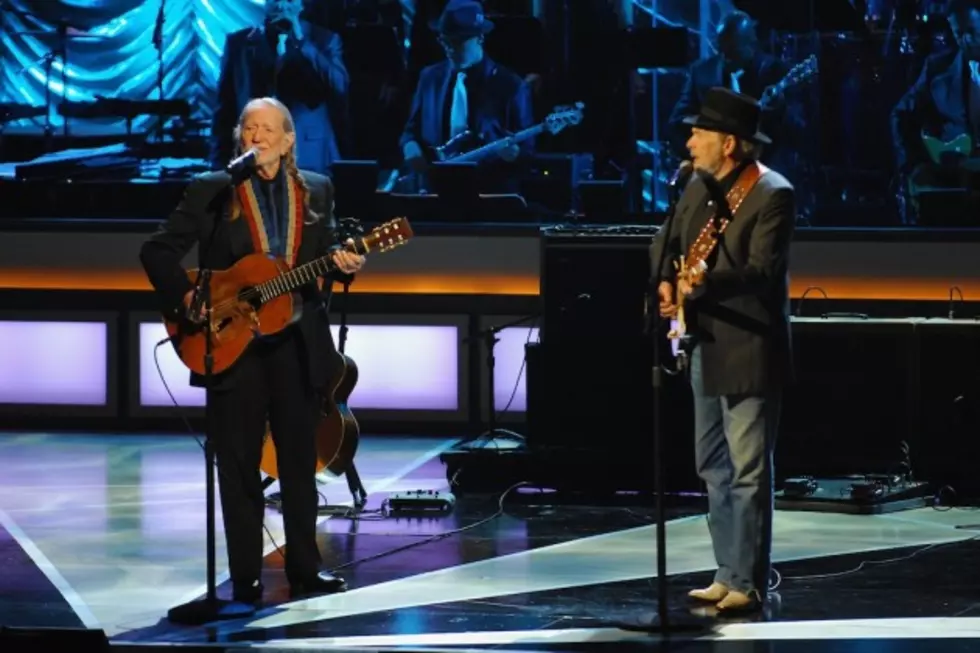 Willie Nelson and Merle Haggard to Embark on 2015 Django and Jimmie Tour
Brian Steffy, Getty Images
The 2015 Django and Jimmie Tour will kick off on Oct. 15 in Florence, S.C., and run through Nov. 28. They'll perform in civic centers, coliseums and arenas across the U.S., hitting up cities such as Roanoke, Va., Milwaukee, Wis., Bloomington, Ind., and more. The venues are quite large, seating up to 10,000 people, but fans should certainly snatch up tickets early; after all, it's not every day that two country legends go on tour together.
Nelson and Haggard's recent record, Django and Jimmie, was the follow-up project to their 1983 release, Pancho & Lefty. It features 14 joint studio recordings from the legends, including the cheeky "It's All Going to Pot" and "Alice in Hulaland" (for which a music video was recently released).
"The chart-topping success of Django and Jimmie is another milestone in the remarkable journeys of Willie Nelson and Merle Haggard," Legacy Recordings President Adam Block says. "Their latest achievement is a testimony to the ongoing vitality of their careers, the timeless quality of their music and, most importantly, the enduring bond of their friendship."
Willie Nelson and Merle Haggard, Django and Jimmie Tour Dates: 
Oct. 15 — Florence, S.C. @ Florence Civic Center
Oct. 16 — Roanoke, Va. @ Berglund Center Coliseum
Oct. 17 — Reading, Pa. @ Santander Arena
Oct. 21 — Bloomington, Ind. @ TBA
Oct. 23 — Pikeville, Ky. @ Eastern Kentucky Expo Center
Oct. 24 — Milwaukee, Wis. @ Milwaukee Theatre
Oct. 25 — Green Bay, Wis. @ Theatre at the Resch Center
Oct. 28 — Fort Worth, Texas @ Billy Bob's Texas
Test Your Willie Nelson Knowledge!
Country Stars Who Have Served in the Military