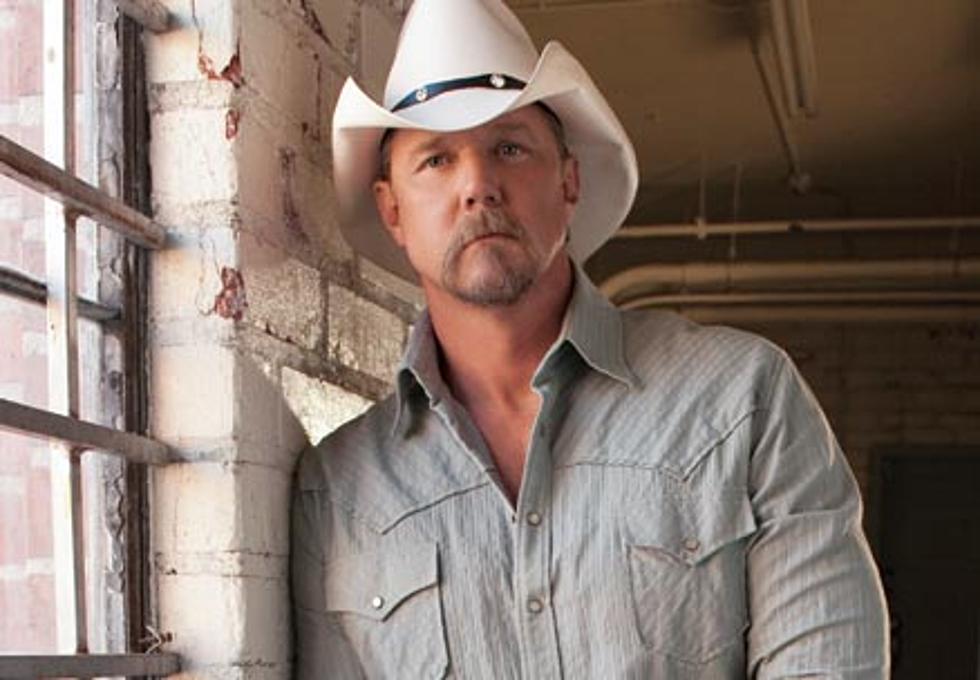 Trace Adkins Is 'Back in Town' With New Album
Pamela Springsteen

Trace Adkins' highly-anticipated new album, 'Cowboy's Back in Town,' hits stores nationwide on August 17. The 11-track album is filled with the kind of music Trace's fans have come to expect from the country superstar -- crowd pleasing rompers mixed with heartfelt ballads, all delivered with honesty that resonates through his booming baritone.
"There was really nothing that different as far as the selection of the material," Trace tells The Boot. "And nothing different than what I've been doing over the years. I'm just continuing to grow with each album."
While he is no stranger to making music ('Cowboy's Back in Town' marks the superstar's 11th album to date), Trace's latest release represents the beginning of a new chapter in his career. The album is his first for Show Dog-Universal Music, the label headed by Toby Keith and producer/songwriter Mark Wright.
"Toby was just so supportive, and he just wanted to make sure that it turned out the way that I wanted it to," says Trace. "This is an artist-oriented label. You can really feel that."
'Cowboy's Back in Town' will also be available in a special deluxe edition with three previously-unreleased tunes, as well as the No. 1 smash duet with Blake Shelton, 'Hillbilly Bone.'
Trace's time in the studio afforded him a comfortable atmosphere, and he enjoyed the feeling of working with an independent record label. "I've always had the freedom I've wanted with making albums, but there's a little bit more that comes with being involved with a label like Show Dog," he says.
While a majority of recording artists admit that time spent in the studio can be tedious, Trace feels the complete opposite. "It's always different, and it's the creative side of things. It's one of the things that I find most enjoyable about this business. Being in the studio and creating something new is one of the most fun things that I get to do."
Trace also had the opportunity to work with fellow Show Dog-Universal recording artists, Trailer Choir, who came in to lay down vocals on 'Don't Mind If I Don't.' "Having them on that song I thought was right up their alley," says Trace. "It's a fun little song. I wanted to hear those three parts on it and have [Trailer Choir's Big] Vinny do his rapping thing. I thought it turned out great."
The album's title track is a song Trace wrote with Jeff Bates and Kenny Beard (one of the album's producers, along with Michael Knox). "They got on tour bus with me to go out one weekend to try to write something," Trace recalls. "Jeff came up with that guitar lick, and we just started writing. I thought it turned out great. I played it that night in my show."
While Trace says he had no expectations of recording the song, he soon changed his mind after putting it on tape. "I didn't know how good it would turn out. The demo turned out really good so that it's actually what's on the record."
As he was putting the final touches on the album, Trace says the song presented itself as the perfect candidate for the title track. "None of the other titles lent themselves to being an album title, so that, to me, was the only logical choice. It kind of makes sense because I feel like I'm reinvigorated and feel good about everything. I feel more like my old self and am having fun. I thought it was fitting."
The remainder of the songs on 'Cowboy's Back in Town' come from some of Nashville's top songwriters including Casey Beathard, Rivers Rutherford, Ashley Gorley and Luke Laird. Trace is the first to admit that he's content with not trying to compete with writers in town when it comes to looking for material to record. "I do write from time to time, but it's not something that I do every day. I'm much more critical of the stuff that I write. It's harder for stuff I write to actually make it on my records than stuff I don't write, because I have to feel as though it's as good as everything else. There are actually some songwriters in town that joke the best way to make sure you don't get a Trace Adkins cut on an album is to write a song with him. [laughs] I'm kind of lazy when it comes to songwriting. I just don't really care for the whole process of it."
The first single from 'Cowboy's Back in Town,' is the cleverly written 'This Ain't No Love Song,' which is a unique twist on the standard sappy love ballad. "The song is about a guy trying to convince a girl that the song is not about her when she and he both know it is," Trace says. "He's just not going to admit it."
One of Trace's favorite tracks is the fun, uptempo (and suggestive) 'Brown Chicken Brown Cow.' "The first time I heard this song it made me laugh," Trace says with smile. "They played it for me without pitching it to me to record. I just said, 'I'm putting it on my album.' That was the end of that!"
For this go-around in the studio, Trace notes that he wanted to stay away from slow love ballads and focused more on songs he could perform live. "I started learning to record songs that would be great to do in concert ... songs that would enhance the live show. Going to shows should be an energetic release for the audience."
In the past several months, Trace has had plenty of opportunities to play his new music live as he criss-crosses the country with Toby Keith on the American Ride tour, with the new material getting a great reception from concertgoers. Trace hopes to some day expand his professional relationship with Toby by going into the studio to work on a duet, but until that time comes, he content to offer his fans the music they love to hear.
"I just hope that we have a good launch with this record on this new record label," he says. "For the sake of Show Dog-Universal, I really want for this [album] to be a huge success. I appreciate the faith that they've had in me, and I hope that it's proven to be a good decision on both our parts. That's really what I'm hoping for this year."
Trace is making the media rounds in support of 'Cowboy's Back in Town,' with several TV appearances scheduled over the next few weeks. For his upcoming tour dates, click here.