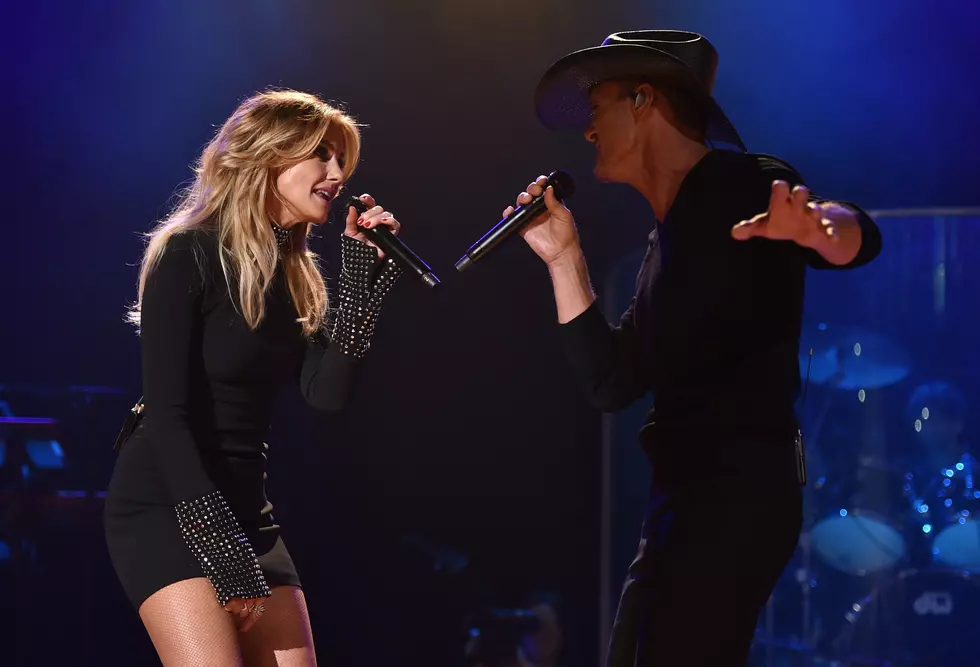 Review: Tim McGraw, Faith Hill Offer Tour Details, Hits at the Ryman [PICTURES]
John Shearer, Getty Images
The couple kicked off the night with their very first duet, "It's Your Love;" they started at opposite sides of the stage and ended up side by side by the end of the romantic song -- and then Hill announced their tour plans, promising that they would go "from side to side, South to North, all the way around the globe."
"Since we have everybody in one room, we might as well play a few songs for you tonight," McGraw quipped following his wife's good news. "So if it's okay with you guys, the blond's going to kick it in the a-- right now."
Hill's solo set included her hits "This Kiss" and "Mississippi" ... and some sentimental thoughts about the evening's performance: "This is the best place in the world to play," she said, admitting that she was so emotional she wanted to cry. Hill then sang a cover of Aretha Franklin's "Dr. Feelgood," followed by "Cry," "Stronger" and Janis Joplin's "Piece of My Heart," before McGraw joined her onstage again, this time to sing "Angry All the Time."
When it was McGraw's turn to shine, he practically exploded, singing "Something Like That" and "Shotgun Rider" before sharing some thoughts of his own.
"I love my job," he gushed, his excitement palpable. "I mean, I flat-out love my job. Sometimes I'm good at it. Sometimes I'm bad at it. Sometimes I'm okay at it. But I always love it."
McGraw then sang "Humble and Kind," acknowledging its songwriter, Lori McKenna, who was in the audience, and ended with "Something in the Air" and "Real Good Man" before Hill returned to the stage to sing "Like We Never Loved at All" with him.
"There ain't a singer in the world except for Chris Stapleton that ought to sing that high," McGraw joked.
The spouses closed out their set with a cover of the duet "We've Got Tonight," then exited to thunderous applause -- but thankfully for the packed house, the two singers weren't quite done yet. McGraw and Hill returned for one encore tune; they sang "I Need You," seated facing each other with their knees touching, sharing one microphone. It was clear that they were singing more for each other than anyone else in the room, and was the perfect ending to a night filled with romance and music.
McGraw and Hill's 2017 Soul2Soul Tour will kick off on April 7, 2017, in New Orleans, La., and run through the end of October.
Faith Hill + Tim McGraw's Relationship in Pictures
How Well Do You Know Faith Hill?