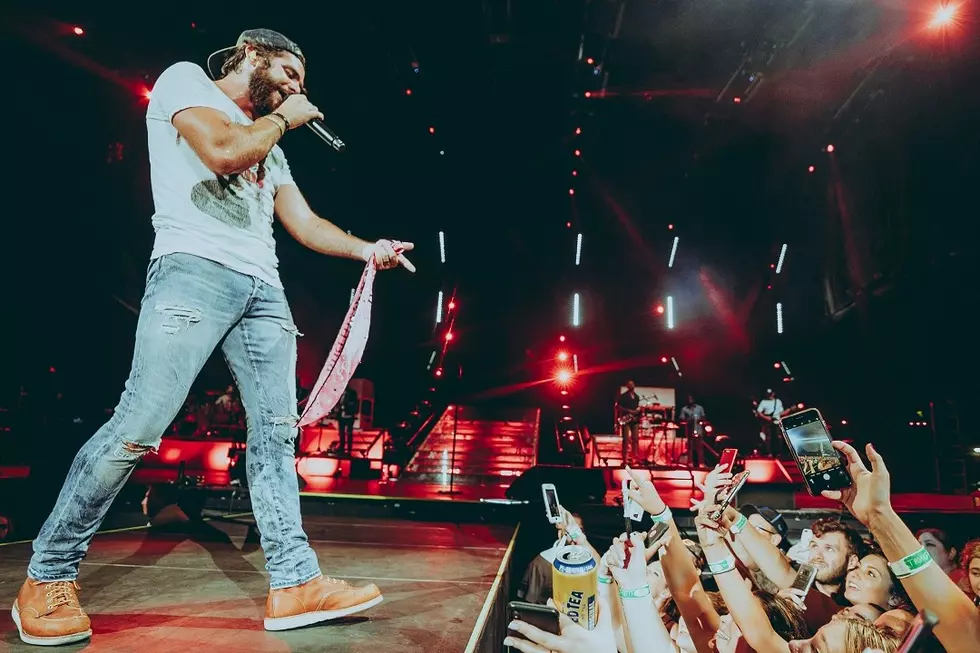 Thomas Rhett's 2019 Very Hot Summer Tour: 5 Reasons You've Gotta Go
Photo by Chris Blockd, courtesy of the GreenRoom PR
Rhett closes out each night of the tour, of course, but before he takes the stage, fans are in for two and a half hours of music from Dustin Lynch, Russell Dickerson and Rhett's father, songwriter and '90s country artist Rhett Akins. On Friday night (July 19) at Darien Lake Performing Arts Center outside of Buffalo, N.Y., the crowd packed in early, too, foregoing another round of flip cup in the parking lot in favor of catching the live music they'd come to see.
Three headlining tours in, Rhett's found his sweet spot: a little bit country boy, a little bit Bruno Mars (his idol). The live versions of his hits amplify their funkiness, but the way he connects with the crowd lets his accessible personality shine.
Want to know what you're missing if you skip the 2019 Very Hot Summer Tour -- and why Rhett's 2019 trek is a can't-miss? Read on:
Thomas Rhett's Show-Stopping Start
From the get-go, Rhett lets you know he's there to put on a show. The headliner doesn't simply stroll onstage; instead, he gets launched into the air from below the floor, sticking his landing at the top of a staircase before descending towards the crowd. He sticks the landing, literally and metaphorically, and had his Friday night crowd in the palm of his hand from there on out.
Dustin Lynch's Stage Presence
Recent tours with Jason Aldean, Luke Bryan and Keith Urban have paid off for Lynch. The country star's show has big-time rock energy, some hip-shakin' dance moves and a lights-filled stage -- yeah, he's definitely been taking notes! Lynch's souped-up version of "Seein' Red" is a perfect show opener, while a medley of fellow artists' hits (Urban's "Love Somebody," Dierks Bentley's "What Was I Thinkin'," Dan + Shay's "Tequila) got the crowd amped and singing along.
Rhett Akins' Hits
Akins only has a few minutes onstage each night, when the crowd is often still tailgating or in line for merch, but he uses it wisely. With the knowledge that the fans his son, Lynch and Dickerson bring in were young (or not even born yet!) when he was finding success on the country charts in the 1990s, Akins packs his short set with the hit songs he's written for other artists. He's got dozens and dozens to pick from, but on Friday night, his selections included Jason Aldean's "When She Says Baby" and Luke Bryan's "I Don't Want This Night to End," among others. Don't worry, though: His own hit "That Ain't My Truck" also made an appearance.
Russell Dickerson's Party-Ready Personality
Dickerson is up there with Chris Janson in terms of on-stage energy. The newest artist on Friday night's Very Hot Summer Tour bill bounded around that amphitheater stage like it was a house party, even breaking out a blue Solo cup to toast the crowd during his performance of "Float." Even though the sun was still up, Dickerson brought the party.
Thomas Rhett's Fans
"Everyone's just so ... happy!" someone remarked to us during a break between sets on Friday night -- and, really, they were. Groups of friends were snapping selfies with each other; others were taking photos for other people nearby. Some were on a "It's my first concert!" high; some where pleasantly buzzed from an afternoon of partying in the parking lot. You could really feel the energy, though, when a DJ cranked up the tunes before Rhett's set: The crowd was ready to sing along to whatever he played, whether it was a country classic or a 2000s pop jam.
Rhett's 2019 Very Hot Summer Tour is scheduled to run through mid-October. He'll end the trek with a hometown show at Nashville's Bridgestone Arena.