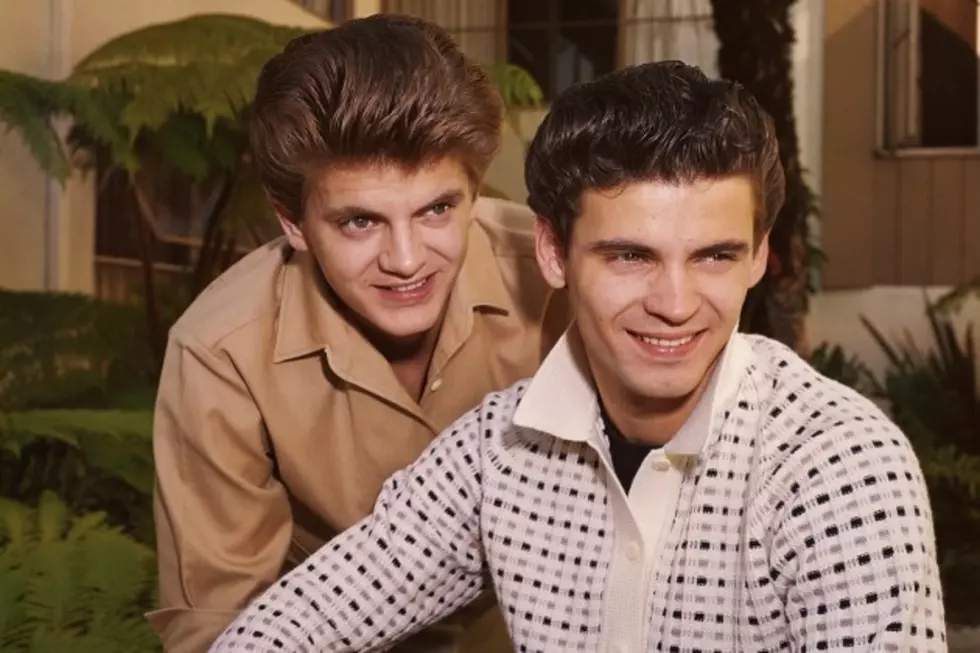 58 Years Ago: The Everly Brothers' 'Wake Up Little Susie' Goes to No. 1
Keystone, Hulton Archive / Getty Images
Fifty-eight years ago today, on Oct. 14, 1957, the Everly Brothers earned their second No. 1 hit, and their first on the pop charts, with "Wake Up Little Susie," from their eponymous debut album.
The duo, made up of brothers Don and Phil Everly, recorded "Wake Up Little Susie" despite the song's lyrics, which were considered controversial at the time. Written by Felice and Boudleaux Bryant, the lines "We both fell sound asleep / Wake up, little Susie, and weep / The movie's over, it's four o'clock / And we're in trouble deep" were suggestive enough to cause the song to be banned by several radio stations.
"I remember when it happened," Don Everly told the Chicago Tribune. "They called and said it had been banned in Boston, and I said, 'What?' I was naive in those days. To me, they just fell asleep at a movie. Everybody else took it like some big deal."
The tune, which was certified gold, for sales of 500,000 units, hit No. 1 on the pop, country and R&B charts. That type of chart success only happened one other time in the Everly Brothers' career, with "All I Have to Do Is Dream" in 1958.
"Wake Up Little Susie" was included on several of the Everly Brothers' compilation albums, including The Best of the Everly Brothers in 1959, The Everly Brothers Show in 1970, All They Had to Do Was Dream in 1985 and Heartaches and Harmonies in 1995.