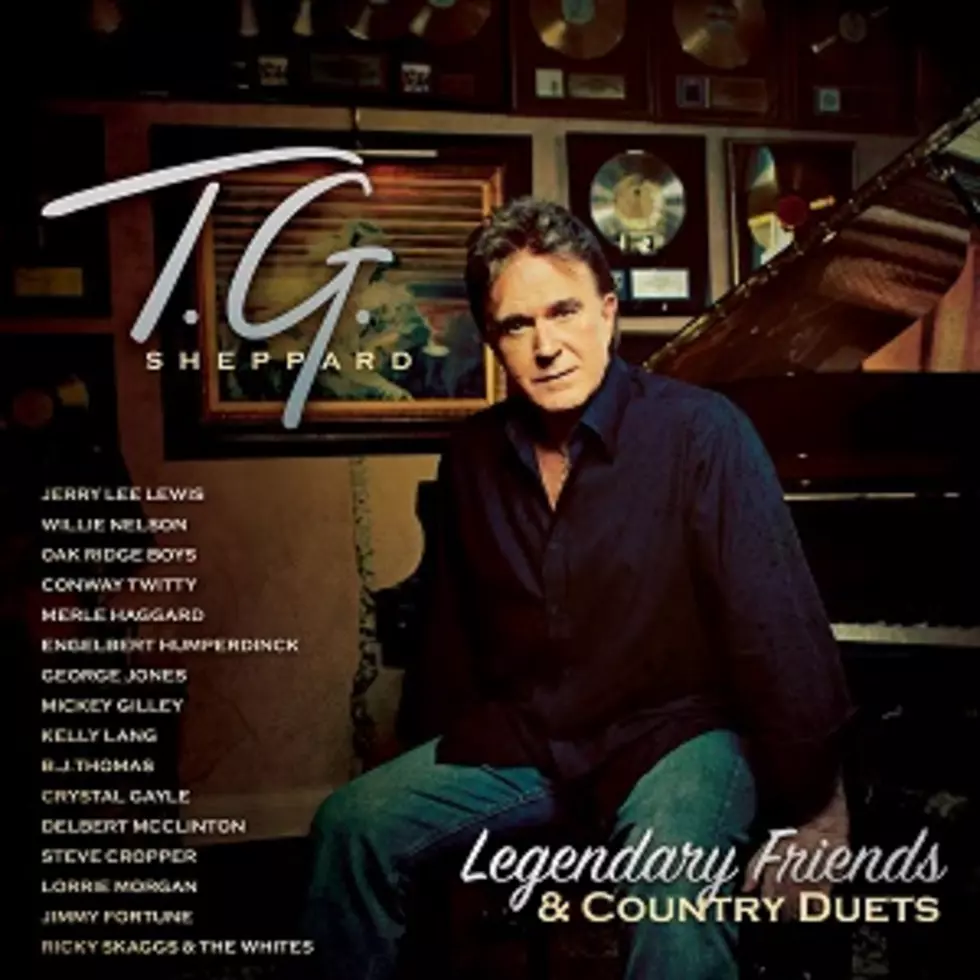 Interview: TG Sheppard Explains Why His New Album Makes Him Feel Complete
Courtesy of Webster & Associates
Sheppard, 71, recently sat down with The Boot to talk about his new album, the artists who guest on it and why now was the right time to make the record that he has always wanted to make.
How did you get the inspiration to make Legendary Friends & Country Duets?
My wife, Kelly [Lang]. I was at a point in my life where I felt like I had done all that I could do and nearing saying, "Hey, it's time to ride off into the sunset, like George Strait." And she made me realize that the best part of my life was in front of me, not behind me.
And so, she said, "What have you always wanted to do that you've never done?"
I said, "An impossible feat. I would love to do some duets with the people that I've loved for so long and have mentored me. My heroes."
She said, "Then ask them."
I said, "I can't ask them because I live in fear of rejection. I don't want them to say no. It would hurt me because I've loved them for so long, and they're all friends."
So I just went ahead and put the call out, and everybody said yes.
So you asked all of the artists yourself?
Every artist, I called. And every artist, without any questions asked, said "I'd love to." So that's the way it happened.
How did you get George Jones on "It's a Man Thing"?
This project was many years in the making. I recorded George's duet before he died. It was one of the last sessions he did. So this has been several years in the making, but it never could find a home.
Did you record with each artist in the studio, or did you each do it separately?
The only one that we didn't do [together] with was Merle Haggard. Merle was in California and couldn't get here, and so I laid the track down, did my vocal and sent it out to him. But we talked back and forth, so we were very in tune with the whole thing.
I went in with Willie, and I went in with George. I went in with the Oaks. I went in with BJ Thomas. I went in with Mickey Gilley and Jerry Lee Lewis.
How did you pick the songs for the record?
My wife is a great songwriter, but I didn't want to make it look like I was doing her songs, so we submitted songs from everybody. I co-wrote three of the songs myself, but I didn't tell my producer, Danny Diante, that, except for my Jerry Lee Lewis cut. So, we just submitted the songs to the producer, and he submitted them to the artists, and everybody picked the songs, and several of the songs my wife did write.
The only planned song was the song with Jerry Lee Lewis, the duet, because Bobby Tomberlin and Kelly and myself and Jerry Lee wrote his life story in one song. It's all about Lewis' life. And it is an amazing piece of work. So that's the way it came about.
I would do concerts, and at the end of every concert, I'd be standing at the bus or in the autograph line, and people would say, "It's so good to hear your type of music, because we miss the classic music, and we miss the traditional sound. We miss certain artists we don't hear anymore." I said, "Well, I'll just see if I can't put them all together on an album." So the fans dictated a lot of why we did this project.
Why did you decide to release this record now?
I'm into my 41st year of doing what I do [in 2016]. With 21 No. 1 records and the things that I've had in my life, I was still empty. I was not complete inside with my career. And I didn't know when or if that would ever come, that I would feel complete or feel like I had done something.
When I got through with this project, and I sat down and listened to it all done, I filled right up. I felt complete. I felt like, "Okay, I've done something now, or these people wouldn't have come." So it was a real eye-opening moment for me and my wife and career. It's more than an album to me. It's done so much for me inside, whether it ever does anything outside.
I think God was saying to me, "The timing is not right. I'll let you know." Finally, in the last six months, He said, "It's now," and that's why it's happened, because it was all timing, I think.
Now that the album is completed, what's next for you?
I don't know if I can top the project. I'm one of those guys that I know I'll die in the back of the bus, after a show or on my way to a show, because I get such a fulfillment from performing. I hate the traveling part. Every artist will tell you that, but I love to look out and still, after 41 years, see people, young and old, and even the young kids, mouthing the words to your songs. I've dreamed of being at that place my whole life.
It is an incredible feeling to be on the stage and have people listen to what you say and what you sing. It's a great platform in life to have. So I can't foresee ever being able to walk away from that.
Top 5 Country Albums of 2015 (So Far)