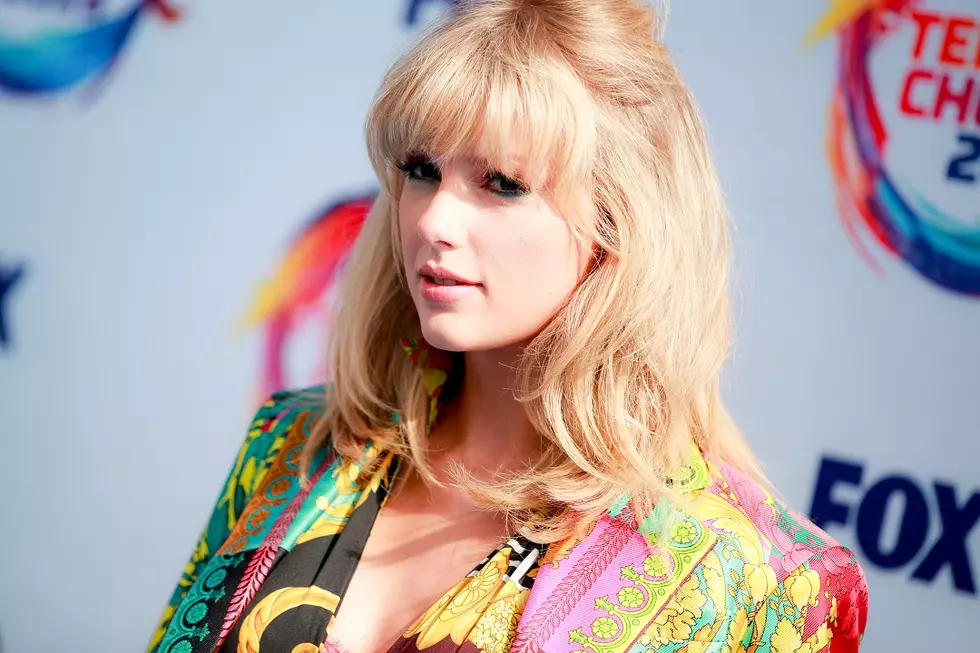 All of Taylor Swift's Country Singles, Ranked
Rich Fury, Getty Images
Before 1989 and "Shake It Off" announced her official switch to pop music, Taylor Swift was squarely in the country music genre -- and she was dominating it. Taylor Swift, her 2006 self-titled debut album, released on Oct. 24 of that year, was the longest-charting country album on the Billboard 200 for the 2000s (it stayed on that all-genre chart for a total of 277 weeks). The album's third single, "Our Song," earned Swift, then 18 years old, the title of youngest person to both write and perform a Hot Country Songs chart No. 1 alone.
And that was just her first album! From Taylor Swift to Fearless to Speak Now to Red, she scored mega-country hit after mega-country hit, making her one of the most successful songwriters and recording artists in country music history. All four albums are certified at least six-times platinum, and all except for Taylor Swift hit No. 1 on the charts.
To celebrate the 14th anniversary of Taylor Swift's release, The Boot went back to rank Every. Single. One. of Swift's country singles -- 22 in total from her first four albums, plus one more each from 2017's Reputation and 2020's Folklore. Read on to see how they stack up.
24

"The Story of Us"

From 'Speak Now' (2010)

"The Story of Us" announces itself with cheery drumming and Swift admitting, "I used to think one day we'd tell the story of us." What follows is a big, exuberant, upbeat breakup song that was allegedly written by Swift after being forced to sit by ex-boyfriend John Mayer at the CMT Music Awards.

23

"White Horse"

From 'Fearless' (2008)

It didn't have the hit power of "Love Story," but "White Horse" is another solid example of Swift taking a classic romantic trope and putting her own spin on it. The sparse, dark take on love and fairytales won Best Country Song and Best Female Country Vocal Performance at the Grammy Awards.

22

"Highway Don't Care" (with Tim McGraw + Keith Urban)

From Tim McGraw's 'Two Lanes of Freedom' (2013)

Seven years after her 2006 breakout hit "Tim McGraw," Swift recorded another hit with the man himself. "Highway Don't Care" features McGraw and Swift trading and sharing vocals, and Keith Urban guesting on guitar. Although this feels like -- and is -- more of a McGraw song than a Swift song, it's still a powerful collaboration, and Swift and McGraw's voices sound as good as they ever have.

21

"Sparks Fly"

From 'Speak Now' (2010)

While she saved it for her third album, "Sparks Fly" is an old song; in fact, Swift actually wrote it before penning her 2006 breakout single, "Tim McGraw." After the booming pop-rock song and concert staple started to become more and more popular with fans, Swift finally included it on her third album, 2010's Speak Now. Swift loves a good romantic moment in the rain, and "Sparks Fly" delivers: "Drop everything now / Meet me in the pouring rain / Kiss me on the sidewalk / Take away the pain," she sings.

20

Whether it's your favorite Swift song or not, you have to admit: "22" is probably the catchiest song about turning 22 that exists. While Swift's looming full pivot to pop music is obvious in this song, "22" is still an essential part of her country years. She shrugs off what it means to be cool and delights in simple fun, including dressing up like an ex and "making fun of hipsters," and she has so much fun doing it that you can't help but sing along.

19

"Teardrops on My Guitar"

From 'Taylor Swift' (2006)

Swift is so good at capturing young love and heartbreak, and this early song is a prime example of it. "Teardrops on My Guitar" is a song about high school love, written by a person in high school, which is a difficult combination to pull off if you're just about anyone except for Swift herself. She simply knows exactly how to capture the feeling of being young and in love with someone who's in love with someone else.

18

"Should've Said No"

From 'Taylor Swift' (2006)

The songs on Swift's debut album leaned much more heavily toward hopeful romance than they did toward bitter regret, which is part of what helped make "Should've Said No" -- a firm entry into the latter category -- stand out. Swift sounds genuinely mad in the chorus of this song, which is about a cheating ex. You almost (though not quite) feel sorry for whoever she's targeting when she sings, "You shouldn't be begging for forgiveness at my feet / You should've said no, baby / And you might still have me."

17

"Picture to Burn"

From 'Taylor Swift' (2006)

Everyone knows Swift can write an angry breakup song, but "Picture to Burn" is probably one of the most bitter tracks in her canon. Even without some original first-verse lyrics that didn't age well ("So go and tell your friends that I'm obsessive and crazy /That's fine! / I'll tell mine / You're gay"), she still lays on the fury and the threats, explaining, "There's no time for tears / I'm just sitting here / Plotting my revenge / There's nothing stopping me / From going out with all of your best friends."

16

"Red" is the perfect mission statement for Swift's album of the same name: maximum production, maximum feeling, maximum lyrical symbolism. "Lovin' him," Swift explains, "is like driving a new Maserati down a dead-end street." She's straddling the line between her country and pop career here, and there's no better way to symbolize that moment than with this song, one that combines AutoTune and banjos … and somehow pulls it off.

15

"Mine"

From 'Speak Now' (2010)

"Mine" exemplifies one of Swift's best song tricks: She starts with a fantasy, and by the end, she's almost made the reader believe it's real life. "Do you remember, we were sitting there by the water?" she asks, and it's hard not to nod and say, "Yes." Aside from being a solid entry in the Taylor Swift Love Songs category, "Mine" also features one of Swift's sharpest, most memorable lyrics: "You made a rebel of a careless man's careful daughter."

14

"Fearless"

From 'Fearless' (2008)

No one writes a good "dancing in the rain" song quite like Swift, and "Fearless" is the ultimate track in that category. "Walk me to the car," she sings, "and you know I wanna ask you to dance right there / In the middle of the parking lot." "Fearless" is spirited, dreamy and romantic -- no wonder Swift chose it for her 2008 album's title track.

13

"Ours"

From 'Speak Now' (2010)

"Mine" walked so that "Ours" could run. Like "Mine," "Ours" features an all-time great Swift lyric: "Don't you worry your pretty little mind / People throw rocks at things that shine." As is true of so many great Swift songs, it's a little cheesy in exactly the right way, and the lyrics to the warm, stripped-down track are sharp and welcoming.

12

"Fifteen"

From 'Fearless' (2008)

All teenagers know the awkwardness of an all-consuming crush, but almost no teenager knows how to put those complicated, angsty, hopeful feelings into a song like Swift did. "Fifteen" nails the fluttery crush narrative, but there's something darker and wiser under the song's surface: a reminder that few 15-year-olds find a love that lasts. And then there's the absolutely necessary line, "But in your life you'll do things / Greater than dating the boys on the football team."

11

"Back to December"

From 'Speak Now' (2010)

It's common for Swift now, but in 2010, "Back to December" was a big deal: For the first time, she was fully positioning herself as the bad guy in a romance gone wrong. In this song, Swift is just as harsh on herself as she can be on ex-boyfriends: "Because the last time you saw me / Is still burned in the back of your mind / You gave me roses, and I left them there to die," she sings. She doesn't let herself off the hook, and the result is a powerful, bittersweet ballad.

10

"Begin Again"

From 'Red' (2012)

Red is a big album: The record gave us mega-produced bangers including "We Are Never Ever Getting Back Together" and "I Knew You Were Trouble." But Swift saved some of her strongest songwriting moments for "Begin Again," the album's closing track. She strips back to bare-bones production, and the result is a tender, genuine love song about the relief in finding hope again. "I've been spending the last eight months thinking all love ever does is break and burn and end," Swift admits. "But on a Wednesday in a cafe I watched it begin again."

9

"New Year's Day"

From 'Reputation' (2017)

Like "Begin Again" does for Red, "New Years Day" works as a palette cleanser at the end of Reputation. Yes, Swift had already made her pop crossover at this point, but she released "New Year's Day" to country radio. Clean, simple and stripped down, this song is just Swift and a piano, and her vocals are clean and bright. The lyrics of "New Year's Day" are hopeful about romance without being too over the top, and it feels like Swift knows exactly what she wants. "I want your midnights," she sings, "but I'll be cleaning up bottles with you on New Year's Day."

8

"We Are Never Ever Getting Back Together"

From 'Red' (2012)

"We Are Never Ever Getting Back Together" previews the tone of "Shake It Off": comfortably self-aware and self-deprecating at the same time. The latter's core narrative is about self-love, and that's true for "We Are Never Ever Getting Back Together," too -- only in its case, the self-love comes from being able to tell a clingy, needy ex, "We are never, ever, ever, ever getting back together / Like ever." Every line in the song is funny and sharp, and no one has anyone ever simultaneously roasted both themselves and their ex better than Swift does with the line, "And you would hide away and find your peace of mind / With some indie record that's much cooler than mine."

7

"You Belong With Me"

From 'Fearless' (2008)

In "You Belong With Me," Swift memorably describes the difference between her rival and herself in this way: "She wears short skirts / I wear sneakers / She's cheer captain / And I'm on the bleachers." While Swift can't claim the role of the underdog anymore, she's so earnest and believable in this song, about trying to win an unavailable boy's heart, that you almost still believe that she might be.

6

"Betty"

From 'Folklore' (2020)

Though as a single it's atypical, Taylor Swift's "Betty" is a brilliant piece of songcraft: the kind of subtle emotional moment in every young person's life that deserves that once-in-a-lifetime kind of effort. Bob Dylan vibes cover the early part of the acoustic song, but Swift's rolling story follows her own meter, one lifted skyward in the most gentle way, with a modulation at the very end.

"Betty" is part of a three-song arc on Swift's Folklore album, which she released by surprise during the novel coronavirus pandemic. "Cardigan" and "August" complete the story.

5

"Love Story"

From 'Fearless' (2008)

"Love Story" is classic early Swift, full of starry-eyed romance and references to classic love stories. Take all of your cynicism and shove it: Swift takes the tragedy of Romeo and Juliet and re-writes it in her own teenage image, and just around the time you're wondering whether the gimmick works or not, she pulls off a key change that will have even the most hardened critic sing-screaming, "Romeo, take me somewhere we can be alone / I'll be waiting / All there's left to do is run."

4

"I Knew You Were Trouble"

From 'Red' (2012)

It's impossible to pick a favorite vocal moment in "I Knew You Were Trouble." Is it the peaks and valleys in the chorus line, "I knew you were trouble when you walked in"? Is it the sing-scream of "Oh!" following "Now I'm lying on the cold, hard ground"? Is it the AutoTuned repetition of "trouble, trouble, trouble"? Is it the way she sings, "Now I'm drowning, I'm drowning, I'm drowning-ing-ing-inging"? We could go on forever. This song finds Swift flexing some new vocal skills, and it's impossibly fun to listen to.

3

"Mean"

From 'Speak Now' (2010)

"Mean" is the Swift song that sounds most like classic country, banjo-driven melody, handclaps and all, and it's proof positive that she's good in whatever genre she chooses. "Mean" is maybe one of the nicest-sounding kiss-off songs ever written, with Swift delivering barb after barb with a smile. "One day I'll be living in a big ol' city," she (correctly) promises, "and all you're ever gonna be is mean."

2

"Tim McGraw"

From 'Taylor Swift' (2006)

When Swift released her debut single, "Tim McGraw," in 2006, there's no way she could have expected that a few short years later, she'd be just as big a star as him -- if not bigger. But that's exactly what happened, and "Tim McGraw" is the song that kickstarted the whole thing. Everything about her coming lyrical career -- genuine romanticism underscored by real cynicism -- is contained in the opening line, "He said the way my blue eyes shined put those Georgia pines to shame that night / I said, 'That's a lie.'"

1

"Our Song"

From 'Taylor Swift' (2006)

After "Mean," "Our Song" might be Swift's most stereotypically country-sounding song, thanks at least in part to the slight twang she affects in the chorus. Swift is an incredible pop star, but tunes such as "Our Song" are an important reminder that she she knew what she was doing with country music, too. It's a brilliant country song from beginning to end, and the knockout lyrical hook of "Our song is a slamming screen door" is so immediately timeless that it's shocking there was ever a time it didn't exist.