Sugarland Take New Chances With 'Love'
For Sugarland, the third time is a charm. Not to knock their multi-platinum selling, critically acclaimed first two albums, but it's their third that the celebrated duo says is their true reflection.
"We've gotten closer to what I think is our voice -- who we are as writers and who we are as fans, what turned us on to music as teens," lead singer Jennifer Nettles tells The Boot of 'Love on the Inside,' which hits stores Tuesday. "It is musically different, it is thematically different and it was recorded differently."
Musically, it is undoubtedly a Sugarland album -- just with more guts. Nettles and partner Kristian Bush were determined this time around to step back and revisit the music that lured them into the business in the first place. That's why you'll hear a little more energy and a lot more diversity on this record.
"There's a hint of The Beatles, Rod Stewart, Pat Benatar, R.E.M., Concrete Blonde, Drivin' n' Cryin' -- a whole slew of influences that we chose from our own way we were inspired as fans," Nettles explains. "We wanted to experiment . . . and to not have to fit into our own mold of what was the first record."
Thematically, Nettles and Bush wanted to tie all of the songs together with one central theme that anyone and everyone can relate to: love. But 'Love on the Inside' isn't just an album full of traditional love songs.
"It's all kinds of love," Nettles explains. "The beautiful complexity of love: self love, love lost, new love, pain from love . . . "
The recording process was also a bit different than on Sugarland's first two albums. With the exception of just two tracks, everything heard on 'Love on the Inside' is exactly as it was recorded, live with Sugarland and their band . . . and without any bells or whistles.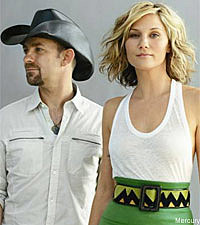 "[It was] all the musicians in one studio at one time in one room," Nettles recalls. "And I think the energy of that is reflected on this record."
Our initial taste of that energy is the CD's infectious first single, 'All I Want To Do,' which marked Sugarland's fastest rising song to date. And while the duo boast co-writes with some of Nashville's most prolific songwriters on the project, including 'Whispering' Bill Anderson, this song boasts two brand-new collaborators: Bush's wife and 3-year-old daughter.
"We were watching [home videos], and his wife was trying to get his daughter Camille to dance," Nettles says of the inspiration behind the song. "So Jill, his wife, was singing this little [singing] 'Doo Do Doo Do Doo,' trying to get her to dance. And I said, 'That's good!' And he was like, 'Yeah, she was dancing.' And I'm like, "No no no, that's hookey! We need to write that a song around that!' And so we did! It's lighthearted, fun and it's definitely hookey enough for a 3-year-old to dance to."
The next step is to get fans dancing in the aisles, as Sugarland embark on their second headlining tour. With opening acts Kellie Pickler and Ashton Shepherd, the duo's 'Love on the Inside' Tour kicks off September 13 in Asheville, N.C. After seeing Nettles and Bush do backwards stage dives at this year's ACM Awards, followed by body-surfing inside huge plastic bubbles at the CMA Music Festival, we had to ask: Is this tour going to be full of stunts?
"We want to make a t-shirt that says, 'Sugarland: We Do Our Own Stunts,'" Nettles says, laughing. "We now have the luxury of being able to explore how to best highlight the emotion of a song through other art forms, be it through the video content that we have behind us, the lighting, or through some sort of gag or stunt that allows for a complete emotional ride throughout the show. So when it's over, you've been up, you've been down, you've been shocked and surprised, you've laughed, you've cried, it's better than CATS! [laughs]"
'Love on the Inside' [Deluxe Fan Edition] is available in stores today. It includes 12 of the regular album's tracks plus five bonus tracks, in special packaging with an expanded booklet, as well as access to download two exclusive videos. The album's regular edition will be released July 29.