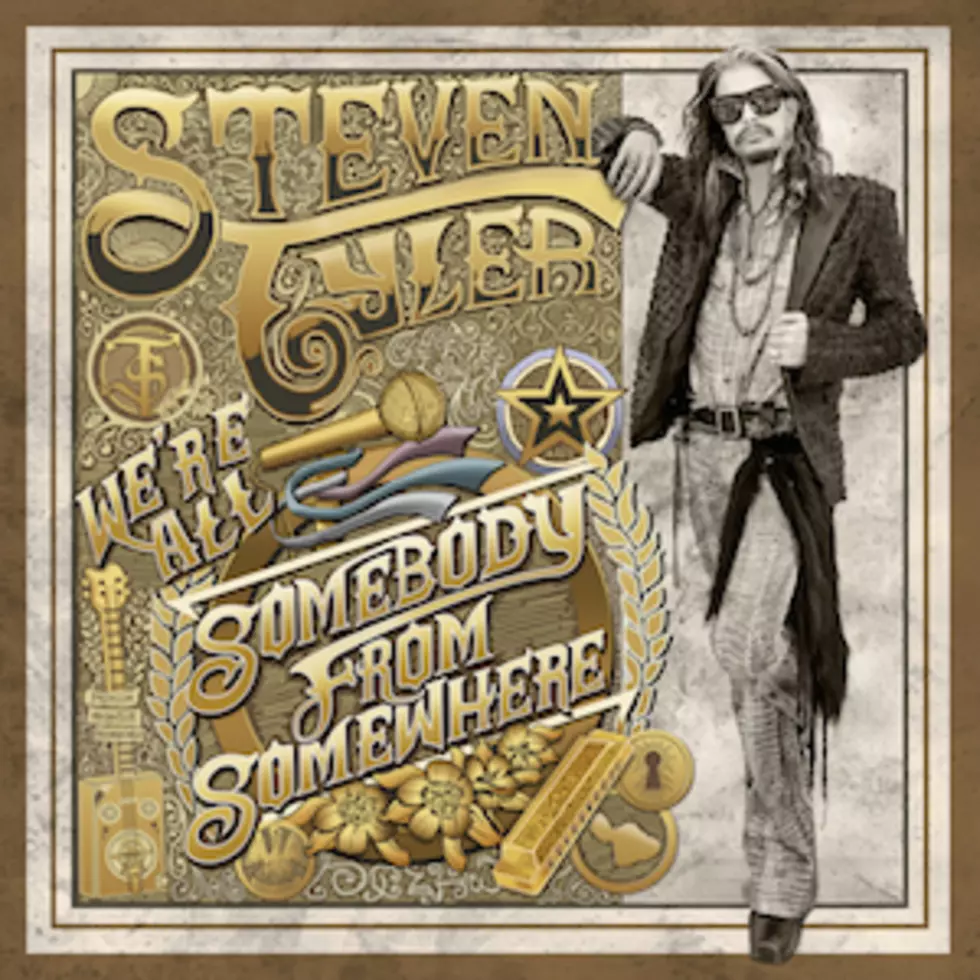 Steven Tyler Reveals Details for Debut Solo Record, 'We're All Somebody From Somewhere'
Dot Records
After announcing plans for a solo country project in the spring of 2015, Steven Tyler has finally revealed the details of his first full-length debut solo album. We're All Somebody From Somewhere will drop on July 15 on Dot Records.
"I headed down to Nashville last spring to start working on this project, wrote some kicka-- songs with some of Music City's finest songwriters, and now we get to share them with the world ...," says Tyler in a press release. "Country music is the new rock 'n' roll. It's not just about porches, dogs and kicking your boots up. It's a whole lot more. It's about being real. And nothing is more real than understanding We're All Just Somebody From Somewhere."
The cover art for Tyler's debut project is intricate, featuring gold and gray tones. The disc has 13 tracks, and Tyler co-produced the album along with legendary musicians-slash-producers T Bone Burnett, Dann Huff, Marti Frederiksen and Jaren Johnston from the Cadillac Three.
Tyler has released two singles thus far: "Love Is Your Name" and "Red, White & You." The album's title track will be released on June 24 at radio and digital retail partners. And Tyler will bring these songs and more favorites on the road for a limited-run, 19-city solo tour, the Out on a Limb Tour. The trek begins on July 2 in Las Vegas and will feature his backing band, Loving Mary.
During his shows, Tyler promises to give fans the story behind some of his hits, telling USA Today, "What would I not pay to go see [Paul] McCartney, but instead of playing with whoever he's with now, actually do [a show] where he tells you what he was thinking when he wrote "Yesterday"? That's what I'm doing."
See Steven Tyler + More Artists' Yearbook Photos