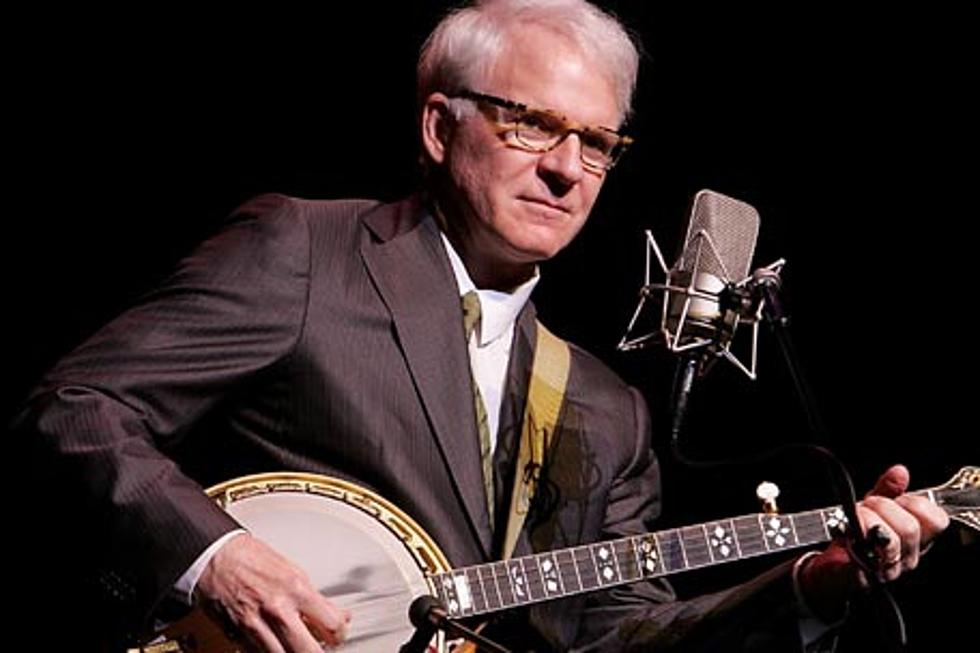 Steve Martin Soars Again With 'Rare Bird Alert'
Gary Miller, FilmMagic.com
A few short years ago, Steve Martin might have seemed like an unlikely new star in the bluegrass arena, but the veteran actor/comedian/author silenced skeptics with the success of his Grammy-winning collection, 'The Crow: New Songs for the Five String Banjo.' On March 15, Steve returns with 'Rare Bird Alert,' a 13-song collection featuring the Steep Canyon Rangers, as well as guest appearances by Sir Paul McCartney and the Dixie Chicks.
"After that album ['The Crow'] was done and I went on the road with the Steep Canyon Rangers, we started working on tunes and I realized I had enough for a second album," Steve tells The Boot. "I'm especially proud of the second album."
Steve and the Steep Canyon Rangers will be hitting the road once again this spring. The tour kicks off with a string of sold-out dates in New York City that includes stops at Joe's Pub and the Highline Ballroom and continues with concerts throughout New Jersey, North Carolina, Kentucky, Tennessee and Connecticut, as well as TV appearances on the 'Late Show With David Letterman' (March 16), 'The View' (March 17), the 'Colbert Report' (March 21), the 'Ellen DeGeneres Show' (May 3 airdate) and 'Conan' (May 3). While he's a seasoned stage pro, Steve admits playing live music is a quite different matter from what he's done in the past.

"I grew up doing a live show, doing stand-up comedy, so I was quite used to being on stage," says the legendary entertainer, "but I wasn't used to playing music on stage. I had done some of it, but I'm not used to doing a whole show of music, so I had to get used to that. But you adapt fast when you're a professional. You have to. I adapted pretty fast and once I calmed down, I got to really enjoy performing the music and doing humor and doing the shows again."
Steve adds that working with the Steep Canyon Rangers has also been an enjoyable experience. "My wife and her family like to vacation in North Carolina," he says. "When I first met her, we started to go down there and they told me that there was a local band in town that they knew. They came over and played, and I liked them a lot. They were really good."
After the release of 'The Crow,' Steve's agent told him he needed to tour and should find a band. "I said, 'Well, the only one I know is the Steep Canyon Rangers,'" he recalls. "So we asked them if they wanted to play, and it was one of those lucky things where it just worked out great. The repertoire and the personalities were great. They were great on stage with me, and they liked doing the humor. It was just a miracle of a find."
Steve has long had an appreciation for bluegrass music and won a Grammy in 2001 for collaborating with the legendary Earl Scruggs on 'Foggy Mountain Breakdown.' He became involved in the genre again when Tony Trischka invited him to play on his 2007 album 'Double Banjo Bluegrass Spectacular.'
"I didn't want to just play some old tune that everybody would play," Steve says. "I told him that I had some tunes that I'd written and he said OK. So we recorded 'The Crow,' and then I had some other tunes. I had enough for a whole album, so I went in and did it."
'The Crow,' which was produced by Steve's longtime friend and Nitty Gritty Dirt Band member John McEuen, won the Best Bluegrass Album Grammy in 2010. The album was released on Rounder Records, which Steve believes was a perfect fit.
"I grew up with Rounder Records," he notes. "They always represented my view of great folk artists and great bluegrass, so they were always in the back of my mind as a label I'd be proud to be on and that's how that happened."
As far as influences on his banjo playing, Steve says, "Obviously Earl Scruggs was the guy who got me really interested in the banjo. But there are so many great players right now. I was out of contact with the bluegrass world for maybe 15 years because I was in films. The big change that came over the bluegrass world, to me, was Sirius[XM] Radio because now I can listen to bluegrass all day."
'Rare Bird Alert' features a mix of instrumentals and vocal tracks. Steve credits his publicist Maureen O'Connor with suggesting he collaborate with the Dixie Chicks, who sing on 'You.' "I had this song and they liked it. We recorded it in an afternoon and we had a great time doing it. Paul McCartney was much more complicated," he says of the legendary musician who sings on 'Best Love.'
"I had met him three or four times in my life and we had mutual friends. I had contacted him through email and he was very gung-ho. When we told him, 'I think we got it,' he would say, 'Oh, let me do a few more.' He was very excited about it."
'Rare Bird Alert' is being issued in three formats: standard CD, vinyl and a deluxe edition that includes special trading cards depicting the artists on the album. The project also features a live version of Steve's comedy classic 'King Tut.' "We do that in our show and it's a big hit," he says. "I wanted to have a couple of live tracks on there to let the audience know that we do a live show and it's a lot of fun."
Another fan favorite from his live shows that made it onto 'Rare Bird Alert' is the hilarious 'Atheists Don't Have No Songs,' co-written with Woody Platt and Graham Sharp. Steve says he enjoys the songwriting process and often uses down time on film sets to write new tunes.
"I generally pick up the banjo and just start playing around," he notes. "Sometimes the lyric will come to me first. Sometimes an instrumental song just sounds like it needs a lyric. When you're doing a movie, there's a lot of down time where you're just sitting around in your trailer. That's when I find the time to get a lot of music writing done, and I like working with the band, too."
When considering which songs should remain instrumental and which will include lyrics, Steve reasons, "It really is just an instinct. When you listen to 'Northern Island,' it's pretty clear that that does not take lyrics because it's a banjo breakdown and it's moving too fast. The melody is in the quickness of the banjo, so it's not prone to needing a lyric, but if you listen to a song like 'Go Away, Stop, Turn Around, Come Back,' it is slower paced. That started as an instrumental lick for the banjo, but you can feel the lyric."
Steve reveals that 'The Great Remember (for Nancy)' is an instrumental tune written in memory of his friend Nancy Short. "That sounds like a song that could take lyrics, but I actually talked it over with my wife and ... lyrics almost come to a listener and that's why I actually didn't write lyrics for it, because the mood is so clear in the song. I didn't really want to ruin it with lyrics. I didn't want to direct the listener one way or another because it's such an emotional song."
Two of the songs on 'Rare Bird Alert,' including the title track, were written on the set of 'The Big Year.' Filmed in Canada with Jack Black and Owen Wilson, the comedic film about bird watching is slated for a fall release. "It's actually a real term that bird watchers use," he says of 'Rare Bird Alert,' which his wife suggested as a song title. "They can call in to a hotline and find out where a rare bird is hanging around. Everybody flocks to it."
In addition to writing songs and acting, Steve is also a novelist, playwright and children's author. "I'm glad I have all these things because you're never bored and they feed into each other. I'm actually working on some music for a film," he says of the upcoming animated film 'Turkeys.' "Because I've been in film, I know how movies work and I know how to contribute to the story with the music. You don't want it to be too long or too short. I've been around film for so long, I'm not a naive songwriter and can actually contribute to the story with the music because I've been around a film set. With the music, I'm not just a guy playing music on stage, I've done comedy and shows before, so I can do a show that's entertaining as well as musical, so everything overlaps. It's really nice."
"I was ecstatic with the reception," he acknowledges. "I came in as an outsider, so I didn't know what the reception would be like, but it was very warm. The IBMA's [International Bluegrass Music Assn.] treated us very well. The Grammys treated us very well, and I couldn't have been happier.
"What I find about bluegrass musicians is that they are very, very friendly and they are very, very smart," he continues. "They are very witty and they are all really good people. They seem to help each other and the people I've met have been very generous, not only to me, but to other people."
In an effort to support and encourage his fellow bluegrass pickers, he has established the Steve Martin Prize for Excellence in Banjo and Bluegrass. Noam Pikelny was the first recipient of the award last year.
Steve hopes he can help introduce people to bluegrass and knows that some of his film fans may investigate the genre thanks to his involvement. "When we were doing our shows, I always had the feeling that there were a lot of people there who were familiar with bluegrass and there were also a lot of people there who weren't," he says. "I had the feeling that everybody left loving bluegrass so that made me feel good."
'Rare Bird Alert' will be released March 15. Listen to the full album here.