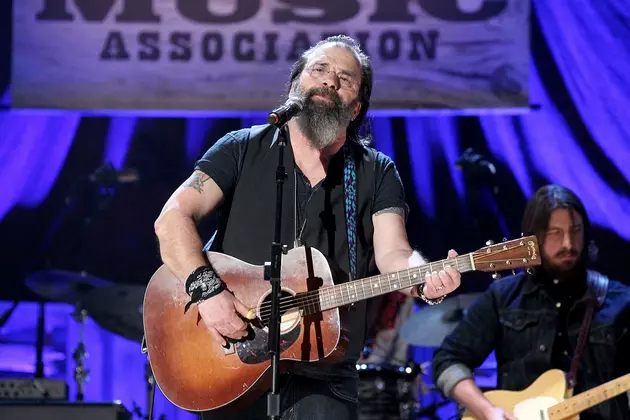 Steve Earle Is Staying Busy With New Music, Memoir, Play
Terry Wyatt, Getty Images for Americana Music
Steve Earle is always creating. Ever since his debut album, Guitar Town, in 1986, the singer-songwriter has fairly consistently released a new album every two or three years -- and he's keeping up that tradition, with a new set of tunes slated for 2017.
Prior to a recent show, Earle told The Boot that his latest album, So You Wanna Be an Outlaw, will be available next summer. And after years of releasing his records on various labels, including his last five on New West Records, Earle says that he will head back to the label that helped start his career.
"I've got a new record of mine that's pretty much written and [will be] recorded in Austin at Arlyn Studios," Earle reveals. "I'm going back to Warner Records. That's weird; I had an imprint at Warner a long time ago."
Earle is also finding other ways to show off his creative side, including a new book and a chance to work in the theater.
"I'm working on my memoir, which I've been working on for a while, but I'm finally getting somewhere on it," he shares. "I'm involved in doing a play by Richard Maxwell, whose kind of the leading experimental playwright these days, that SoHo Rep. New York is putting up this spring; I'm doing the music for it, and I'm also appearing in it. It's called Samara."
Always evolving and experimenting, Earle has a long list of achievements and experiences under his belt already, starting from when he was just a teenager. While some would cite the 61-year-old's successes as the result of tenacity and hard work, he diffuses much of the credit.
"I've been pretty lucky," he concedes. "I got [to Nashville] when I was 19. I always knew great songwriters like Townes Van Zandt, Guy Clark; I met Neil Young when I was 20. [I made] a bluegrass album with the best bluegrass band in the world, the Del McCoury Band. I've played Carnegie Hall.
"I get to do a lot of cool stuff. And it keeps happening," Earle adds. "I'm not jaded; I'm always still amazed that I get to do this for a living. Not everybody gets to do something that they really love, and get paid for it. I see Paris every 19 months. That's a pretty good deal, any way you look at it."
What Is Americana? Its Artists Define the Genre