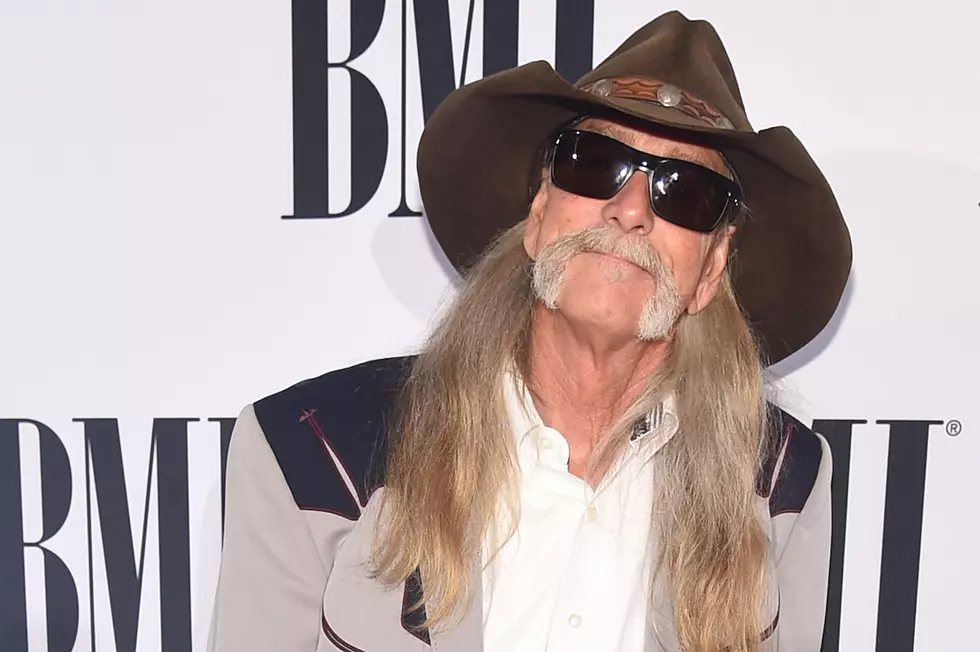 Top 10 Songs Written By Dean Dillon
Michael Loccisano, Getty Images
Dean Dillon is perhaps best known for co-writing more than 70 songs recorded by George Strait. However -- as if that career-defining feat isn't enough -- Dillon's discography also includes solo recordings dating back to the '70s, a stint as an entertainer at Opryland, a creatively enriching run as Gary Stewart's duet partner and a catalog of songs recorded by the likes of Toby Keith, Brooks & Dunn, Lee Ann Womack and numerous other mainstream hitmakers with ears for the classics.
Fans of today's country stars might know Dillon for two reasons: He co-wrote Chris Stapleton's "Tennessee Whiskey" and he's the father of Jessie Jo Dillon, co-writer of Maren Morris' "Rich" and Brandy Clark's "Girl Next Door."
To get a firmer grip on Dillon's Country Music Hall of Fame-worthy impact on the genre, consider this rundown of his 10 best co-writes. We purposefully limited the number of Strait songs to draw attention to how Dillon's words have suited artists ranging from Ernest Tubb to Kenny Chesney.
10

"A Lot of Things Different"

From Kenny Chesney's 'No Shoes, No Shirt, No Problems' (2002)

This regret-filled trip down memory lane came from the pens of two songwriting greats: Dillon and Country Music Hall of Famer Bill Anderson. Other Dillon co-writes recorded by Chesney include "A Chance," "I'm Alive" and "Boats."

9

"West Texas Town"

From George Strait's 'Troubadour' (2008)

Dillon joins the King of Country Music as a duet partner on this trip back to the heyday of Texas' most swinging dance halls. Dillon co-wrote it with proud Texan Robert Earl Keen.

8

"A Little Too Late"

From Toby Keith's 'White Trash With Money' (2006)

Instead of pining for a lost love, it's the narrator in this co-write between Dillon and the hit-making team of Keith and Scotty Emerick that's giving a woman the cold shoulder. Other Dillon, Keith and Emerick team-ups include "Get My Drink On."

7

"An Empty Glass"

From Gary Stewart's 'Brand New' (1988)

Two underrated forces behind modern country music teamed up on a pair of collaborative releases (the 1982 album Brotherly Love and the 1983 EP Those Were the Days), then worked together again on this tearjerker.

6

"Spilled Perfume"

From Pam Tillis' 'Sweetheart's Dance' (1994)

Dillon teamed with Tillis to write this first-person interaction with a woman in need of comfort following a one-night stand. Dillon also penned Tillis' Top 5 hit "All the Good Ones Are Gone" with Bob McDill.

5

"Leave Them Boys Alone"

From Hank Williams Jr.'s 'Strong Stuff' (1983)

Dillon, Gary Stewart, Williams Jr. and Tanya Tucker share credit for this "Family Tradition"-style tale about how the earliest honky-tonk singers paved the way for outlaws, hell-raisers and Southern rockers. If you're not familiar with the song, it's a collaboration between Williams Jr., Waylon Jennings and Ernest Tubb.

4

"What Would Your Memories Do"

From Vern Gosdin's 'There Is a Season' (1984)

One of the best country vocalists of the past 40 years teamed up with one of the genre's best storytellers a few times, from bartender's choice "Set 'Em Up Joe" to this overlooked tale of relentless heartache.

3

"Miami, My Amy"

From Keith Whitley's 'LA to Miami' (1985)

This breakthrough single for the bluegrass prodigy-turned-country hitmaker's short yet storied career comes from a trio of songwriters: Dillon, country legend Hank Cochran and frequent Dillon collaborator Royce Porter.

2

"Nobody in His Right Mind Would've Left Her"

From George Strait's '#7' (1986)

Picking just one song from the endless list of great Dillon co-writes in Strait's catalog is only a step below picking a favorite child. The duo's ongoing working relationship brought fans such timeless hits as "Ocean Front Property," If I Know Me," "Unwound," "Marina Del Ray" and "The Chair." That said, "Nobody in His Right Mind Would've Left Her" became Dillon's lone Top 25 single as a solo artist in 1980, giving it a special place in his own catalog of singles.

1

"Tennessee Whiskey"

From Chris Stapleton's 'Traveller' (2015)

Stapleton's version of this song gets top billing because it helped launch a beloved-in-Nashville songwriter to superstardom as an artist, but it's just one of three classic renditions of Dillon's greatest co-write. The collaboration with "Blue Jean Country Queen" Linda Hargrove first appeared as the title track of David Allan Coe's 1981 album before popping up on George Jones' 1983 album Shine On.