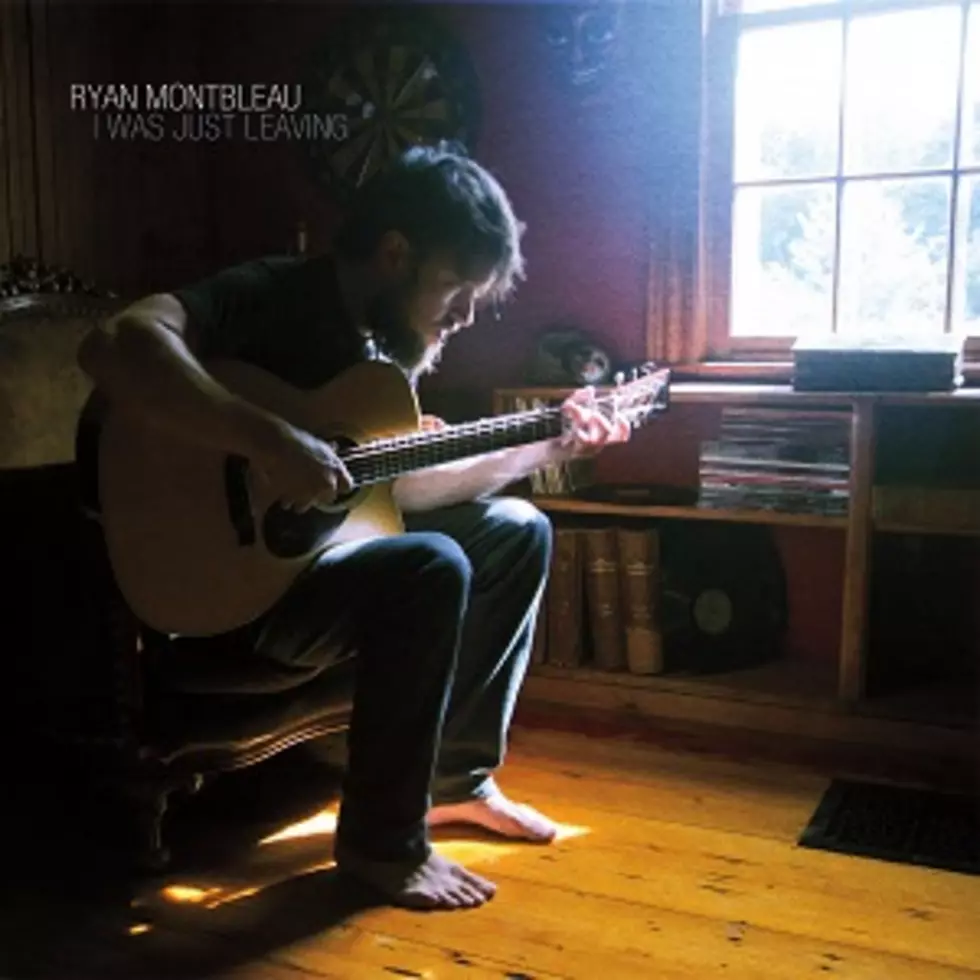 Interview: Ryan Montbleau Reflects on Sudden Loneliness on 'I Was Just Leaving'
Courtesy of Big Hassle Media
Since the early 2000s, Ryan Montbleau has, essentially, lived life on the road. Sure, he's had a residence at which to stay during those rare times he wasn't touring -- including a room in an old Victorian home, one of the few things about his life that has stayed consistent -- but, for all intents and purposes, the singer-songwriter was a musical nomad.
And then, everything changed: He and his managers were parting ways, a five-year romantic relationship ended, and "it was sort of like all these support structures that I'd had in my life were all breaking down," Montbleau recalls.
"All of a sudden, I was -- the dust was settling, and I was just kind of alone in a room a lot," Montbleau tells The Boot. "All of a sudden, I just had this time to kind of reflect on these years and also kind of freak out: What is going on? Where are my friends? Where is my family? What is my home? Where is my home life?"
After more than a decade, Montbleau finally felt as though he could "kind of take a breath for a minute" and enjoy the fruits of his labor -- but there wasn't really anyone around to celebrate with him: "I hadn't nurtured any of those relationships or built a home life."
It was a scary thought -- "I had some really dark times," Montbleau admits. "I had some pretty serious stuff going on inside" -- but it resulted in one hell of an album. I Was Just Leaving (released March 3) is a 12-track record of songs that Montbleau "ached out" while reflecting on, living in and learning to deal with that loneliness.
"I can't sort-of cope with life any other way than that," Montbleau reflects, adding later, "[This record] was making sense of where I had been for over a decade and what I was doing."
With a chuckle, the artist says he's "hopefully" learned from the past, noting his meditation practice and the work he's done to unpack his metaphorical baggage, so that, now, he "can really prioritize and have a life and have a family and work towards that." He can still isolate himself, but he's getting better at it.
"Which is such a nice feeling!" Montbleau adds.
More New Albums Coming in 2017
For I Was Just Leaving, Montbleau headed down to New Orleans, La., recording the disc over the course of four days at Esplanade Studios in January of 2016. The studio is an incredible spot -- a 14,000-square-foot former church in the city's Treme neighborhood, restored and renovated -- and while Montbleau, producer Anders Osborne and engineer Mark Howard has access to the whole place, "we used none of that, and we did the whole record in the control room," Montbleau says.
"[Mark] does this kind of amazing thing where he gets [the music] to shimmer by just sort of being live in the room," Montbleau continues, explaining that he wasn't expecting to record that way, "but it was fine; it was so comfortable."
Together, Osborne (with whom Montbleau has worked before) and Howard (whom Osborne recommended to Montbleau) "just did such a great job of leaving the air in the room and just getting really raw, heartfelt takes of things." When selecting which takes to include on I Was Just Leaving, the two went with the less-polished versions: "If it didn't pass the test of your heart feeling it, they weren't into it as much," Montbleau remembers, "and they could tell quickly ..." Although he was a bit skeptical at first, Montbleau says that "now, when I listen to it, I know they were right."
On the record, Montbleau and Osborne played everything, but now that he's touring behind I Was Just Leaving, Montbleau is bringing a full band on the road with him. They're "[trying] to stay true to the soul of the record and the soul of the tunes" while building on their sparse on-the-album arrangements for live shows.
"I'm a songwriter: I want to be listened to," Montbleau says. "I want to do it all ... but, primarily, I'm trying to draw you in and get you to listen and get you to feel things -- kind of, lock in with your truth by telling you mine."
What Is Americana? Its Artists Define the Genre