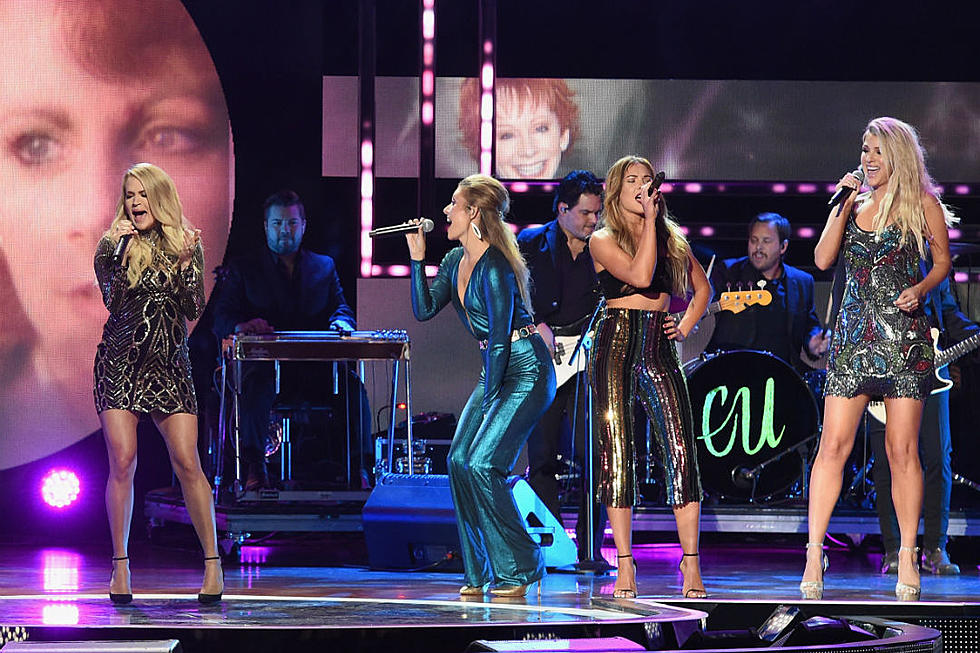 Runaway June Are Learning From the Master on Carrie Underwood's Cry Pretty Tour
Rick Diamond, Getty Images
Nobody can work a complicated stage quite like Carrie Underwood -- just ask Runaway June. The country trio is on the road with the country superstar for her Cry Pretty 360 Tour, alongside fellow opening act Maddie & Tae, and each night, all three acts perform on a dazzling, winding, complex stage.
"Chunky heels are key!" Runaway June said with a laugh backstage at CMA Fest 2019. "There's cracks, and if you're wearing stilettos, you can easily fall in the cracks. There's lifts everywhere.
"There's not really any big, saving-grace part of the stage where you're like, 'Okay, here I can take a breath,'" they add. "Now we have a pretty good lay of the land, but it was definitely something we had to take into account, that it's very different from any other stage anyone's had to play before."
Upping the ante in terms of set design is just one of the ways that Underwood raises the bar at her live shows, the group goes on to say. "It really shows the caliber of entertainer that Carrie is ... She is all around that stage, and never misses a note, and her band is so tight. That stage is like a spaceship, you know?" Runaway June continue.
"We have to wear these light beacons in our clothes so that the spotlight can find us, because if, like, your hair ever covers one, you'll just go black on the stage; you'll disappear, and they'll have to find you again," they add as an example. "So it's really cool to watch Carrie do her thing. She helped design it."
The logistics of performing on a 360-degree stage during the Cry Pretty Tour are just one of the ways that touring with Underwood is inspiring a "growth spurt" in her opening acts' own prowess during their live sets. "When we watch her up there, it's like, 'Okay, we can do this,'" Runaway June add. "We've got 25 minutes. She sings for two hours. It's a really great example."
WATCH: The Secret History of Carrie Underwood's "Before He Cheats"
LOOK: Carrie Underwood Through the Years