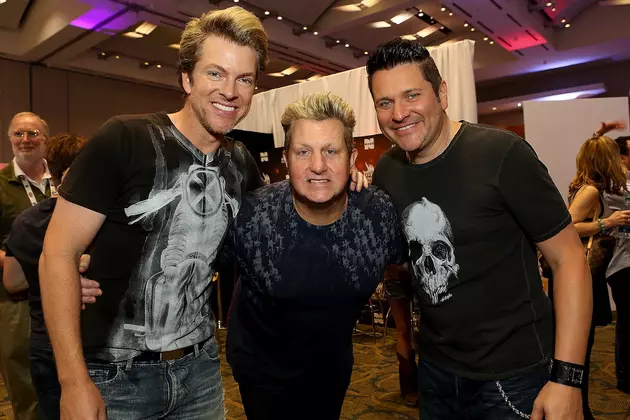 Rascal Flatts Announce 2016 Rhythm and Roots Tour
Mike Windle, Getty Images
The Flatts' 2016 Rhythm and Roots Tour will kick off in June in Charlotte, N.C., and feature two very special guests. Two-time ACM Awards nominee Kelsea Ballerini, as well as newcomer Chris Lane, will join them on the trek.
"It's really important to us that, each year, our shows are fresh and exciting for our fans," says the trio's Jay DeMarcus. "We put a lot of thought into how to do that this year, and mixing it up in Vegas was really fun, so we decided to continue with this new change of pace out on the road this summer.
"We are so pumped because no one has ever seen Rascal Flatts like this before, and we're really excited to have such great support this year with Kelsea and Chris, too," he adds. "It's going to be a blast!"
The 2016 Rhythm and Roots Tour will run through Sept. 17, stopping in cities such as Cincinnati, Ohio; San Diego, Calif.; Phoenix, Ariz.; Dallas, Texas; and Chicago, Ill., along the way. A complete list of dates is below, and more information about tickets and venues is available on Rascal Flatts' official website.
Rascal Flatts, 2016 Rhythm and Roots Tour Dates:
June 17 — Charlotte, N.C.
June 18 — Raleigh, N.C.
June 24 — Syracuse, N.Y.
June 25 — Cleveland, Ohio
June 26 —Cincinnati, Ohio
July 7 — Mountain View, Calif.
July 8 — San Diego, Calif.
July 9 — Irvine, Calif.
July 15 — Phoenix, Ariz.
July 16 — Albuquerque, N.M.
July 28 — St. Louis, Mo.
July 29 — Kansas City, Mo.
July 30 — Dallas, Texas
Aug. 5 — Davenport, Iowa
Aug. 6 —  West Allis, Wis.
Aug. 7 — Chicago, Ill.
Aug. 12 — Mansfield, Mass.
Aug. 13 — Harford, Conn.
Aug. 14 — Virginia Beach, Va.
Aug. 18 —  Halifax, Nova Scotia, Canada
Aug. 20 —  Avondale, Newfoundland, Canada
Aug. 27 — Lima, Ohio
Sept. 1 — Wantagh, N.Y.
Sept. 2 — Holmdel, N.J.
Sept. 3 —  Essex Junction, Vt.
Sept. 4 — Bangor, Maine
Sept. 8 — Philadelphia, Pa.
Sept. 9 — Pittsburgh, Pa.
Sept. 10 — Bristow, Va.
Sept. 15 —  Clarkston, Mich.
Sept. 17 — Indianapolis, Ind.
More of 2016's Country Music Tours
Test Your Rascal Flatts Knowledge!