Mindy McCready Baby News: Singer Welcomes Second Son
Brad Barket, Getty Images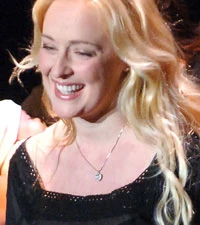 Brad Barket, Getty Images
Mindy McCready is now a mom of two. The country singer and boyfriend David Wilson welcomed a baby boy named Zayne on Monday (April 9).
"Zayne is truly a blessing and a joy. It was a long and trying pregnancy; we're so happy he's here. There are no words to convey how happy we are," states Mindy in a press release.
Zayne joins big brother Zander, the singer's 6-year-old son from a previous relationship. Sadly, Zander is still the subject of a bitter custody dispute between his father, Mindy and Mindy's parents. He is currently in foster care in Arkansas.
During a hearing last year regarding Zander's guardianship, it was reported that Mindy was pregnant with twins. The singer's rep confirms exclusively with The Boot that a misinterpreted sonogram supported Mindy's initial feelings that she was carrying twins, but it was later discovered she was only pregnant with one.
Mindy McCready shot to fame in 1996 with Ten Thousand Angels, her debut album that went on to sell more than 2 million copies. The CD produced four big hits, including the chart-topping "Guys Do It All the Time." The Florida native has gone on to release four more albums, the latest being the very personal I'm Still Here, which documented much of her recent troubles.
Though she's working on new music and a possible documentary and reality show, Mindy has found it hard to put the spotlight back on her music, due to a laundry list of personal and legal woes. She's been in jail twice for drug and alcohol-related crimes, and suffered the embarrassment of a leaked sex tape in 2010. She's also been hospitalized for at least two suicide attempts, with the latest coming in 2008 after her decade-long affair with married baseball star Roger Clemens was exposed to the media.
Mindy made headlines again last November when she fled Florida with Zander, taking him away from his his legal guardian -- her mother, Gayle Inge. The troubled star first hid in Nashville and then in Arkansas, where she was eventually found hiding in a closet with her little boy. A court victory in her favor has resulted in Zander remaining in Arkansas, but under foster care. The custody case is ongoing.