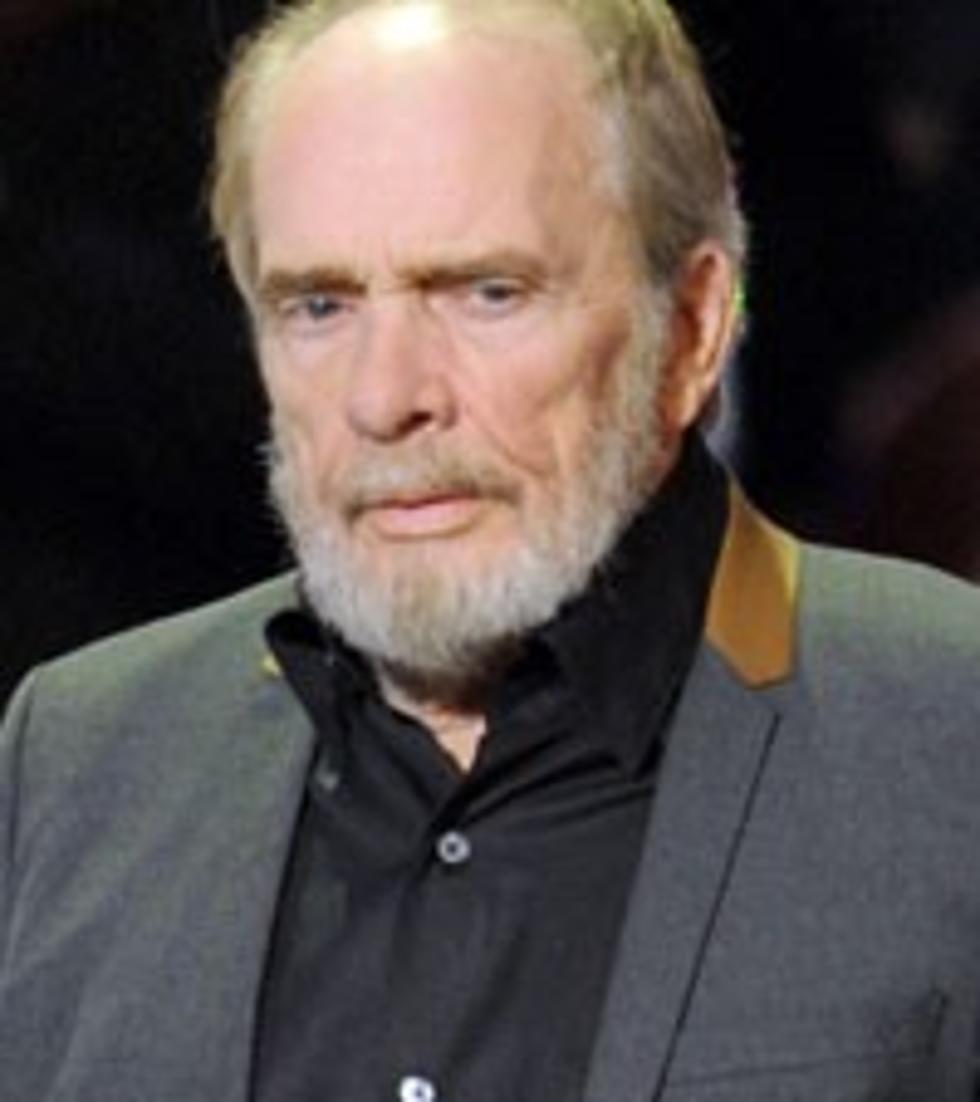 Merle Haggard CNN Interview: Legend Shares Candid Views on America's Future
Ethan Miller, Getty Images
Merle Haggard turned 75 on Friday (April 6) and although the legendary entertainer, who calls himself a "walking miracle," couldn't be faulted for taking it easy -- after all, in January he was hospitalized for double pneumonia, three stomach ulcers, eight polyps in his colon and diverticulitis in his esophagus -- he's not exactly slowing his pace. The road warrior has a full tour schedule this month and is promoting his latest album, Working in Tennessee, which he'll actually be doing Wednesday (April 11), with a show at Nashville's Ryman Auditorium.
Something else the Country Music Hall of Famer continues to do is to speak his mind. And in an election year, with a race that will no doubt become even more contentious than it already has been, Merle has plenty to say.
"I think an ex-convict has got a real good chance," he tells CNN. "I probably oughta run! At least all of my past is aboveboard, and they won't have to spend a lot of money to run a make on me!"
Although he believes President Obama will be reelected, Merle cautions, "I don't think it makes much difference who the president is. I think there was a big ball rolling before he came into the picture. He kind of did what I do. I didn't do anything. He hasn't done anything that I can see that's made any real difference. I think he is a fine gentleman, and they treated us real well when we were up there at the Kennedy Center (he was a Kennedy Center honoree in 2010), and I am not going to badmouth him. I think he has the next four years wrapped up. He has done some good. He got Osama bin Laden. That is a real big plus ... We are in trouble economically. I don't think we can blame it all on one black man. I think we spent 50 years getting ourselves in trouble, and it may take a long time to get ourselves out of it. It is going to take more years than I got left."
In spite of the troubles he believes America is facing in the years ahead, the Oklahoma native is thankful to have his family, including Theresa, his wife of 18 years, join him on Working in Tennessee and on the road. He also acknowledges how fortunate he's been in his life and in his music career.
"I am smart enough to know that I have been gifted and have had a better than average shot at everything," he notes. "I have been blessed many times. I walk a blessed man's path. I believe in the heavenly Father, and if he is not there, then there is somebody disguising himself and answering my prayers. I am a deeply religious man, and I believe that if you give it half a shot, that he will help you. And he certainly has me.
"I am real fortunate," Merle adds. "I ain't got no artificial hips. I got a bunch of false teeth in my mouth. But considering all where I have been with everything, and what I have been through, I am in real good condition."
Keep track of Merle Haggard's tour schedule here.
Watch Merle Haggard's 'America First' Video