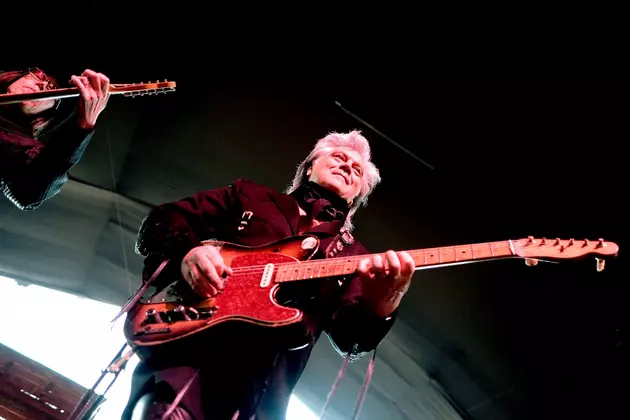 Marty Stuart Will Release His 18th Studio Album in March
Jason Kempin, Getty Images for Stagecoach
Marty Stuart is set to release his 18th studio album in early March. The project, titled Way Out West, is billed as a "love letter" to the American West, and to California in particular.
For his new project, Stuart focused on the loneliness of the West Coast and the spiritual benefits of finding oneself in the vast, open areas of the region.
"If you go and sit by yourself in the middle of the Mojave Desert at sundown and you're still the same person the next morning when the sun comes up, I'd be greatly surprised," the artist says in a press release. "It is that spirit world of the West that enchants me."
Way Out West was produced by Mike Campbell of Tom Petty and the Heartbreakers and features instrumental backing from Stuart's longtime band, the Fabulous Superlatives. The album's 15 tracks consist of new original music, instrumentals and covers, including re-imaginings of Benny Goodman's "Air Mail Special" and "Lost on the Desert," which was once recorded by Johnny Cash.
Thus far, Stuart has only released one track off of Way Out West, a song that pays tribute to old-time truck-driving songs, titled "Whole Lotta Highway (With a Million Miles to Go)." Readers can press play below to hear the track.
"I've always been a sucker for a truck-driving song. It's a true song, lived through, written from years of experience," Stuart tells Rolling Stone Country. "The Superlatives and Mike Campbell played and sang their hearts out on this track. The scariest part for me was, in the middle of my guitar solo, the ghost of Clarence White took over. At the end of the take, I had to take a walk around the building."
Way Out West is scheduled to drop on March 10 via Superlatone. The project is available for CD, vinyl and digital pre-order here.
Marty Stuart, Way Out West Track Listing:
1. "Desert Prayer (Part 1)"
2. "Mojave"
3. "Lost on the Desert"
4. "Way Out West"
5. "El Fantasma Del Toro"
6. "Old Mexico"
7. "Time Don't Wait"
8. "Quicksand"
9. "Air Mail Special"
10. "Torpedo"
11. "Please Don't Say Goodbye"
12. "Whole Lotta Highway (With a Million Miles to Go)"
13. "Desert Prayer (Part 2)"
14. "Wait for the Morning"
15. "Way Out West (Reprise)"
Listen to Marty Stuart's "Whole Lotta Highway (With a Million Miles to Go)":
New Country, Americana, Alt-Country, Bluegrass and Folk Albums Coming in 2017