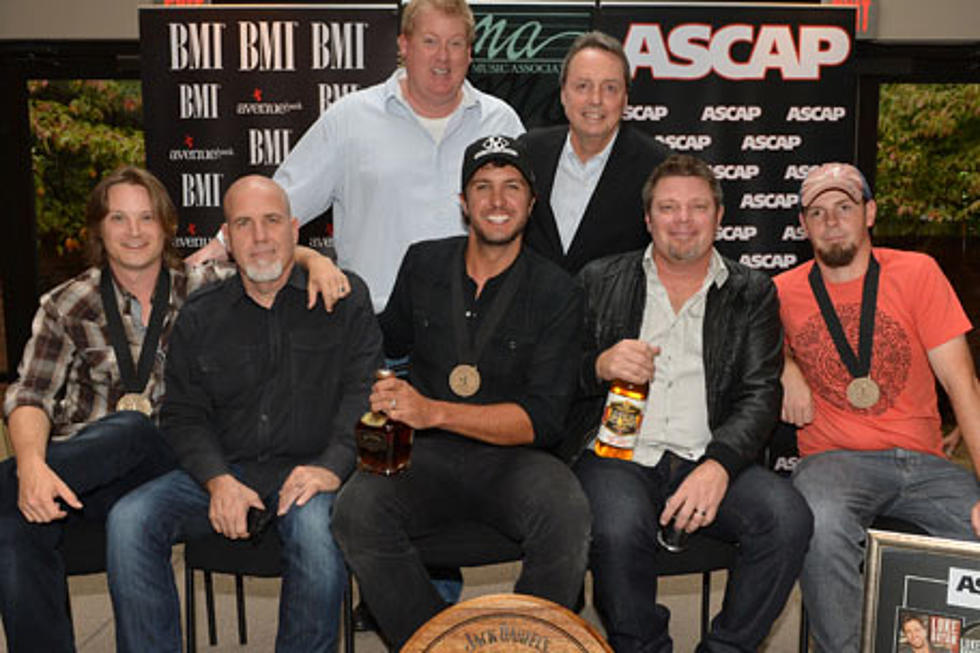 Luke Bryan, 'Drunk on You' Marks Career First
Getty Images for BMI
Luke Bryan celebrated his recent No. 1 single "Drunk on You" with co-writers of the tune, Josh Kear (pictured above on front row, left), Rodney Clawson (front row, second from right) and Chris Tompkins (front row, right), at the offices of the Country Music Association in Nashville Monday night (Sept. 17). Several hundred friends joined in the celebration to offer congratulations to the singer and songwriters.
"Drunk on You" is Luke's fourth chart-topping song but the first that he didn't write himself. "This is special," he said. "I cut outside songs on my albums, but the fact that I got one right, interpreted a song good enough to be No. 1, is a big deal for me ... I was just talking the other day about Kenny Rogers and how he can interpret other people's songs. I am thrilled that I finally found the perfect song to do that with. I cannot tell you what it means to have that first No. 1 on an outside song with these guys. I'm just glad it landed in my iPod. It's been pretty amazing!"
Rodney and Chris just spent a week with Luke while he was on tour, writing songs for his upcoming album. "On the road we have the time of our lives; it's just incredible," Luke says. "Certainly any time you are making a difference, changing the lives of other writers who do this for a living, is really special for an artist. You never want to not give Nashville writers the opportunity to pitch you great songs."
"To us, songs are like babies. We write them and then we turn them over to someone and we pray that they turn out like we wanted them to. In this case it did," Rodney responds. "When we went in to write that day, we only had the line 'drunk on you and high on summertime.' In a writing session, Chris is like the Pied Piper leading us down this path, while Josh is working on the lyric with Chris throwing in a word here or there. I won't take credit for the 'boom boom' line, but I figured if they thought it would work I'd just go with it!"
"It's a perfect scenario: to sit around with your friends, write a song and laugh your asses off while you're doing it," Josh adds. "Then the perfect artist finds that song, the record label company takes it further than you hoped for ... it's a great feeling."
"As a songwriter, I don't have a lot of songs that I like to listen to that I wrote," Chris admits. "With 'Drunk on You,' I can honestly say that when it comes on I can enjoy it as a listener and not the person who wrote the song."
Chris recalls meeting Luke when he first came to Nashville, adding, "He's the same today as he was back then."
Luke told the crowd that this was a career-changing song for him, adding, "When we first recorded the song, we knew it was the crown jewel of the album. It's been amazing to watch this one happen. When it came out, my fans started calling radio and asking for the 'boom boom song.' I will have the pleasure of singing this song for the rest of my life and get to see the fans jump out of their seats and sing along."
The writers and Luke received plaques and medallions from various companies on Music Row, commemorating the No. 1 achievement. In tribute to the song, publisher Craig Wiseman from Big Loud Shirt Music presented the writers and Luke with bottles of beer, while Luke gave those involved with the writing and publishing of the song a commemorative bottle of Jack Daniels Single Barrel Whiskey. Luke also got a cool commemorative piece himself, the top of the whiskey barrel the liquor was aged in, which was engraved with 'Luke Bryan, Drunk on You, #1.'
"You never get tired of celebrating No. 1s," Luke said. "These are the days we pinch ourselves and then we will look back and remember all our lives."
Luke is still on the road with Jason Aldean's My Kinda Party tour. He will headline Capitol Record's Street Party on October 17 in downtown Nashville, with Kelleigh Bannen and Jon Pardi. The singer will head out on his own headlining trek, the Farm Tour, in October.
Watch Luke Bryan's 'Drunk on You' Video