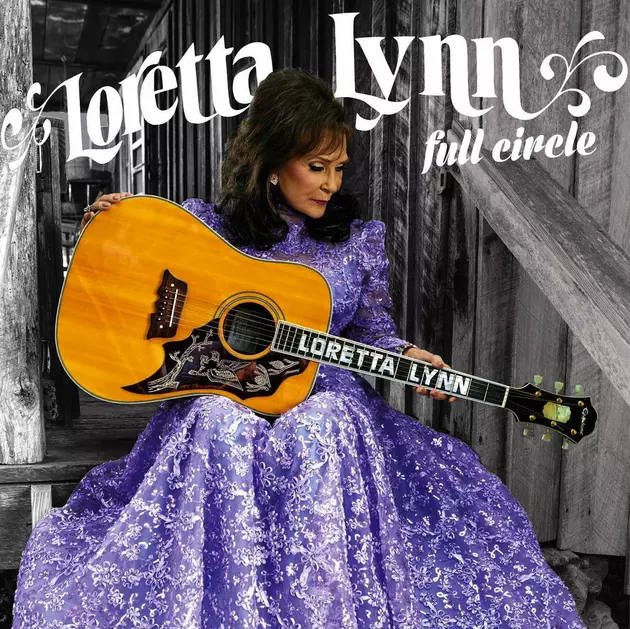 Everything We Know About Loretta Lynn's 'Full Circle'
Legacy
It's been over a decade since Loretta Lynn released an album, but the singer is (almost) back with a new set of recordings, titled Full Circle.
While 2004's Van Lear Rose, which Lynn recorded with rocker Jack White, marked a musical shift for the country icon, Full Circle stays truer to the Coal Miner's Daughter that old-time country music lovers will always hold dear. Throughout the past five decades, Lynn has helped lead the way for more female artists to enter the country music genre, a feat that she recognizes can be more difficult for women than for their male counterparts.
"I think I've done quite a bit," Lynn says. "I'm probably one of the girl singers who have helped other girl singers get in the business, because it is harder for girls to get on labels and be out there."
Below, The Boot rounds up all of the information that's currently known about Full Circle.
The Title
Full Circle isn't named for a specific track on the album, but presumably for the journey it takes through Lynn's long and storied career.
The Release Date
The project is set for release on March 4. It is currently available for pre-order via Amazon and iTunes.
The Record Label
Lynn's 2004 release, Van Lear Rose, was put out by Interscope Records, but the singer chose to go with Legacy Recordings for the new project. Full Circle is the first disc in a multi-album deal that the legend signed with Legacy in late 2014.
The Album Cover
Full Circle's cover art is relatively understated, with Lynn, holding her guitar and dressed in a sparkling purple dress, taking center stage in front of a black-and-white barn backdrop.
The Single
So far, Lynn has shared one song off the upcoming album: "Everything It Takes." The tune features Elvis Costello, who provides unassuming background vocals during the track's chorus. There is a 20-year age difference between Lynn (83) and the British singer (61), and the Coal Miner's Daughter insisted on keeping things old school during the writing process.
"We sat down in the studio to write a song. I had a piece of paper and a pencil, and he had a computer," Lynn recalls. "So we looked at one another like, 'What's going to come out of this?' He was laughing about it, but I didn't think it was funny because that's the way I write all my songs. When I write a song, I don't want to be on a computer."
The Songs
With the 14 tracks on Full Circle, Lynn takes a trip through country music history with versions of Appalachian folk songs and new recordings of old hits. The album opens with an updated version of "Whispering Sea," the first song that the singer ever wrote.
In addition to Lynn's duet with Costello, Full Circle also features a collaboration with Willie Nelson on "Lay Me Down," the final track on the album.
Loretta Lynn, Full Circle Track Listing:
1. "Whispering Sea (Introduction)"
2. "Whispering Sea"
3. "Secret Love"
4. "Who's Gonna Miss Me?"
5. "Black Jack David"
6. "Everybody Wants to Go to Heaven"
7. "Always on My Mind"
8. "Wine Into Water"
9. "In the Pines"
10. "Band of Gold"
11. "Fist City"
12. "I Never Will Marry"
13. "Everything It Takes" feat. Elvis Costello
14. "Lay Me Down" feat. Willie Nelson
The Producers
The Studio
Lynn chose to record the project at Cash Cabin Studio, constructed by Johnny Cash on his Hendersonville, Tenn., property in the late 1970s.
The Tour
The 83-year-old Lynn still maintains a full touring schedule. She'll be kicking off a new string of dates in St. Petersburg, Fla., on Feb. 21, and shows are currently scheduled into October, including a stop at SXSW 2016 in March.
More New Country Albums Coming in 2016