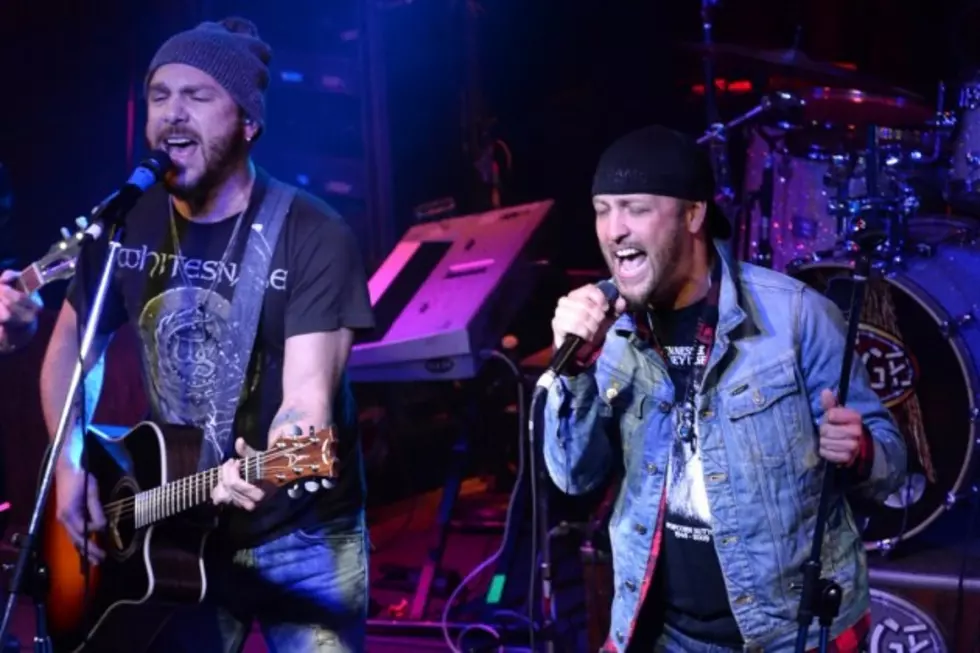 LoCash Share Details of New Songs in the Works
Rick Diamond, Getty Images
LoCash are back, and they are busier -- and better -- than ever. The duo, made up of Chris Lucas and Preston Brust, recently released a new single, "I Love This Life," from an upcoming new project, but they're hinting about several other songs that are in the works as well.
"We've already recorded some songs for the EP-slash-album -- I don't know which yet," Brust tells The Boot. "I don't get caught up in that kind of stuff as much. I just want to make sure we have great songs. We're song guys."
One of the tunes, titled "Shipwrecked," was written with a new artist, Michael Tyler, and LoCash's producer, Lindsay Rimes, and Brust says that the song "is becoming a fan favorite really fast."
The song deviates a bit from LoCash's country sound, but Brust says that he's really proud of the finished product.
"I had been listening to a lot of John Legend at the time, so I wanted a song that sounded like John Legend, with some guitar in it, and really make it kind of like a country version of that kind of thing," he explains. "But I wanted the lyrics to really be honest.
"A lot of people, when they're interviewing us, they'll ask a question, like a fun question, and usually the fun question is always the same: 'If you're shipwrecked on an island, what's the one thing you have to have?'" Brust adds. "And so, I sat down at the piano, and I said, 'You know what, here's what I've gotta have.' And you've gotta hear the song to find out, but it's really cool. It's a really cool song."
"We don't always have to write our own songs, either," Brust says. "We're always looking for great songs. We don't care who writes them, we just want great songs.
"And there's a bunch more," he continues. "So we've recorded, I'd say, probably five or six that could easily be on this project."
The duo, who almost let "I Love This Life" be recorded by another major artist and have also written hit songs for Keith Urban and Tim McGraw, still happily contribute to other artists' albums as well.
"We just got a song cut on Joe Nichols that we love so much. It's a great song, and we love his voice. We're big Joe Nichols fans, so that's going to be cool to hear that song recorded," Brust says. "And I have a song on Scotty McCreery's album, called "The Dash," that's one of my favorite songs I've ever written. I just found out it probably won't be a single, but it will always be one of my favorite songs. I had a song on Parmalee's album, on their last album, and hopefully something on their next album, too."
LoCash's new music comes with a new label, Reviver Records, which they signed with late last year. It's part of a rejuvenation among the twosome, who believe that their best days are still ahead of them.
"I feel really good," Brust says. "I feel like we've grown as artists. I feel like we've grown as writers. I feel like we're going to prove that in this next project, when you guys get this music. I hope so anyway. I hope everybody hears the growth, because that's important to us."
"I Love This Life" is available for download on iTunes.