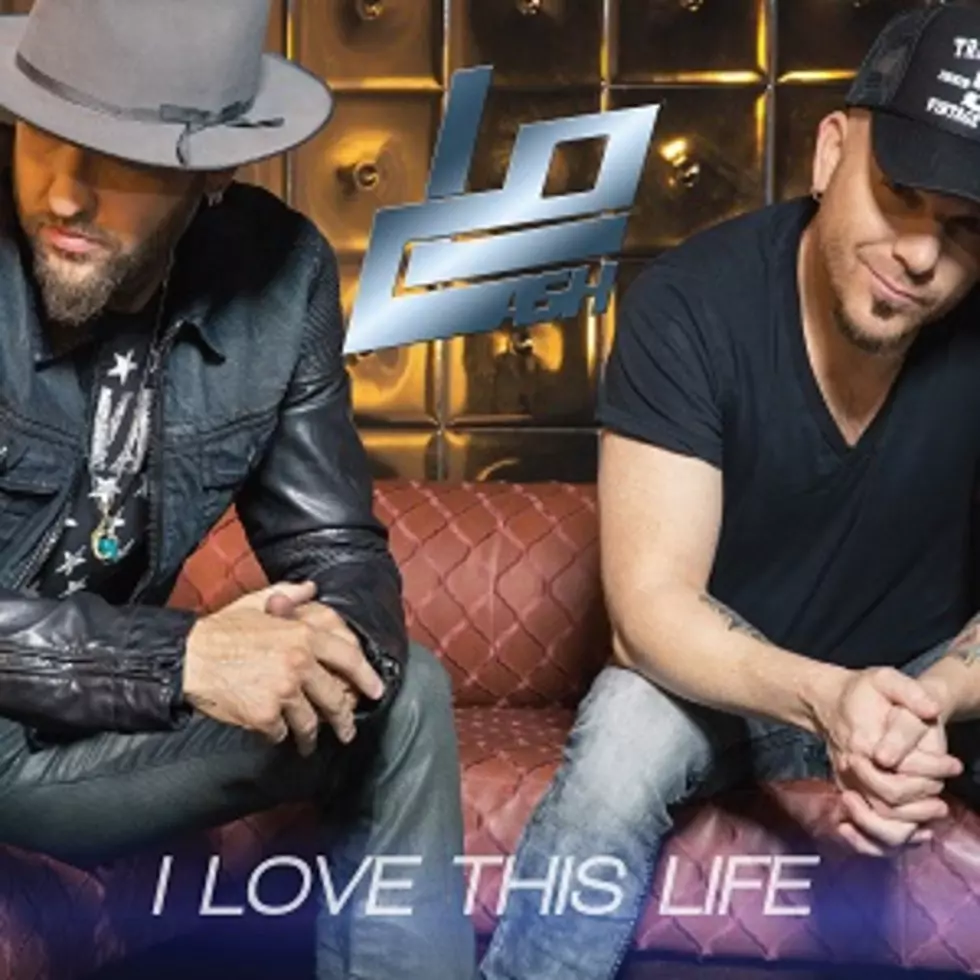 Interview: LOCASH Hoping Country Fans 'Love' New Single
Courtesy of Webster PR
Preston Brust and Chris Lucas, known better as the country duo LOCASH, are the brains behind Keith Urban's No. 1 song "You Gonna Fly" and Tim McGraw's Top 10 hit "Truck Yeah," among others. And their own newest single, "I Love This Life," was almost another one of those songs that they gave away to a different artist.
An A-list artist, whom Brust declines to name specifically -- "one of these days, after I talk to him in person, I will," he tells The Boot -- put the song on hold, but LOCASH were still considering recording it themselves and making it their single.
"Everybody was excited about it, but I kept it on hold for that artist because it's a really good thing when somebody records one of your songs, so I didn't want to take it off hold for them, and then all of a sudden, we change our mind over here," Brust explains. "So I kept leaving it on hold and leaving it on hold ... and once they cut it, it's off limits, you know? ... I just didn't want to take any chances because you never know what the journey is for that song, and I just wanted to make sure that it was going to have a home."
"I Love This Life" spawned from a writing session between Brust, Lucas, Chris Janson and Danny Myrick, the same quartet that wrote "Truck Yeah," "so there's a lot of energy in the room when we sit down to write," Brust says. Fueled by a desire to combat all of the negativity they were seeing in the world around them, the four men decided to write "a feel-good song that makes you love your life and makes you appreciate the little things," according to Brust.
The song's simple chorus -- "I love my small-town world / I love a country girl / I love a Friday night / Man, I love this life ..." -- is surrounded by verses discussing the good things in life, from the simple to the more deep: "my boots broke in" and "my camo hat" in the first verse; "that county line bar where they all know my drink" in the second; and "that ragged old barn that my grandpa made" and "that little white church out on 109" in the third.
"We're not trying to change the world, and it's not rocket science, and it's not a real deep song; it's just something that makes you feel good," Brust says. "When Chris and I took it out on the road, and we started performing it ... the very first time we played it, everybody's hands [were] up in the air, everybody started smiling, everybody started moving, and it was like, okay, we've got something here."
After the decision was made to release "I Love This Life" as LOCASH's own single -- in part because of its success in their live shows -- Brust was the one to call the other artist and explain the situation, but he says that he's not too concerned about there being any hard feelings.
"He's a really great guy and wishes nothing but success for us, so i'm sure it's okay. I haven't really heard any backlash, and that kind of stuff happens all the time," Brust says. "But I just think [the desire for the song among both LOCASH's and the other artist's camps] points back to the song and how it makes people feel."
Scoring hit songs with other artists are "moments [that] changed our life," Brust says, but in this case, LOCASH knew that the time was right for this particular song to be their own.
"There comes a moment where, I think, as an artist, we have to say, 'This is our shot,'" Brust explains. "We're on a brand-new record label, they've got a really great team, a really strong team ... We kind of have to think about keeping a couple songs for ourselves, especially if they fit and they're the right ones. And this happened to be the one."
Now, LOCASH are hoping that country music fans and country radio take to "I Love This Life" in the same way.
"Where there's smoke, there's fire, and we sure hope there's fire on this one," Brust says. "It feels like it's our best, strongest start for a song of our entire career."
Listen to LOCASH, "I Love This Life":