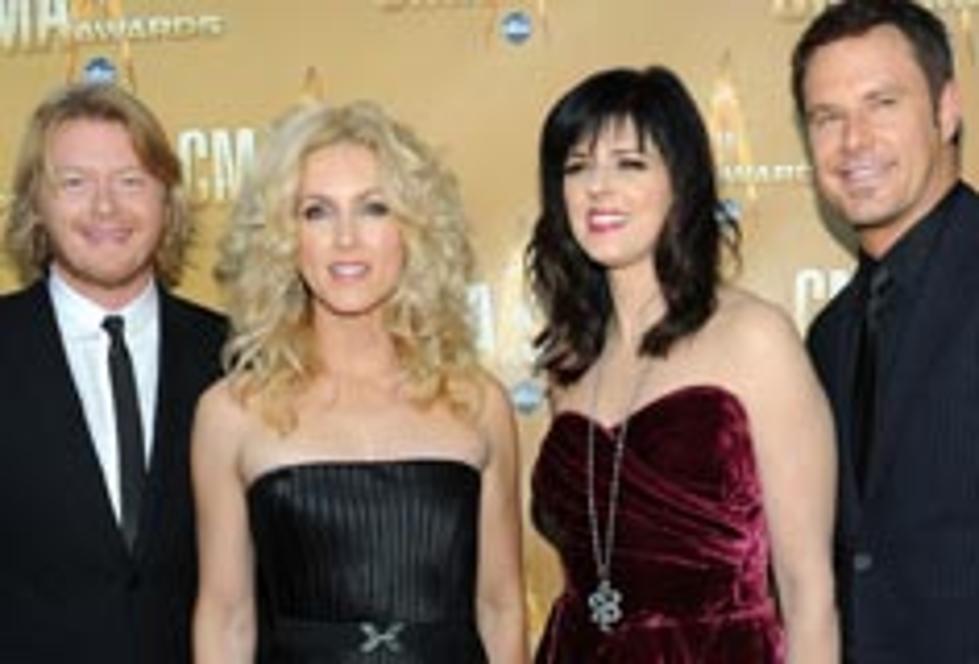 Little Big Town's Jimi Westbrook Kids Around
Larry Busacca, Getty Images
Jimi Westbrook has a reputation among his Little Big Town band members for being the guy most likely to short-sheet your bunk or crack you up during an interview. Now that he and wife/fellow LBT member Karen Fairchild are parents, with the responsibility of little man Elijah on his shoulders, has fatherhood finally made him grow up?
"Oh no!" he tells The Boot with a laugh. "Now I have a playmate! He's 10 months old, but we are having so much fun! I am eternally 12 years old. I don't know if that's good or bad, but I like to have a good time! And it's so beautiful watching my son. I can't wait. Already just seeing him, his little face taking in this new world around him, to watch that, it's beautiful!"
(Catch a glimpse of adorable baby Elijah in our 'On the Road With Little Big Town' video below.)
Karen says the two have already begun some pretty adorable father/son bonding rituals, such as their daily greeting. "Every morning Jimi goes in and says, 'Hey, buddy!' and now Elijah says it right back to him, 'Hey,'" she explains. "He says it just the exact same way and tone that Jimi does it!"
Elijah could end up a comedian if he continues to follow in the footsteps of his dad who, according to Kimberly, is the clown of the group. "Jimi's always making people laugh," Kimberly explains. "He can make light of a heavy situation. He's the youngest in a huge family, so as the baby in the family, he's always gotten all the attention, so he's just a natural ham. He's always making us laugh on the bus and playing jokes on people. He's a lot of fun. We tease him that he's our 'little boy' because he's always getting in trouble like little boys do!"
Hopefully Jimi will be able to behave himself a bit at the upcoming Grammy Awards, where the foursome are nominated for Best Country Performance by a Duo or Group for their hit 'Little White Church.'
Jimi is glad the rest of the world is finally catching on to how much cool music comes out of Music City. "We were just talking about that, all the great music that's coming out of Nashville in every kind of genre: it's really exciting!" Jimi says. "It's about time everybody noticed what was going on here. It has been for a long time."
Little Big Town will take their traveling family circus back on the road this spring on the 2011 leg of Sugarland's Incredible Machine tour, which kicks back off March 3.
They recently cut a remake of Lionel Richie's soulful tune, 'Deep River Woman,' for a new duets album that Lionel will release later this year.%VIRTUAL-globalVideoEmbed-{"videoIds":"517721861","width":"476","height":"357"}%