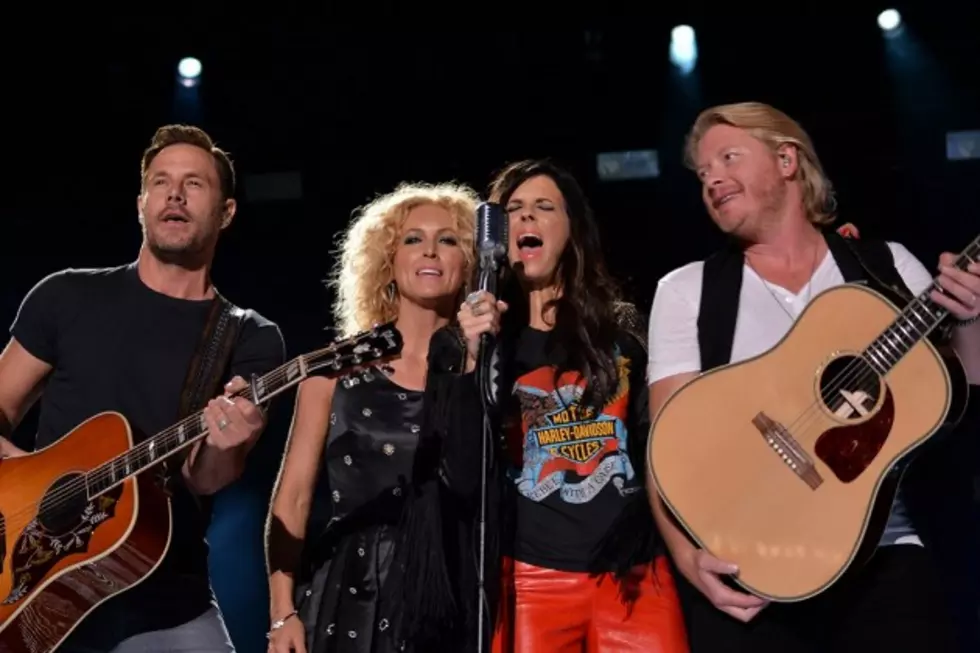 Little Big Town's Karen Fairchild Sounds Off on 'Close-Minded' 'Girl Crush' Haters
Larry Busacca, Getty Images
Little Big Town thought they might have another No.1 hit on their hands with their latest single, "Girl Crush," from their recent Pain Killer album. Instead, they find themselves defending the song, which some radio stations have decided not to play after listeners questioned the subject content.
The song, written by hit songwriters Lori McKenna, Hillary Lindsey and Liz Rose, is about a woman who is jealous of her ex-boyfriend's new girlfriend.
"It's a genius lyric, such a beautifully written song about jealousy," band member Karen Fairchild tells the Washington Post.
With lines like, "I want her long blonde hair / I want her magic touch / Yeah, 'cause maybe then / You'd want me just as much / I got a girl crush," the song carries a message that has been popular throughout the history of country music, but the title and some of the lyrics are turning people away. And in an era where gay artists like Chely Wright, Ty Herndon, Brandy Clark and Billy Gilman seem to finally be finding acceptance in the industry, the backlash against "Girl Crush" is particularly disturbing to the group.
"That's just shocking to me, the close-mindedness of that, when that's just not what the song was about," Fairchild adds. "But what if it were? It's just a greater issue of listening to a song for what it is."
Apparently, not even radio executives were prepared for the negative reaction to the song, which was the most-added song on country radio when it was released in December.
"It could be a bit of a game changer on country radio right now," Fairchild said at the time. "There are not many women on the radio and not many ballads with that kind of lyrical content. I'm excited. Already, radio's support has been huge out of the gate."
The group's record label, Capitol Records, filmed a short commercial to clear up the song's message, but only time will tell if it will be of any help.
"Just the fact that we're still discussing that, number one, there's so many problems with that whole issue," Fairchild notes.
Download "Girl Crush" on iTunes.
Little Big Town Discuss the First Time They Heard "Girl Crush"
Country's Greatest Love Stories: Little Big Town Members