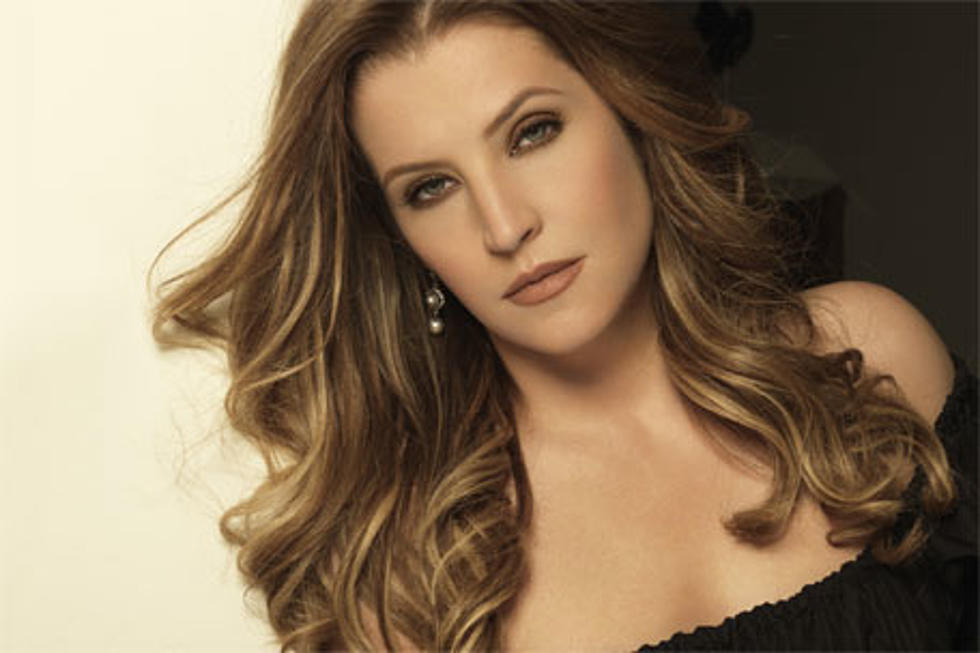 Lisa Marie Presley Reclaims Her Southern Voice
Kevin Hees
On Tuesday night (Aug. 21), Lisa Marie Presley made her Grand Ole Opry debut, putting her in a tie with her late father, Elvis Presley, in terms of the number of times -- exactly once -- that they both performed on stage at the venerable institution. When asked about the impending Opry appearance while in Memphis for Elvis Week last week (Aug. 16 marking the 35th anniversary of Elvis' death at age 42), Lisa says she told fans that she hoped to break with family tradition. "I'm hoping that I'm not told to take up truck driving," she said, reopening the history books to Oct. 2, 1954. On that night, after his Opry guest spot, Elvis was told he might want to consider returning to Memphis and his job driving a delivery truck. Although he was, by all accounts, shattered at that advice, he obviously rebelled against it -- and changed the world forever in the process.
From her own infancy, Lisa, who was born Feb. 1, 1968, was probably destined to be a musician, even if her own rebel spirit meant she didn't completely follow in her father's footsteps. Having written from the time she was young, she says artists such as Tracy Chapman and Gordon Lightfoot are among her many musical influences.
"That's the kind of stuff that I love and get inspired by and listen to," Lisa tells The Boot. "If I were just a singer-songwriter and wasn't attached to anything else, it might be a completely different story for me. But I'm always put into another thing which has been difficult to navigate. It's been difficult to navigate where to put me and what to do because I really am just honestly a singer-songwriter. But it gets confusing. There's a lot of baggage."
While that may very well be true, she's carrying the baggage with pride these days, and pouring her Southern heart and soul into her music, which has morphed from slick pop to rootsy Americana in the span of three albums. Produced by T Bone Burnett, Storm & Grace, her first album since 2005's Now What, bristles with emotionally-charged lyrics and rich, expressive vocals.
"It's the most honest and natural representation of me," she says of the album. "Raw, sort of naked. The other stuff was overproduced and I was hiding a lot. This is much more stripped down and bare ... and vulnerable."
With such provocative words defining the material, one would think the knowledge that she's opened herself up to even greater scrutiny might cause her to rethink her writing process. But that's not likely to happen.
"I wish I thought that way before I wrote a song but I don't," she explains. "I can't because it would ruin the process for me. I consider it my job to take something out of my life, forget about who I am or where I've been and what's connected to me. I've always written since I was a child and I've always loved music. So I consider it my job to take something that I've experienced or seen and write it in such a way that it's universal so that anybody could hear it and make it their own, because that's what music is for. It's to move people and to make them relate to the song and relate to something for themselves and not make it too personal. But it's also therapeutic for me and I am purging. I exorcise all my demons and whatever is going on with me at the time while I'm writing. It's always a little bit nerve-wracking because I'm putting my guts out on the paper [laughs]."
One of the inescapable ironies of Storm & Grace is that while it is steeped in Americana, it was crafted across the pond in Britain, where she is living now. The writing of the record paired the singer with British tunesmiths such as Richard Hawley and Ed Harcourt. Lisa notes that her husband (and father of their twin girls, Harper and Finley), guitarist Michael Lockwood, was much more knowledgeable about the London music scene when they relocated there from Los Angeles, but that she quickly found writers with whom she developed a kinship.
"I think it's a natural progression of how much the English love Americana and the rootsy music that America has to offer," she says of the collaborations. "I know that Robert Plant loves Nashville. So, a really natural thing happened, which had kind of been pushed on me a long time ago. I didn't want to sing 'country' or do something contrived. They had an appreciation for it and I naturally just went there. So it was really interesting to be writing over there and to have it be the most rootsy and Americana record that I've ever done. I started with the usual stuff that I had done but it really started to break through when I sat with Richard. I wrote 'Weary' with him and I think from that moment on I broke through whatever I needed to break through and the rest of them followed suit."
On the subject of following suit, Lisa, who also has two grown children, notes that Harper and Finley, who will be 4 in October, are already, not surprisingly, showing signs of being musical.
"Very musical, my little ones," she says with a smile. "Strangely musical in that it really affects them. They're going to both be headed in that direction, I think, because they listened in a way that's not a normal listening. I can tell it moves them. They get really serious about music."
Although the 44-year-old has released just three albums since her 2003 debut, Lisa continues to tour and will return to the U.S. in the fall. She also acknowledges that the positive experience of Storm & Grace could lead to increasing her musical output.
"Everybody knew going in that this was one of those records that was going to have to find its wings and its legs for a while. At least now I have a system; it'll go a lot quicker. We actually wrote 30 or 31 songs and we only cut 14. I was having a good old time."
She's also having a good time promoting the album that could, if it finds those well-deserved wings, introduce her to an audience that is far more invested in her value as a musician than in the details of her life as the ex-wife of a pop legend or the daughter of rock 'n' roll royalty. With the 35th anniversary of Elvis' death having just passed, Lisa acknowledges that this year's commemoration gave her a unique perspective.
"There were about 75,000 people and I was so moved the whole time at the candlelight vigil," she says. "I've usually watched it from the house but I've never been down there. I was so moved by seeing it that I went down there for the first time. I already knew how incredible he was. And I already know that because he's my dad especially, but when you have so many people, in such concentrated energy, you really feel again a whole new, inspired revelation about him, a reinforcement, I guess."
If there is one thing she wants people to know about her dad, Lisa says it is that he was just as genuine offstage as he was on.
"You know how everyone has their public persona that they put on or some kind of stage thing? He had none of that. There was no persona put forth that was not who he truly was. There was nothing calculated. There wasn't a machine. He was as powerful and dynamic off as he was on. I think that's why people felt that from him and responded."
Judging from the warm response Nashville gave her this week on the Grand Ole Opry stage, we're confident Lisa Marie Presley may not only surpass one of her father's numerous records by appearing on the Opry stage again some time in the future, she will most definitely not have to worry about attending truck-driving school anytime soon.


Watch Lisa Marie Presley's "You Ain't Seen Nothin' Yet" Video